Benefits Category
Health, Wellness & Beauty
MDLIVE
provided by
MDLIVE
Talk to a doctor, anywhere, anytime, straight from your phone!
Farm Bureau Members receive access to this system for only $50 a year or $4.95 a month, (3 to 4 times cheaper than the same services of this type) NO COPAY required.
With MDLIVE, you can talk to a board-certified doctor 24/7 via phone or video, wherever you are. If your doctor determines you need a prescription, it can be sent electronically to your nearest pharmacy. 
Get treated for over 50 routine medical conditions, including:
Allergies

Cold/Flu

Insect Bites

Pink Eye

Nausea/Vomiting

Rash

Diarrhea/Constipation

Ear Problems
and more!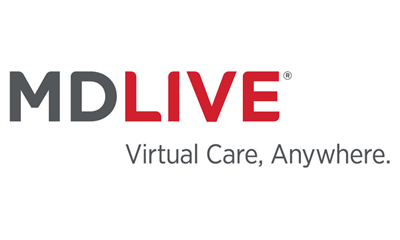 Anytime Fitness- Salt Lake County
provided by
Anytime Fitness- Salt Lake City
If you're looking to join a supportive, welcoming gym community, with people of all fitness levels who want to see you succeed, you've come to the right place. 
Farm Bureau Members get 10% their membership with Anytime Fitness*, PLUS 50% off the security key fee. 
Call 801-891-8388 or email saltlakecityut@anytimefitness.com to sign up, or visit their location. 
*Only applicable at the 2332 E 2100 S, Salt Lake City location.

Black Cat Barber Company - Tooele County
provided by
Black Cat Barber Company- Tooele County
Members receive $2 off services!
Haircuts

Shaves

Beard Trims
Cache Humane Society - Cache County
provided by
Cache Humane Society - Cache County
$10.00 off any service, including spay/neuter, vaccines and micro-chipping. 

$10.00 off adoption fee.

www.cachehumane.org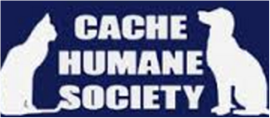 Discounts on Starkey Hearing Instruments
provided by
ClearValue Hearing
ClearValue Hearing exists to serve its members by providing information on Hearing Aids to people with hearing loss. We operate a Free Hearing Benefits Program for people all over the United States and our members are entitled to a Free Hearing Benefits Test no matter where they go, and receive better pricing on instruments than the general public. We have negotiated a set service plan and pricing breakdown with audiologists and hearing professionals around the country to better combat the problem of hearing loss.

ClearValue Hearing is a benefits plan available to the members of the Farm Bureau. Enrollment is completely free of charge and is part of your Farm Bureau membership. Membership is also extended to family members and loved ones of Farm Bureau policy holders. 
Included Benefits:
Referrals to a network of recommended local hearing professionals.
60-Day Hearing Aid Trial period for you to test out a new device.
Free annual hearing assessment for you and your immediate family.
Bonus coverage and insurance to replace lost or damaged instrument. 
Up to 25% actual member discount on all Starkey Hearing Instruments (discount is off suggested retail) 
100% Guaranteed Custom Fit
2 year Starkey Manufacturer warranty on hearing instruments 
2 year Accidental Loss and Damage Insurance Free Directional Microphones/Telecoil
FREE batteries (1 box per instrument with purchase) 
Repair and Maintenance:Biannual Hearing Aid Clean & Check – No Fee 
Annual hearing aid test and analysis – No Fee 
Cost Estimate on Out-of-Warranty Repair – No Fee 
The ClearValue Hearing Program is partnered with Starkey Hearing Technologies, the only major manufacturer based in the United States. Starkey is located in Minneapolis, Minnesota and helps people around the world to hear by inventing and producing cutting edge hearing aids.
Hearing aids available through the partnership program with ClearValue Hearing and Starkey are considerably more advanced than those available through many retail channels, with features including iPhone connectivity, extreme water resistance, and tiny, invisible hearing aids that sit deep in the ear canal. 

Mail: Clear Value Hearing, 1010 A Broadway, Red Oak, IA 51566
Phone: 1-888-497-7447, TOLL FREE
Email:  clearvalue@clearvaluehearing.com
For more information about Clear Value Hearing or to enroll click HERE

*Activation mandatory for enrollment, scheduling and listed discounts and services.

Quality eye wear at maximum savings
provided by
Coast to Coast Vision Plan
1.  Discounts of 20% to 60% on a complete pair of eyeglasses.

2.  Discounts of 10% to 40% on replacement contact lenses via mail order.

3.  Discounts of 10% to 40% on non-prescription mail order sunglasses.

4.  10% to 30% discount on medical eye exams and surgical procedures including LASIK.

5.  Add-ons such as UV coating, scratch protection, and tints are available at wholesale prices.  Progressive, facetted lenses, anti-reflective coatings, and other specialties are all included in your Coast to Coast program.

6.  Discounts of 20% to 30% at ophthalmology offices on surgical procedures (including RK surgery) and eye exams where available.

There are no limits on frame and lens selections or the number of times Coast to Coast members and their families can use their cards throughout the membership year.


Coast to Coast (CTC) Vision Plan is a national network of eye care professionals providing you with the highest quality eyewear at maximum savings. Coast to Coast centers sell eyewear based on published wholesale prices plus a minimum dispensing fee. With thousands of CTC eye care centers nationwide, chances are there is one right in your neighborhood.

If you have questions, call the State Farm Bureau Office at 801-233-3014 or Coast to Coast at 1-800-800-3937.



Dental Benefit Program
provided by
Dental Benefit Program
Utah Farm Bureau Federation has partnered with local dentists throughout the western United States to make a valuable Dental Benefit Program available to all our members and their families.  These dentists have agreed to substantial discounts on all dental procedures
including specialty care.  
Along with this valuable benefit, the Dental Benefit Program provides free (no set up fee or annual charges) health savings accounts to qualified and activated patients through
HealthEquity
.  Health savings accounts are an easy way to budget and pay for dental work, rollover each year, and provide tax benefits for qualified patients.

Diva Dog Day Spa - Utah County
provided by
Diva Dog Day Spa - Utah County
Treat your dog to regular grooming at the Diva Dog Day Spa in Lehi!
Services include:
Face Cleanup
Deshed
Grooming
Nail Trimming
Sugar or Salt Scrubs
Bath and Brush
And much more! Check their website
HERE
for more information.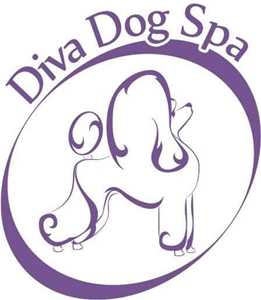 Discounts on prescriptions
provided by
Farm Bureau Prescription Discount Card
1. Save an average of 30% on prescriptions. The discount may be as much as 75%. This is an open formulary program so most prescription medications are eligible for discounts. Both brand name and generic medications qualify.

2."Lowest Price" logic guarantees Farm Bureau members will get the best pricing on prescriptions.

3. This program is not an insurance policy and does not provide insurance coverage. Discounts are available exclusively through participating pharmacies.

4. Cannot be combined with insurance prescription coverage, but many formularies are not covered by prescriptions coverage or Medicare. Benefits for uninsured and under insured. 

5. All cards are pre-activated and can be used immediately.

6. Each family member wanting prescription discounts will need their own card.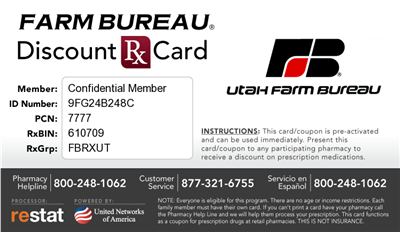 Non-invasive Ultrasound Screenings
provided by
Life Line Screening
Discounted 4 test package for just $135.00

These are simple non-invasive ultrasound screenings to identify your risks for stroke, vascular disease and aortic aneurysms which are the leading causes of death and disability for both men and women. 

As a valued member, we care about the health of you and your family. Learn if you are at risk!

Click Here to visit Life Line Screening for a detailed description of the tests in the Farm Bureau
package and call 800-636-8153 to set-up your appointment.
Click HERE for a 2019 screening schedule. 

Save 40-50% off National Average Price of LASIK
provided by
QualSight LASIK
Save between 40-50 percent off the national average price of Traditional LASIK eye surgery.  
Quality-
URAC credentialed Ophthalmologists using FDA approved technology.
Financing -
Use your flex dollars or financing can be arranged with payments
as low as $53.00 per month**
Access -
21 locations in Utah (Hoopes Vision for example) and over 800 locations
nationwide.
Experience You Can Trust -
Over 2.5 million procedures performed. 
*The Utah Farm
Bureau offers this program to members as a cost-savings initiative only and in no way
recommends, endorses, or guarantees this or any elective medical procedure. It is solely the 
responsibility of the member to evaluate and elect to have the procedure performed. 

** Subject to GE CareCredit approval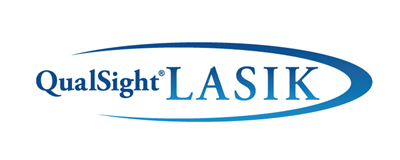 Sports Academy- Cache County
provided by
Sports Academy - Cache County
The Sports Academy is Cache Valley's Family Health Club. Offerings include Personal Training, Stott Pilates, All Academy Preschool, Swim America Swimming Lessons, Swim Team, Tennis Lessons, Tennis Leagues, Tennis Tournaments, Tennis Summer Camps, Kids Klub, High Point Gymnastics and Tumbling, and Senior Classes. Once you've finished the activity of your choice, pamper those muscles with a Deep Tissue or Swedish Massage. See for yourself why the Sports Academy is your club, for your results, for your life!

Vitality Chiropractic - Davis County
provided by
Vitality Chiropractic - Davis County
Save 50% off your first appointment!
New Patients: Only $19 for your first visit! Includes consultation, exam, and full spinal adjustment series. 
Call 801-390-3411 to make your first appointment.
63 N. Main St. Farmington, UT 84025