BRAD AND JENNY OSGUTHORPE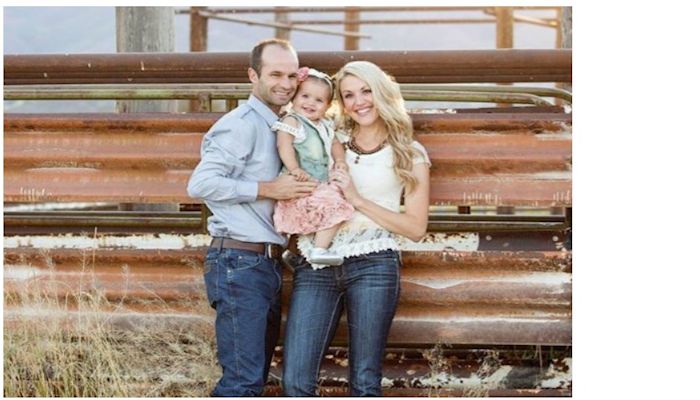 Brad and Jenny Osguthorpe represent District 4 (Juab, Wasatch, and Utah counties) on the state Ag Promotions Committee. The Ag Promotion Committee is committed to inspiring all Utah families to connect, succeed and grow through the miracle of agriculture.
Brad and Jenny Osguthorpe reside in Heber City, Utah (Wasatch County) along with their 2 year old daughter, Olivia. Brad is a 3rd generation sheep rancher from Park City and Jenny is a city girl, gone country girl from Layton. Brad started at a young age working on his family farm milking cows, moving water lines, hauling hay and working with their sheep.
Three years ago they were given an opportunity to buy their own band of sheep and started Circle JB Ranch & Livestock. It is a range land sheep operation and they range lamb as well. They are proud to be raising a 4th generation on the family farm today while being active and hands-on with their livestock, crops (alpha & oats) and family agritourism business, Red Pine Adventures.
Outside of farm life, Brad works as an Estate Manager overseeing several residential estates in the USA and Mexico along with commercial facilities, watercrafts and aircrafts. Jenny's first and most important job is being a mother. It is very important to her to raise strong, educated and respectful children, as they are our future. On top of motherhood, she is also an Executive/Personal assistant.
In the Osguthorpe's spare time they enjoy traveling and being outdoors, riding ATV's, camping, snowmobiling and skiing. They are looking forward to serving on the Ag Promotions Committee. It is their goal to enlighten the public about farming and agriculture. Exposure is key! They want to continue providing opportunities to children, students and those who are not exposed to the Ag way of life by giving them hands on experiences around farming and ranching. They are grateful for opportunities to learn, grow and serve while being a strong voice for agriculture!
If you are interested in finding out ways you can promote agriculture in your county, please contact Brad at bosguthorpe@gmail.com or Jenny at josguthorpe@gmail.com.