Blossoms in spring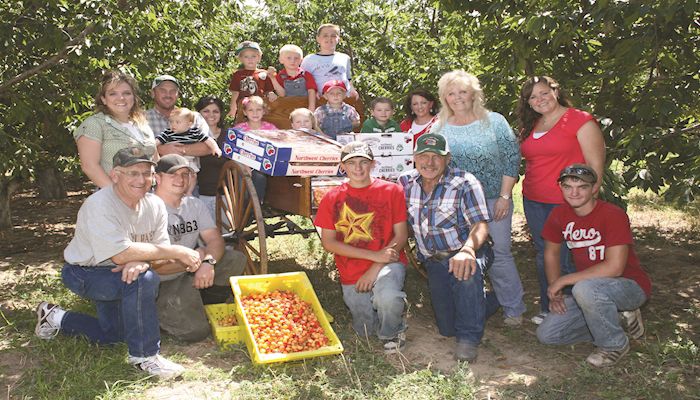 Fowers Fruit Ranch in Genola, Utah County represents the life's work of the Fowers family. Lynn and Sherryl both came from farming backgrounds. Together with their children, they have built a successful fruit farm from the ground up that in recent years has produced and distributed more than four million pounds of fruit annually.
Sherryl and Lynn have four children. The two older sons still help on the farm when needed. Their youngest son, Jerry, and daughter, Tami Balzly, work full-time in the family operation. Jerry and his wife, Kristy, focus on production and Tami and her husband, Lewis, work with packing, marketing and distribution.
For the Fowers', being together as a family was instilled in them at an early age.
"We taught our children to work together. Everything we did was together," said Sherryl.
The Fowers' agricultural heritage can be traced back to various areas in Utah County. "My grandpa was one of the first to start farming in Orem, which was called the Provo Bench at that time," said Lynn. "Before I was in high school, I rented a farm and I raised corn, potatoes, and beans-stuff like that. I spent my vacations and nights working on the farm and bagging the potatoes all winter and I'd take them around to stores and sell them. That's how I got the car, and that's how we got our down payment on the farm in Genola," said Lynn.
Sherryl was also raised in agriculture. While talking about her growing up years, she said, "I was raised on a farm. My dad had orchards and lived in Pleasant Grove and he bought a piece of ground over in the Gooseneck. He also had hay and peas. My dad would teach me how important ground was, and I taught my children this. One day he put a bunch of dirt in my hand and he said, 'We own all of the way from the center of the earth to heaven.' There's nothing I like to smell better than freshly turned over dirt."
"
Dad made farming fun, but I was not going to marry a farmer because I knew how hard it was," said Sherryl. "Then I happened to meet Lynn, fell in love, and we were married in the 1971. I knew I loved farming and I wanted to be a part of it. Our dates consisted of going to Pleasant Grove and bagging potatoes."
The Fowers' had only been married five months when Lynn lifted up a pipe while moving sprinklers and was electrocuted. "72,000 volts went in his left hand and out his right foot. He ended up with gangrene and he almost lost his foot… he almost lost his life. Miracles occurred, but he was in the hospital a very, very long time," said Sherryl.
This accident put an incredible load on Sherryl as she worked to support the family as a beautician, took care of the farm and cared for Lynn. Lynn did what he could to assist in the farming operation during his recovery, and together they managed to maintain their business.
In the early years, while getting their orchards started, they'd plant other crops in-between the rows so that they could have a crop to help with cash flow while the orchards grew into production. They also continued to acquire land. In addition to their Genola property, they bought a piece of property in Santaquin and one on the west end of Utah Lake. Today, they have 400 acres of orchards.
This geographical diversity of their various orchards helps them avoid total crop loss in case of hailstorms, harsh springs or other natural disasters. They also grow a variety of crops, including peaches, cherries, apples and nectarines, which provide a more steady income. For example, they grow 14 varieties of just peaches, which spread the peach harvest out for three months.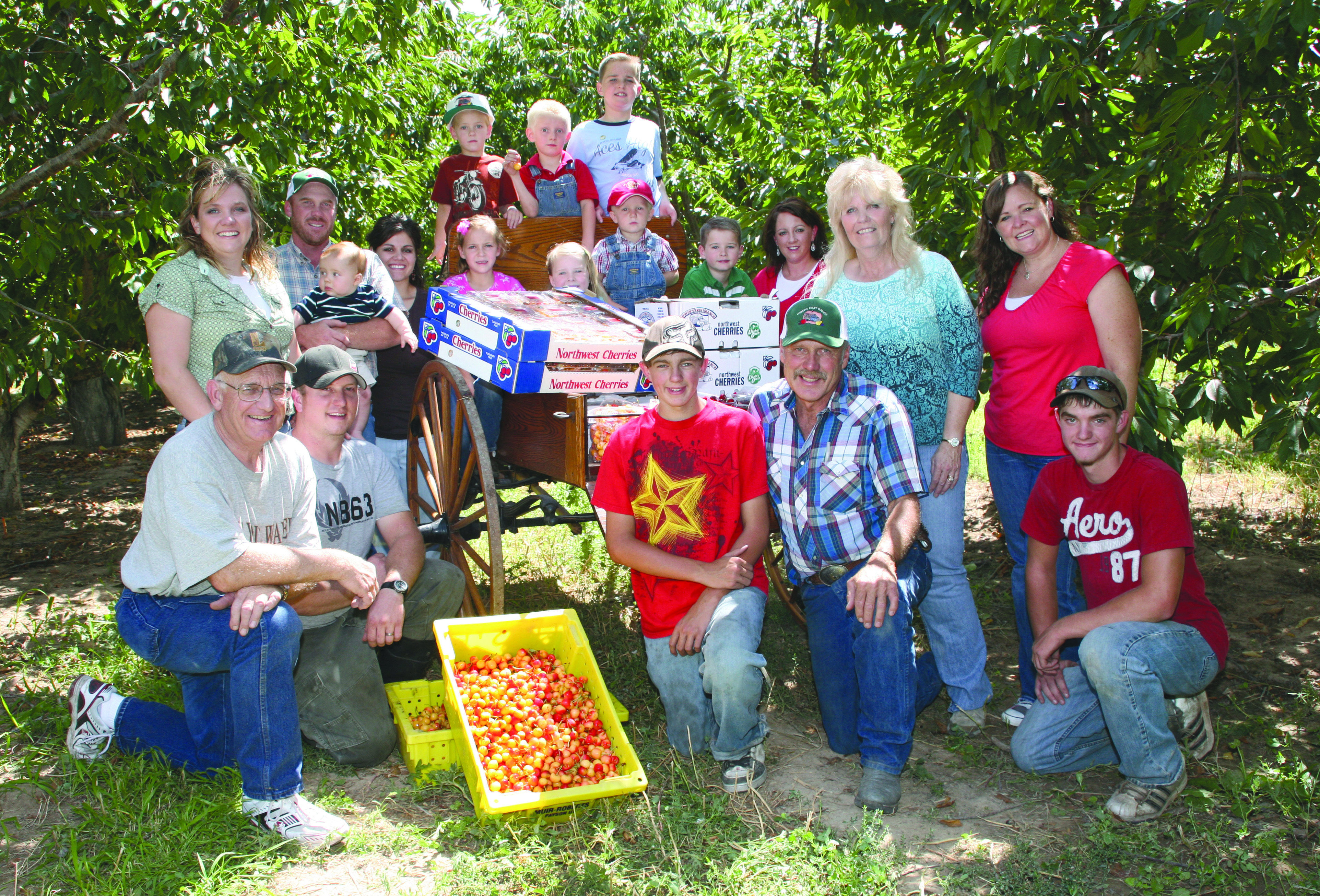 Even with all of their diversification, they've still experienced challenges that have threatened their livelihood. During those times, they would often supplement their income by trucking other products. In addition to delivering their fruit, they'd pick up other loads and delivered them all over the west.
The Fowers' have also seen extreme fluctuations in market prices.
"Around 1993-1994, tart cherry prices had dropped significantly. The price offered to the grower was $.04 a pound that year. We had a great harvest, but we weren't going to harvest it. The cherries were hanging on the tree, but it was going to cost us more just to harvest the fruit than what we were going to get paid," said Jerry.
It was at that time the industry decided that something had to be done. Supply significantly outpaced demand, and the growers worked together to implement the Cherry Marketing Order. "The Cherry Marketing Order is regulated by USDA, but it's totally implemented by the farmers ourselves," said Jerry.
Every year a percentage of the harvest, determined by production and current demand, is held by the farmers and not sold on the open market. Last year, 31 percent was not sold on the open market in the United States. In order to comply with the order, sometimes all of the fruit is shook right on the ground, other times they find international markets or put the cherries into value-added products. For the Fowers', the marketing order has helped their business. "The benefit of it is we've been averaging $.60-$.78 a pound consistently since 1994," said Jerry.
In the early years, the Fowers' worked with a packing plant to package their crop. In 2003, the packing plant they used shut down. For a few years, they packed their fruit at other facilities in Utah County. Not seeing the returns they needed to remain profitable, they decided to construct their own facility, which was completed in 2008.
Managing a packing facility comes with its own set of challenges, as government regulations have significantly increased.
"In 2011, they rolled out FSMA, or the Food Safety and Modernization Act. It was a huge cost for us to implement and a lot of time and a lot of effort for all of us to wrap our heads around," said Tami. "You're used to just being outside farming and putting apples in a box and all of the sudden you have to step it up and go through volumes and volumes of standard operating procedures."
In order to comply with FSMA, "We've implemented a lot of stainless steel into our plant to keep it clean and we have to do a lot of sanitation. It's a huge cost to implement, but it's also been a big benefit to our company because it's kept our employees to standards. We have to have a paper trail for everything," said Tami.
The most devastating blow to the Fowers' happened in 2009 after a new product that was supposed to help production killed some of their best orchards. "In 2009, we ended up deciding to try out a 'super juice' that was going to double our yields, double the fruit size, everything," said Jerry. "We decided to try it. Yes, we did try it on some of the better parts of our orchard and we shouldn't have, and it dealt us a big blow. It ended up killing a lot of the orchards. Our fruit crops dropped. 2010 was our lowest crop yield we've ever had."
The results of trying this product led to catastrophic losses to the Fowers'. In order to try and recoup some of their losses, they filed a lawsuit. After a lengthy litigation process, they received some reparation, which helped them to continue to operate, but their settlement came nowhere near covering their losses.
As with other industries, finding employees to harvest is a challenge for the Fowers'. "There were a few years we just looked at the crop and chose the one we were going to leave, and it was really hard once you grow it and you just can't get it in the box," said Jerry.
The Fowers' did what they could to find local help. Today they use the H2A visa program to bring in the help they need at harvest time. "The H2A program is very costly. It's very hard to implement. There are big legalities with the department of labor, but in the end, we are so lucky to have them. They are amazing guys. Honestly, they've saved our farm and they've saved our sanity," said Tami.
In 2015, Jerry underwent open-heart surgery. Fortunately, he fully recovered and is able to continue doing what he loves. Today, Jerry implements new techniques to improve their production including new pipelines, drip systems, new equipment and new planting methods.
"Our new apples are all on trellis systems. We're putting about 1,000 trees to the acre with that. It's a big increase in the expense up front. You've got to buy wire, posts, trees, irrigation systems; but it's definitely helped us. Our fruit yields have almost doubled off of these systems compared to the other systems," said Jerry.
"Last year we hit an all-time record of over four million pounds of fruit," said Jerry. "We have a lot of baby trees still in the ground, so our production should increase a lot more."
Despite some of the setbacks and challenges, the Fowers' have also enjoyed the opportunity to work together and are grateful for what they've been able to develop. Sherryl is grateful for the lessons her children and grandchildren have learned through farming.
"It's a hard life, but it teaches integrity. It teaches them the importance of being tested. It teaches them that yes, we fail, but next year there is a new blossom, there's always new hope," said Sherryl.
Want more news on this topic? Farm Bureau members may subscribe for a free email news service, featuring the farm and rural topics that interest them most!