Farmer in Chief: Utah Governor Savors Lessons Learned on Farm as he Helps Lead State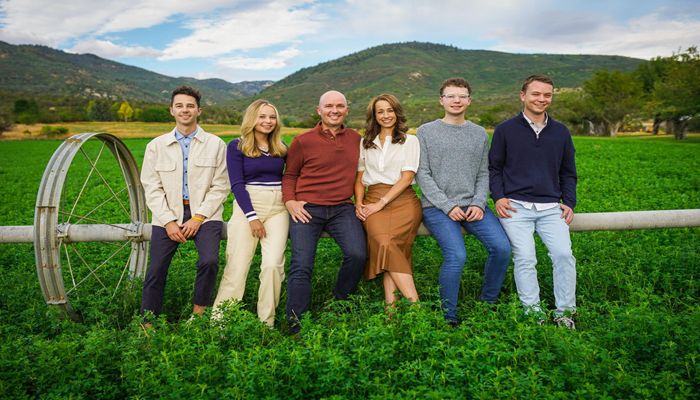 In one scene in the classic 1946 film, It's a Wonderful Life by Frank Capra, Jimmy Stewart's character, George Bailey, proclaims that "I'm shaking the dust off this crummy town and I'm gonna see the world." This notion is certainly not unique to Hollywood, as many a child of a small town has echoed similar thoughts – including Utah's current Governor, Spencer J. Cox, of his growing up in the small farming community of Fairview, in Sanpete County.
"One thing that some farm kids learn is that we think we want to get as far away from the farm as possible when older," Cox said. "You don't appreciate what you have until you don't have it anymore. I know I was that way, and my wife Abby too."
Just like George Bailey, Cox also came to realize that he had a 'wonderful life' growing up in a small town as well, which was one of the things that drew him and his young family back to Fairview. He considered the town an idyllic place to grow up and described a childhood running around town with friends, helping each other complete farm chores.
"Chores were always more fun if you had your friends to help you. We would help each other move sprinkler pipe, milk cows, etc. I really loved where I grew up and the people I grew up with," Cox said. "I also spent time in the mountains on the national forests with my cousins herding sheep for a week or two. It was a special time to spend finding out who you were or making yourself into who you wanted to be. I loved that life. It was harder to get in trouble with that kind of responsibility."
After attending Snow College and then graduating from Utah State University in Political Science, the Coxes moved to Virginia where Spencer attended law school at Washington and Lee University.
"It was Abby's grandfather that was an inspiration [to go into law]," Cox said. "She was [also] raised on a farm in Sanpete County, but her grandfather was a judge in Davis County."
Cox credited his youth working in agriculture for the strong work ethic he developed, which helped with his legal studies and interviews after law school, but also felt his small town growing up made him stand out for other things too.
"When I interviewed with law firms in D.C., all the partner wanted to ask about was my farm background," Cox said. "But most of the time, I felt completely out of my depth. I would go to fancy dinners with law firms that were recruiting [students], but I wouldn't know which silverware to use or what 90 percent of the things on the menu were! That was a challenge. I suffered from 'imposter syndrome' or feeling like I belonged – and it's probably something I still have to work on."
But the kinds of people Cox grew up with and interacted with have a level of genuineness that he feels is valuable. 
"The ability to be genuine, vulnerable, and let people know who you are and what you stand for…we could also use more of that today," Cox said. "I see that in a lot of people I get to visit with around the state – especially those that work the land. [It's] something that comes from that responsibility – it drives you to get up each day. It leads to genuineness."
After clerking for a few federal judges the feeling of home and the experiences that both Spencer and Abby had as kids weighed on their minds, and eventually led to them moving back to Fairview where in addition to other work, their children were able to work on the farm. Despite some grumbling, Cox knows what's coming.
"We say to our kids too, that they're going to miss this. It happened to us!" Cox said.
Cox got into local politics both out of a sense of public duty – his father had served as Mayor of Fairview – but also on a whim. 
"A friend who was serving on the Fairview City council came and asked me to run for a vacancy on the council. He joked that they just couldn't get anyone else to do it, and it was my turn!" Cox said. "But it felt like a way [for me] to give back. We were taught at a very early age that we had a duty to give back, and I could with my legal background."
After years of serving in local government, as well as the state legislature and as Lieutenant Governor, Cox has had opportunities to visit communities throughout the state and observe some of the differences between the Wasatch Front and the rural parts of the state. Having called it, "the tale of two Utahs", Cox has led efforts to bring resources and opportunities to all counties in the state.
"We see it statistically around the country, though maybe a little less in Utah. But there is a gap in economic opportunities, educational opportunities, and the availability of digital tools," Cox said. "I worry it's impacting our politics. In many places, the old economy was leaving, but the new economy and its tools weren't there yet. That's something I'm concerned about. [In rural communities], I worry that we're exporting our greatest crop, and that's our kids. But we're trying to be able to keep them there."
Cox was happy to report that much of rural Utah has some of the best high-speed internet in the country for rural areas. Despite the challenges that came with it, the pandemic helped people rethink how they work and the values outside of work that were important – which has led to increasing populations and job opportunities in rural parts of Utah.
One challenge that has been prominent throughout the state, but is felt especially in rural Utah is that of mental health. This is something Cox has felt passionately about and has spoken openly on.
Going along with mental health challenges, substance use disorders have also been prominent in rural areas of America. While just under half of rural Americans say they've been directly impacted by opioid abuse, 74 percent of farmers and farm workers say they have. Additionally, farmers die by suicide at a rate 2-5 times higher than the national average. Part of the reasoning is that access to counseling and treatment is harder to find, but Cox believes the work ethic can be a double-edged sword here.
"There's a cowboy-up mentality that is great, most of the time. It can carry us through hard times. But other times, when things can be broken in our heads, we hide it. But it's very normal and we need to overcome this stigma [of getting help]," Cox said.
Research conducted by the American Farm Bureau Federation has found that farmers and people in rural areas are getting more comfortable talking about stress and mental health challenges with others and that the stigma around seeking help has decreased in rural and farm communities – but it still is a factor.
Cox added that more investments are coming for rural Utah health, but that the use of online resources for treatment or visiting with counselors has been a great benefit for rural communities.
"I hope we can help people in agriculture understand that their job is hard. It's stressful and physically taxing. It's hard to make a living with uncertainty, drought, and stress. But there's nothing wrong with you. We need you to stay," Cox said.
Another hallmark of the Cox administration has been the discussion of local food production as a national security issue.
"We have strategic oil reserves and innovation in the field of energy and natural resources, which has helped make us more self-sustaining for energy," Cox said. "But the only thing we need more than energy is food. We haven't historically taken that same approach with food. I believe as a country; we need to be more secure in our food supply chains."
Cox described the pandemic as serving as a bit of a wake-up call in terms of agriculture, and the need for improved agricultural infrastructure and processing capabilities.
Some have described Cox as Utah's 'Farmer in Chief' because of his constant beating of the drum for rural Utah. It's something that Cox loves.
 "I had a legislator along the Wasatch Front say he was having 'rural fatigue' during the legislature," Cox said. "That was music to my ears! I hope we have more of that. Everyone matters in our state, no matter your geographic location."
With an emphasis on policies and governing the state as "One Utah", the state is benefitting from having a small-town farm kid in the big city.
Want more news on this topic? Farm Bureau members may subscribe for a free email news service, featuring the farm and rural topics that interest them most!