Fire Up the Grill!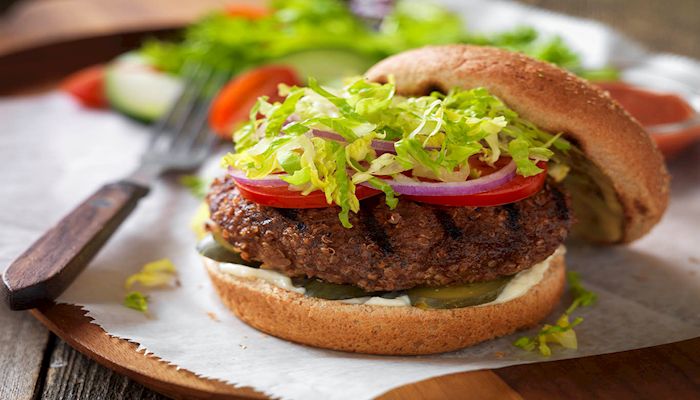 Summertime is right around the corner, and it's often full of memories for families usually involve food. Nothing ushers in the good times of summer more than a flame-grilled hamburger, and what better way to celebrate than today on National Hamburger Day! This American staple has grown from what was an experiment in food on-the-go to become a $73 billion dollar business. Despite the big money, most memories associated with hamburgers bring us back to a neighborhood get-together or childhood memories.
Hamburgers…from Hamburg?
One of the most common myths about the origin of the hamburger is that came from Hamburg, Germany. Well, myths may be a bit of a stretch, because there may be some connection, but this popular sandwich is most definitely an American original.
Food literature suggests the idea behind what has become a hamburger most likely originated with Genghis Khan and the Mongolians. As they were conquering eastern Europe and Asia on horseback, Mongol soldiers often would place a strip of lamb or mutton between the saddle of their horses to help flatten and tenderize the meat, making it easier to eat later on.
This tradition was passed on to the Russians, who it is believed helped bring it Germany where it turned into a dish of chopped meat with onions and spices. This food tradition then came to America by way of immigration in the 1800's, and eventually the big cities as immigrants opened restaurants in cities like New York, Philadelphia, Chicago, etc.
From there, the true invention of the hamburger is a little dicey, though much evidence suggests the first hamburger was created in Athens, Texas in the late 1880's at a small café on the Henderson County Courthouse square by the man known as Uncle Fletcher Davis. Davis later took his creation to the World's Fair in St. Louis in 1904 and called it a Hamburger. Other accounts credit the Delmonicos restaurant in New York City, a restaurant in New Haven, Connecticut known as Louis' Lunch, the State Fair of Seymour, Wisconsin by Charlie Nagreen, or the Menches Brothers of Ohio who sold the sandwich at a fair in Hamburg, New York.
I  Love Hamburgers
Whoever's account you believe, the idea of the sandwich centered on the idea of providing a meal that could be eaten on the go. It has come a long way from a cut of meat between two pieces of bread, to turn into a meal dominating restaurants in America, and increasingly in Europe and Asia. 
By why do we love burgers so much? For some, it's the perfect balance of food – lean beef, a mountain of vegetables, topped perhaps with some cheese, bacon, or any of the myriad new toppings being thought of. Just think of the combinations! Perfect for our individual tastes that are as diverse as is our population. Do you prefer a toasted bun or no bun at all? Cheese? Sure. But what kind? Are you a traditionalist with cheddar? Or do you like to spice things up with some pepper jack? Or are you going to mushroom and Swiss route?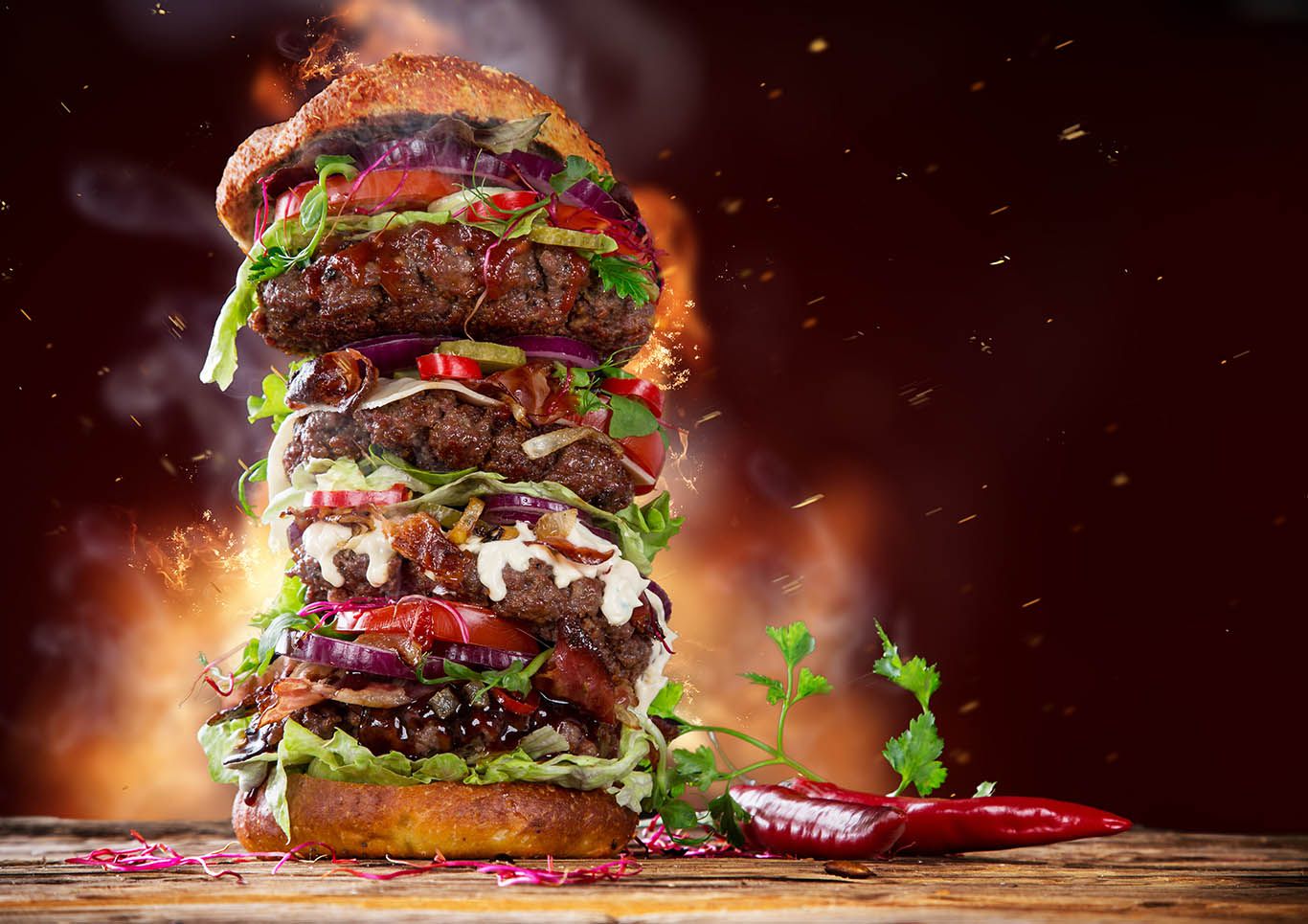 Whatever your preference, one unifying fact is that Americans love hamburgers. Today, 71 percent of all beef consumed is by way of hamburger, and 60 percent of all sandwiches eaten are hamburgers. Again, but why? 
Some food experts have pointed to some simple reasons, namely that burgers are cheap and easy to eat, they're customizable to individual tastes and at the same bring, provide a familiarity that people like. But just because burgers are a simple concept, that doesn't mean they are boring. Hamburgers run the spectrum of the "drive-in's and dives" shown on tv, mom & pop burger joints, to new age cuisine from celebrities fusing flavors from around the globe. 
"There's something incredibly nostalgic in grilling burgers outside. It's the smell, the smoke, the sound, and the feel of the juices dripping down your arm when you take that first bite," said Carrian Cheney, who along with her husband Cade, are the husband-and-wife team behind the popular Utah food and lifestyle blog Oh Sweet Basil. "Suddenly you're transported back to being a little girl and watching your dad at the grill chatting it up with your neighbor, or mom fussing to pat the burgers out into the perfect size for the buns. Now that I'm the mom, it's turned into a whole new experience. We've learned that the beef you buy, the way you shape and cook it, and even the buns used all make for a different burger." 
Hamburgers also connote a low key, relaxed atmosphere craved by neighborhood parties to 'meet & greet' events of politicians and entertainment brands. 
"Wherever he goes in the state, Governor Herbert always makes time for a hamburger and a milkshake," said Mike Mower, Deputy Chief of Staff for Utah Governor Gary Herbert. Mower shared that while not picking favorites, the Governor is a fan of Milt's Stop & Eat in Moab. 
Billy Ingram and Walter Anderson are credited with the first fast food restaurant, staring White Castle burgers in Kansas in 1921. With the end of World War II and a booming post-war economy, the fast food restaurant focusing on hamburgers met consumers' demand. Restaurants like Wimpy Burger and Bob's Big Boy came to life, and burgers started popping up at soda shops and diners in towns large and small. There are now an estimated 50,000 restaurants selling hamburgers in American today.
Ray Kroc joining the McDonald's team in 1954 was another pivotal time, helping pave the way for the company to become a hamburger mega giant, selling nearly 550 million hamburgers per year in the United States. While not on the same scale in terms of size, Utah's Crown Burger has built its own reputation with its signature burger with pastrami.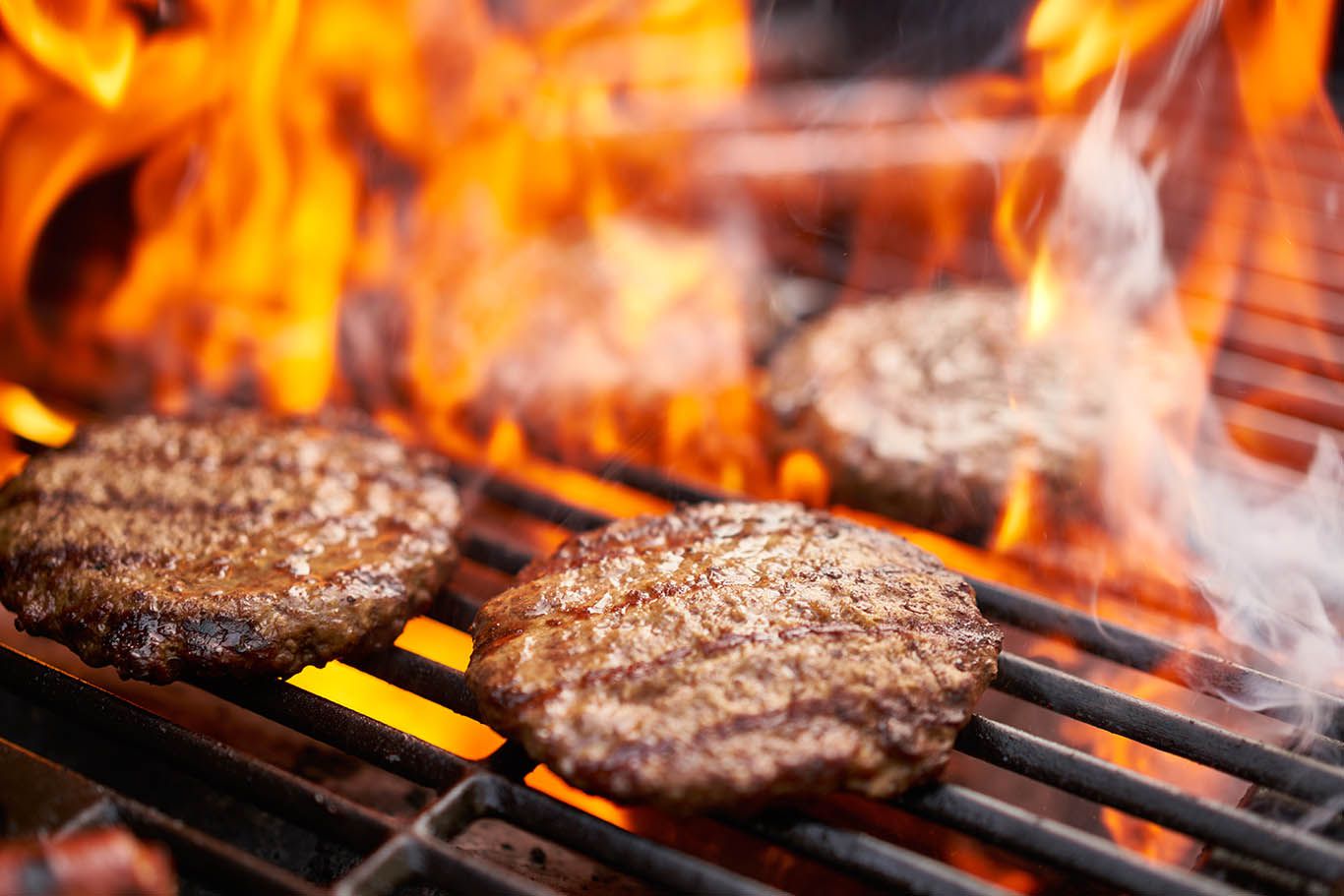 Countless articles have been written and neighbor-to-neighbor chats held on what makes the best burger, with geography even playing a role – East Coast hamburgers tend to be big and ungarnished, while West Coast burgers focus on toppings and plenty of produce. However you prefer your hamburger, we hope it provides you with a moment to reflect on great times of the past, and good times to come. So fire up the grill and get cooking!
Beehive Burgers
There are countless lists and articles debating the best place to get a hamburger in Utah, primarily focused along the Wasatch Front. While there are undoubtedly some great burgers, we wanted to shine a spotlight on some deserving "mom & pop" burger joints mostly off the Wasatch Front and encourage you to stop by. Of course, we had to include a few popular ones near Salt Lake City too. This list is by no means exhaustive or indicative of a ranking, as that can be up to personal preference, and we also didn't list burger restaurants that are considered national chains. Some may require proof that you're over 21. Enjoy!
Northern Utah
-Woodland Biscuit Company (Woodland)
-Tony Burgers (locations in Davis & Salt Lake County)
-Golden Spike (Corinne)
-Shooting Star Saloon (Huntsville)
-Morty's Café (Logan)
-High West Distillery (Park City)
-J's Drive In (Morgan)
-Hi-Mountain Drug (Kamas)
Salt Lake County
-Hires Big H (Salt Lake City)
-Lucky 13 (Salt Lake City)
-From Scratch (Salt Lake City)
-Chedda Burger (Salt Lake City)
-Woody's Drive-In (Murray)
-Cotton Bottom Inn (Holladay
-Crown Burger
Central
-Tommy's Burgers (Provo)
-CHOM Burger (Provo)
-Dairy Keen (Heber City)
-Glade's Drive In (Spanish Fork)
-Chubby's Café (Pleasant Grove)
-Dairy Delight (Tooele)
-Granny's Drive In (Heber City)
-Ripple's Drive In (Provo)
-Seven Brothers Burgers (Saratoga Springs)
-Ashton Burger Barn (Delta)
-Lola's Street Kitchen (Midway)
Eastern Utah
-Main Street Grill (Price)
-Ray's Tavern (Green River)
-Milt's Stop & Eat (Moab)
-Marion's Variety (Roosevelt)
-Fatty's Pizza & Grill (Castle Dale)
Southern Utah
-Henrie's Drive-In (Panguitch)
-Big Al's Burgers (Kanab)
-Marv's Drive In (Enterprise)
-Cowboy's Smokehouse Café (Panguitch)
-Crazy Cow Café (Beaver)
-Todd's Country Store (Alton)
-Hermie's Drive In (Cedar City)
-Cedar Livestock Market Grill (Cedar City)
-Nemo's Drive Thru (Escalante)
-Brad's Food Hut (Cedar City)
-Big Fish Family Restaurant (Panguitch)
Want more news on this topic? Farm Bureau members may subscribe for a free email news service, featuring the farm and rural topics that interest them most!