Hannah's Chocolate Truffle Cheesecake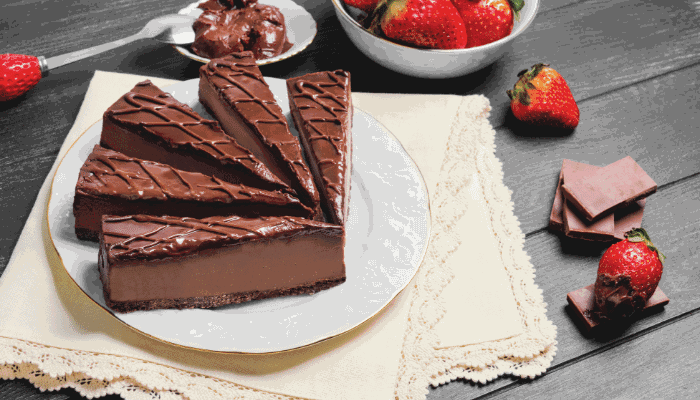 In my sophomore year of college, I decided I wanted to learn to make a great cheesecake. I had never made a cheesecake before, so I started reading recipes to figure out the process of how they are made. Then, over the course of 6 months, and many cheesecakes later, I developed this chocolate truffle cheesecake. It's RICH, velvety, and a true chocolate lover's dream. I've been making it for years, and it's never failed me. Once I ran out chocolate chips while making the cake and had to substitute some of the chocolate for Nutella- and that was a happy accident! It also tastes great with a bright raspberry sauce, to help cut through some of the richness.
Crust:
1 1/4 cups chocolate cookies, crushed into crumbs
1/4 cup sugar
1/3 cup butter, melted
Truffle:
1 cup good quality semi-sweet chocolate chips
3 Tbsp. Whipping cream
Filling:
4 (8 oz) packages of cream cheese, softened
1 1/4 cups sugar
4 eggs
2 cup good quality semi-sweet chocolate chips
1 cup whipping cream
2 tsps. vanilla
Preheat oven to 350 degrees.
In a bowl combined crumbs, sugar. Pour in melted butter, and press into a greased springform pan, pushing up the sides a little.
Make the truffle: Melt 1 cup chocolate chips and mix with the 3 Tbsp. of whipping cream until it forms a thick, truffle consistency. Spread this over the crust and then put in the fridge while you make the filling. In a mixing bowl beat cream cheese and sugar till smooth. Add eggs beating on low until blended. Add 2 cups of melted chocolate chips, vanilla and 1 cup whipping cream. Pour into crust and place in the oven for 55 minutes, or until the center is almost set, but still wiggles slightly. Remove from oven when done and let stand for 10 minutes on a wire rack. Run a knife carefully around the edge of the pan to loosen; cool 1 hour longer. Cover and refrigerate overnight.
* Note: You might have more filling than the springform will hold. I like to make mini cheesecakes in a muffin tin with the extra filling. Just press a little crust into cupcake papers, pour filling on top and bake for 20-25 minutes.