Tips on Hosting a Farm Tour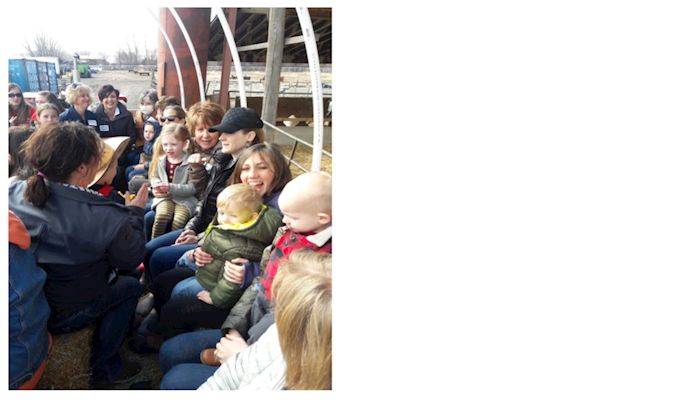 Farm tours are important for many reasons. Most of the population is now at least two generations removed from the farm. Tours give people, who are interested in how food is produced, an opportunity to make connections with farmers. Many people talk about food, how to cook it and its nutritional value, but most have not actually visited a farm, talked to a farmer or had any education on how food is grown. A visit to the farm is an exciting and rare opportunity.
Want some ideas to plan a successful farm tour? Here are some tips:
Who is your audience? Who you invite on the tour will make a difference in the activities and the messages of the tour. Are you hosting school children and their teachers? Food influencers? State legislators? Citizens from your community? Mothers? Dietitians? Other farmers? Determine your audience and the message and experience you want to provide.

What are you trying to accomplish? Are you giving a legislator the opportunity to see how a particular bill or regulation impacts your farm? Is the purpose to build friendships and relationships, or simply to provide an opportunity for visitors to have a "feel good" experience on a farm? Decide what you want to accomplish.
Plan the event. Talk to people who may give insight into what will make the event successful--people who will be attending, farmers who have hosted a successful farm tour. Ask for ideas on activities, the length of the tour, do's and don'ts they have learned along the way. Visit the farm a few weeks prior to the tour. Meet with the farmer and develop the agenda for the tour. Talk to the farmer about what's unique about their farm. What's the farm's history, and challenges? Review questions that might be asked. Determine what guests will see and what activities will be offered. Work out logistics like where the bus will drop off and pick up, where the lunch will be served, and where to hand out the gift bags.
Think about providing some hands on learning activities to get them involved in the process. Anything going on at the farm can be a special event like walking in the corn fields, picking an apple, feeding a calf, seeing a calf born.
Invite guests. Determine how to invite the guests. Will you use social media or mail invitations? Remember the most successful invitation is a personal invitation.
Volunteers —Rally your volunteers with your enthusiasm. Divide up the work. Make assignments such as a person to take pictures during the tour, arranging for transportation, arranging for lunches, gathering and putting together swag bags, and teaching moments/activities (animals, tractors, a scavenger hunt or an activity from Ag in the Classroom).
Event Day
Greet the group--remember that visitors want to know the farmer themselves. They want to hear from the expert. Explain they are visiting a working farm. Identify where bathrooms are, and stress safety practices that should be observed.
First impressions are everything--Be enthusiastic and put any problems occurring on the farm that day aside while the tour is in progress.
Find ways to incorporate extra messages--emphasize the importance of agriculture. Tell your story—what you grow, where you live, what your family involvement is on the farm, how the farm/ranch is friendly to wildlife and the environment, etc. Stay on time and be positive.
Allow enough time for questions and answers--don't be intimidated or offended by questions. Studies show the public trusts farmers. If they ask hard questions, it means they trust you. Don't answer questions in a defensive way because most people don't mean to be confrontational, they really just want to know the answer to their concerns.
Find ways to demonstrate your points--for example, while showing the guests around the farm, show them a field of genetically modified corn. In most people's minds GMO crops are not safe to eat. To show the corn is safe to eat, the farmer may bite into sweet corn from the field reassuring the visitors it is safe.
Provide Photo Opportunities--In the spring people love to see baby farm animals, or the blossoms on the trees and in the fall who doesn't love a pumpkin patch or a hayride. Provide opportunities for your guests to take pictures on the farm. People will share their pictures and experiences on the farm long after the tour is over.
Feed them well--this can play a role in improving consumer confidence about a safe and nutritious food supply provided by U.S. Farmers. Find a way to make the connection between their food and the farmers and ranchers who produce it.
Swag Bags—provide gift bags to attendees for additional messaging. Give visitors something with the farm name on it. Reach out to Ag organizations to gather items for the bags. Give bags, brochures and information out at the end of the tour.
Protect Yourself--make sure the farm has liability insurance. In addition, make sure to post liability signage for safety precautions. Provide handwashing and hand-sanitizing stations around the farm.
Use Resources Available to You—call your state Ag Promotion chair for additional help and ideas. Remember your regional manager's are great resources.
Create follow-up dialogue--when the tour concludes, keep the lines of communications open. Ask participants to fill out a brief survey about their tour experience, but make sure the survey is short and not cumbersome. Create closed Facebook groups for those who took part on the tour to help them stay connected.
After the Event—Thank your volunteers and sponsors. Post photos. Recap the event with your team and make notes on what went well and what could be improved for next time.
Want more news on this topic? Farm Bureau members may subscribe for a free email news service, featuring the farm and rural topics that interest them most!