I'm not a Farmer, but… University President and Geneticist Shares how Experiences Growing Up on Farm Help Shape her Academic Leadership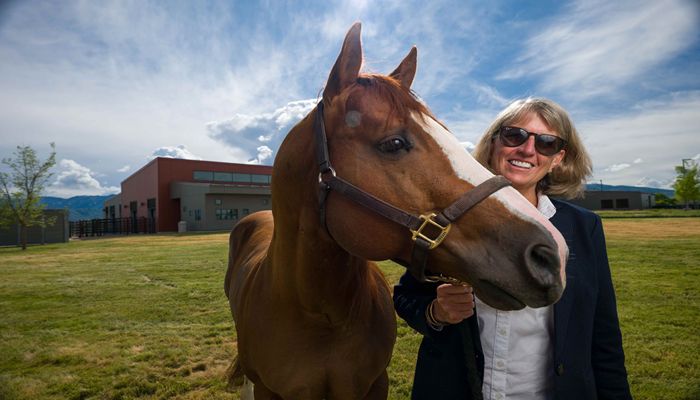 Utah Farm & Fork caught up with Dr. Noelle E. Cockett who serves as President of Utah State University (USU) in Logan to get some of her thoughts on food, the role that Utah State University plays in Utah's agricultural industry, her work in academia, and her own experiences with food. 
President Cockett began serving as USU's 16th president in 2016, after having served as executive vice president and provost since 2013. Many in agriculture are familiar with Dr. Cockett, as she served as Vice President for Extention from 2006 to 2023 and dean of the College of Agriculture & Applied Sciences during that same time. She began her career at USU in 1990 as a researcher and assistant professor in the Department of Animal, Dairy, and Veterinary Sciences. Under her leadership, USU was designated an R1 Carnegie University for excellence in research, and secured funding and approval for a College of Veterinary Medicine – to be Utah's only veterinary school. 
It was recently announced that President Cockett will step down as USU's top leader on July 1, 2023. She will continue as a tenured member of the USU faculty after her presidency comes to a close.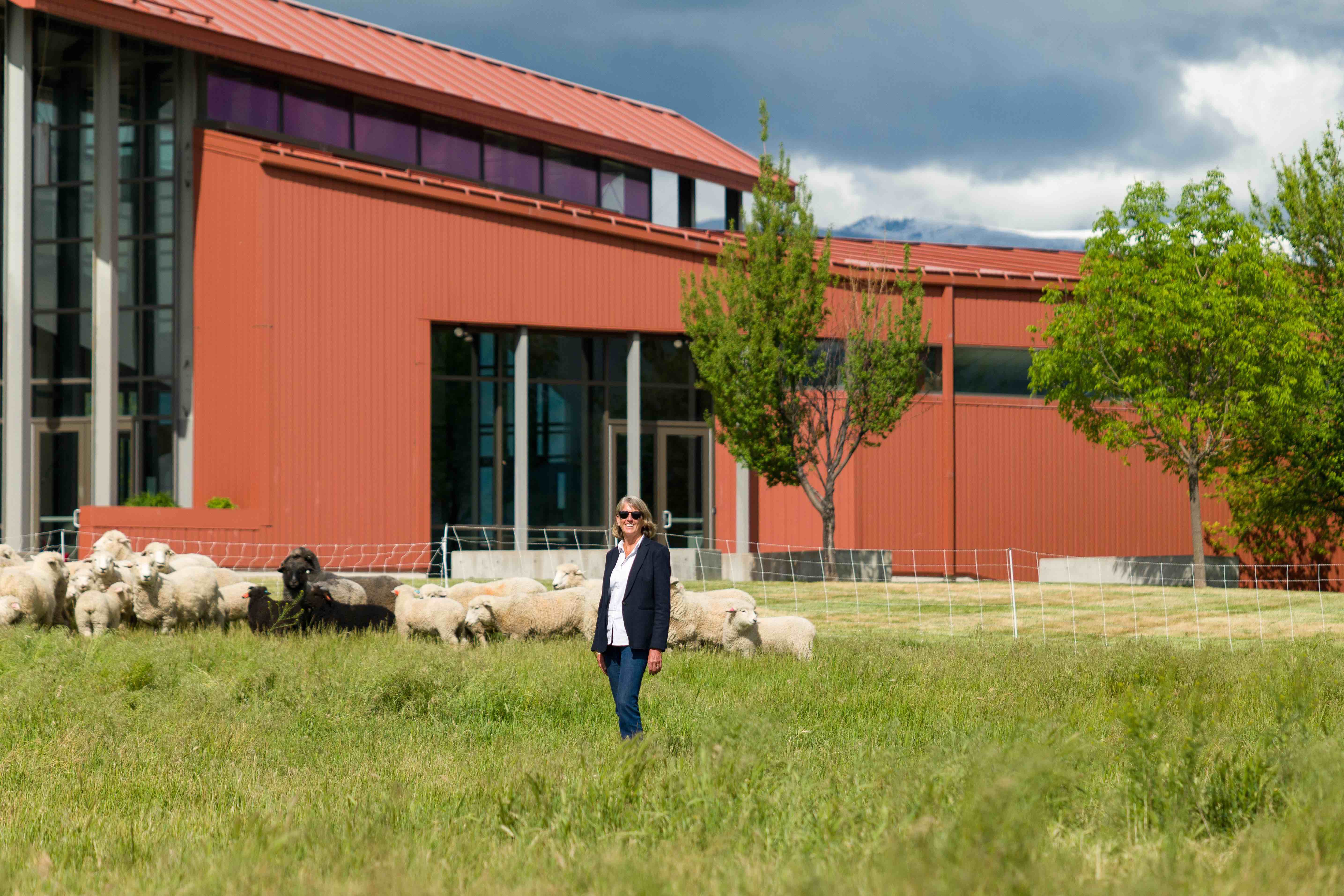 Where were you born? Tell us about your family and your childhood.
I was born in Miles City, Montana. My father was a farmer and belonged to a family corporation. They grew alfalfa, corn, and more that were used to make pellets for livestock to eat.
Did you grow up on a farm or have a family garden? Or work with farm animals or pets growing up?
My father passed away when I was in the 3rd grade. He and my mother had six kids, all under 12 years of age at the time he passed away. I was right in the middle. My mother and oldest sister and her husband still live in the family home in Miles City. 
Things were super, super tight [financially] growing up. I remember the social security check coming in – I think it was $325 – and we would go to the grocery store that night. So, to help things, my two brothers and I worked for my uncle. He lived about 125 miles away near the town of Ekalaka, Montana, down in the southeastern corner of Montana. He first raised about 4,000 sheep, but then sold those and got into beef cattle.
He started raising Hereford cattle, and over time we perfected the genetics of this herd. He loved horses, and so there were lots of horses. Along with other turkeys, sheep, etc. We worked hard. We weren't just raised on a farm, we were his farmhands! That started when I was in the 4th grade, and I worked for him (and was very underpaid!) until my second year in college. My mother re-married to a wheat pig farmer in North Dakota, so I started working for my stepfather when I was in college growing wheat.
Tell me about some memories/experiences that stand out from working on your farm. Do you or your family have a garden now?
One of the things I remember and loved doing with my father was working in the garden. Hoeing, planting, etc. On my mother's side of the family, it was working with animals. But now, I've come to realize that there is something to working with the soil. Harvesting… I'm a little less excited about. But I like working with plants because there's nothing better than seeing them flourish. I haven't done quite as well as doing something with them after you harvest.
When my daughter was little, she'd come out and build earthworm families, and squeal every time they got cut in half. In our family, we have two kids. A son who works in setting up food processing facilities, and a daughter who lives here in Logan.
Was being involved in academia something you wanted to do when you were a child/teen? How did you get involved in your current industry?
Most of my siblings and I went to college at some point at Montana State. I graduated with my bachelor's in animal science, then I went to Oregon State and got a master's degree and Ph.D. in animal genetics.
When I first went to college, they didn't have career counseling. I wanted to be a veterinarian because I loved animals. My students love this part of my story, but I partied a little too much as a freshman and my grades took a big hit, and so I realized I wasn't going to get into vet school. But I didn't stop taking pre-vet classes, and so in my junior year, my mom asked if I was going to stop being in school at some point. I was in two genetics courses – biology genetics and animal genetics – and asked them what I was going to need to do to get a degree. I could finish animal genetics quicker. I also learned I could teach at a university with a degree in animal genetics. They also said I could do research (which I really liked), and I never knew that was a thing for professors. I thought they just taught. I then went on to grad school at Oregon State.
So, I also tell kids not to over-sweat it, because things all work out. That decision you make when you're 18, doesn't determine everything.
Please describe a typical workday for me.
Assignments can be very broad. Just in my day today, I've had lots of meetings on issues such as internal audits, appointments, meeting with our Space Dynamics lab, our legal counsel regarding trustees' bylaws, budgets, and then a dinner with donors. Each day can be incredibly different. By I also have to remember, every day – what's best for USU? And then, what aspect of USU? How does it affect the students? The [university's] reputation? The research?
When I first came to Utah State, I was a faculty member in Animal, Dairy, and Veterinary sciences, my assignment was really to be doing research 75% of the time, and teaching the rest. So, when I have been in zoom meetings with other colleagues, and we are talking about research grants in animal genomics, I can perhaps provide a higher level of context than most university administrators. The same goes for working with the Food and Drug Administration (FDA) on issues of animal genomics.
I imagine you've traveled to many other cities for work & research, are there things you liked to eat that reminded you of home? Or what food do you miss the most from home?
My husband has a bucket list, and we'll travel to some exotic places like Dubai, Singapore, the Caymans, and the Maldives. But where we live, in Wellsville, I've sat outside looking over Cache Valley and thought that I live in one of the most beautiful places in this world. I've also been able to travel to all the extension offices in the state and come to some beautiful places in Utah. I do enjoy some alone time, hiking around in Cache Valley, and that reminds me of home in Montana because you can go and not see anyone else.
As far as food, it's fried chicken. We raised chickens, and we would butcher the chickens at home on Saturday, and on Sunday we'd have fried chicken. We'd also have all the produce from the garden, including corn on the cob, cucumbers, beets, beans, and peas. But now as an adult, I've never been able to grow enough peas to have enough for a pot, but just eat them fresh from the garden. There is nothing better in this world than a fresh cucumber, tomato, or lettuce.
In my garden, I also try to do one new thing every year. I've done Brussel sprouts, celery, artichokes, cauliflower, etc. If it works well, then I'll keep it around. My challenge is keeping it alive, but I need to learn better about when to harvest each thing. I tried Bok Choi, but everything was seeded out and not good.
When I worked for my uncle, along with my two brothers – since I was the female, I was expected to cook. I had to cook lunch and dinner. Since I was the cook, I was able to get out 30 minutes early from the farm work to cook. I was expected to have it ready in 30 minutes, so I've learned to cook things really fast. 
How do you feel your role as a researcher earlier in your career, and then in academic leadership has contributed to the food industry?
Food is a collecting influence. The breaking of bread is a feeling of comfort, and family, and community. That's why I feel that so many events have that element of it. Fast food worries me, and I try not to eat much of it, especially eating while driving. We should savor our food, and that's hard while driving. For me, the preparation, the presentation, and the sharing of that food is important. There are so many studies about having families sit down together over dinner. We've done that since our kids were little – maybe not every night – but even now when our kids are older. We try to have a family dinner on Sunday. It's the conversation that matters. 
Brag for a little about Aggie Ice Cream, Aggie Chocolate, or other foods that come as a result of USU.
We recently celebrated the 100th anniversary of aggie ice cream! The university built the animal science building in 1918, and then right after it was finished, it was used as a temporary hospital during the influenza outbreak. After, they would process cheese, cottage cheese, and milk. In 1922, they brought an ice cream specialist from Germany, and they started aggie ice cream. We started selling ice cream out of the same facility until 1992. Lots of amazing people, and our cows, have contributed to that ice cream. I could probably identify any ice cream we have just by looking at it! 
We also started Aggie chocolate. I recommend people come up to our chocolate factory and do a taste test to see the differences between milk chocolate, and dark chocolate, and become a connoisseur. You taste the different types of chocolate and see which ones are smokey, or herb tasting, etc.
What's the best meal you've ever had? And why?
It's often the experience. One time, I went to Thailand and was a guest for an animal genomics presentation. We took a power boat out to the edge of Thailand and met with an elderly shrimp farmer. The vegetables and fruit were from his trees, and we were sitting on the banks of the water – and the whole thing was incredibly delightful. So, I think the experiences matter. I've had incredible meals in France, where they take a long time. The meal experience is what you do, rather than quickly eating and moving on to something else. 
Do you like to cook or is someone else the main cook? If yes, what is your go-to meal/dish/recipe?
I love to cook and try new things. The first time can be a little hard, but the second time is better. I've liked a Louisiana cookbook I've been using, for things like red beans and rice, soup, or a Louisiana boil in an Instant Pot. I've also made Poblano pepper enchiladas. I also think that sour cream makes everything better. My husband does the grilling, rather than me. I don't really have time for desserts, but USU does make a nice molten chocolate cake though. 
If you don't want to cook anything fancy or elaborate, what is your basic comfort food you like to eat (no shame!)?
It's that white cheddar popcorn! I keep telling myself that it's only 70 calories – but that's only if you eat a cup. I could eat the entire bag. 
What would you have for your last meal on earth?
I will really try anything!
Want more news on this topic? Farm Bureau members may subscribe for a free email news service, featuring the farm and rural topics that interest them most!