Iron County Farm Bureau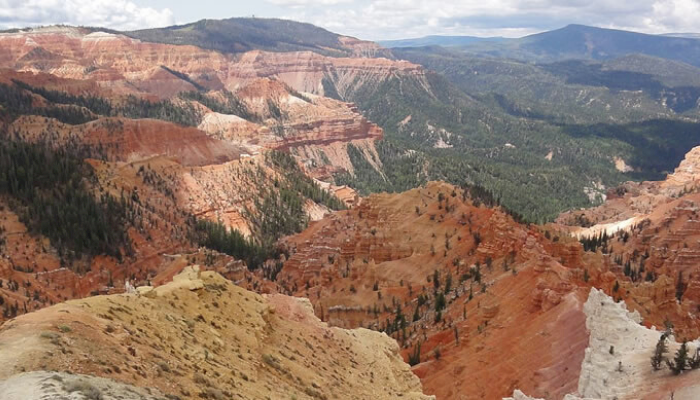 IRON COUNTY FARM BUREAU LEADERSHIP
County President:  Scott Stubbs (435-590-1800)
Iron County Facts
Area:  3,301 square miles
Population:  49,691
County Seat:   Parowan
Origin of County Name:  from iron deposits in the area 
Economy:  government (including education), wholesale and retail trade, services, light manufacturing, construction
County Website:  Iron County
Iron County is a study in contrast—from the arid Escalante Desert and Great Basin ranges in the west to the meadows and forests of the High Plateaus on the east.
The colorful formations of Cedar Breaks National Monument, a kind of miniature Bryce Canyon, creases the Markagunt Plateau.
Brian Head mountain (11,307 feet), named for a profile that resembles William Jennings Bryan, rises abruptly behind Iron County's major string of settlements. The high mountains capture precipitation from passing westerlies, and this snow and rain feed the headwaters of the Sevier River.  
Places of interest are Cedar Breaks National Monument, Iron Mission State Historic Park, Old Iron Town, Southern Utah University and Shakespearean Festival, and Brian Head resort.
Iron County, Utah gets 15 inches of rain, on average, per year. (US average is 38 inches of rain per year.)  The county averages 71 inches of snow per year. (is 28 inches of snow per year.)   On average, there are 255 sunny days per year in Iron County. (US average is 205 sunny days.)
Iron County gets some kind of precipitation, on average, 64 days per year. Precipitation is rain, snow, sleet, or hail that falls to the ground. In order for precipitation to be counted you have to get at least .01 inches on the ground to measure.
AGRICULTURAL STATISTICS
Iron County Agricultural Statistics (2017)
__________________________
References:  ilovehistory.utah.gov, nass.usda.gov and bestplaces.net