Lessons Learned Going Back to the Farm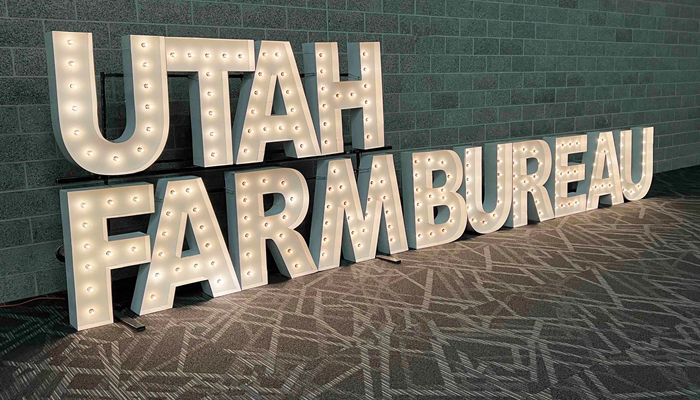 Growing up, my parents were very involved in Farm Bureau, but it was always an abstract concept that, to a teenager, was just a meeting that they disappeared to occasionally. Then, as a college student, I happened to be in Layton during the annual convention, and I joined my parents for the banquet at the end of the conference. That was when I started to understand the impressiveness and importance of the organization. The decorations and program were beautiful, but more importantly, there was a feeling in the room. A feeling that these people deeply cared about each other and about a common goal.
When it was time for me to graduate college with a degree in Political Science, and I had decided I didn't want to go to law school as I had always planned, I was in search of a path forward. I knew I wanted to be involved in advocating for agriculture in some way, but I didn't know what positions existed that fulfilled that purpose. This happened to coincide with Duchesne County Farm Bureau's annual banquet, where my mom found out that Sterling Brown, Utah Farm Bureau's lobbyist at the time, was looking for an intern. It was exactly what I had been looking for.
I quickly applied and was accepted to be an intern for the legislative session. I learned so much from Sterling during that time, not only about what it meant to be a lobbyist and Farm Bureau employee, but also how to be a better person. I owe a lot to him.
During the session, I mentioned to Randy Parker, Utah Farm Bureau's CEO at the time, that I was really interested in working for the organization after the session was over. When the session ended, he hired me to fill a full-time position. I owe a lot to him.
During my time at Farm Bureau, I have had the opportunity to build so many wonderful relationships and have had many adventures with the staff. I have been privileged to have been mentored by some of the most outstanding professionals, and I would be remiss if I didn't thank my supervisor especially, Susan Furner. We've lost some good soldiers along the way, such as Dale Newton and Garrick Hall. Each member of the staff has had an impact on my life, and I am a better person for having known each one. I owe a lot to them.
I have also truly enjoyed working with and learning from Farm Bureau members around the state. The farmers and ranchers who ARE Farm Bureau, who are why Farm Bureau exists and continues to move forward. Ron Gibson has been at the helm of Utah Farm Bureau as the President ever since I was hired, he and the rest of the board have encouraged me to work hard and provided me with the resources I needed to do a good job. I owe a lot to them.
But one of the most important lessons I've learned during my time here, is that Farm Bureau is more than one person. It is an idea, a hope, a dream. People leave or pass away, but the organization remains. It is carried forward by the farmer who steps off the tractor and into the county board meeting, by the rancher who leaves his or her ten thousand item to-do list to spend a day at the capital building, by the agriculture teachers and FFA advisors who help mold future advocates. As Margaret Meade said, "Never doubt that a small group of thoughtful, committed citizens can change the world. Indeed, it is the only thing that ever has."
We're all here because we love agriculture, and because we need agriculture. I believe in our mission and in our members, and I'm looking forward to continuing to be involved. Working for Utah Farm Bureau has been one of the greatest privileges of my life, and I need to thank my family for their support, and everyone who has touched my life during my time as a staff member. You haven't just been members or customers; you have been my friends. I owe a lot to you all. 
So, in the words of our late co-worker and dear friend, Garrick Hall, "Well, let's go to work."
Want more news on this topic? Farm Bureau members may subscribe for a free email news service, featuring the farm and rural topics that interest them most!