Loveland Living Planet Aquarium "Stages" Up Their Commitment to Re-Using and Recycling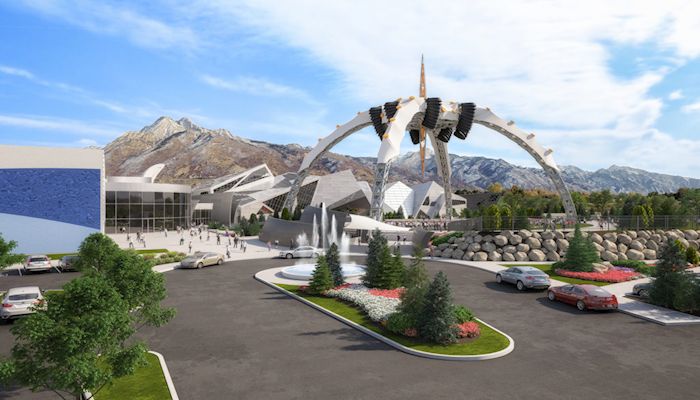 If you've driven on I-15 past Draper in the past few weeks, you can't miss the massive addition to the skyline, rising like a living creature from the Loveland Living Aquarium campus.
The artistic structure is actually one of two in the world: the touring stage from U2's 360° tour.
According to Rolling Stone, Brent Anderson, the founder and CEO of the Loveland Living Planet Aquarium, first saw the stage in Barcelona at the kick off of the U2 tour and was enamored with it not only has a stage, but as a work of art.
The 360° stage nicknamed "The Claw", stands 16 stories tall and is made of over 200 tons of steel. According to Wikipedia, it took 120 trucks, 3 and a half days, and $750,000 to construct at each new tour site.
The Loveland Living Planet Aquarium acquired the stage not only as an impressive ornament, but as part of a new educational center: The Ecosystem Exploration Craft & Observatory (EECO).
According to the Loveland Living Planet Aquariums website, "The stage beneath the structure is actually the roof of a new building – the EECO Command Center- which will offer ecology-themed, interactive experiences that encourage guests to learn about our natural world."
There will also be outdoor art installations and interactive play areas in the new plaza surrounding the structure.
By using an existing structure, The Loveland Living Planet Aquarium is recycling 200 tons of steel, saving building materials, resources and energy. They hope it will serve, "as a majestic symbol of our dedication to educating people about how we are all interconnected as one global ecosystem, the Living Planet."
Utah Farm Bureau members can see the structure up-close for a discounted price. Purchase tickets through Utah Farm Bureau for $14.95 by calling 801-233-3010 or signing into your account at https://www.utahfarmbureau.org/store .