Safety Tips for a Little Spring Cleaning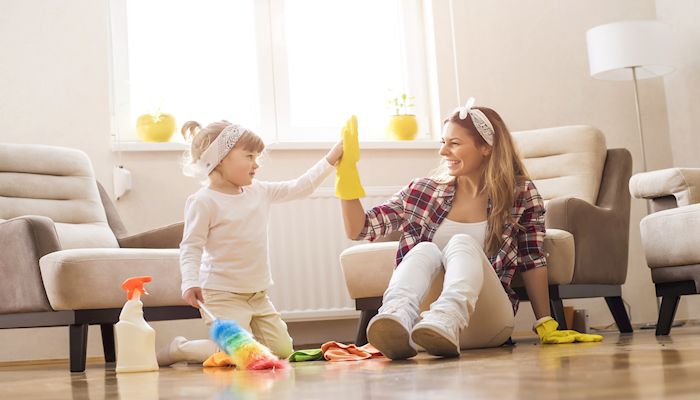 More people look to performing the annual home deep cleaning this time of year. This leads more chores like washing drapes, cleaning blinds, wiping out window sills, mopping down walls, and much more. Be careful and remember that cleaners, detergents and other harsh chemicals need to be handled with caution.
An important tip around cleaners or other chemicals is they need to be stored in a location that children can't get into. Many of the containers and bottles they come in can make the chemical appear to be a beverage or other food item. Be sure to have the number of your local poison control nearby in case children consume the cleaner by accident.
Never use a cleaning agent without first reading the product label, especially if you are considering mixing cleaning compounds. The signal words caution, warning, and danger, as they indicate the level of toxicity. Danger signifies the most hazard level.
If you are planning to use bleach in your cleaning make sure to review the mixture portions.* 1 tablespoon of bleach per gallon of water – is needed to kill foodborne germs like E. coli and salmonella on kitchen surfaces.
3 tablespoons of bleach per gallon of water - On nonporous surfaces like wooden cutting boards and for soaking kitchen cloths.
For more information about the uses of bleach for disinfecting surfaces visit the American Chemistry Council's website at: https://chlorine.americanchemistry.com/Chlorine/BleachFAQs/
It is also important to clean the surfaces before disinfecting. It is possible for bleach to react chemically with organic matter in dirt, and possibly leaving behind live pathogens.
When using a ladder to help reach those hard to get areas around the house, remember these tips from the American Ladder Institute to keep you safe:
Choose a ladder long enough that you don't have to stand on the top rung or step.
Inspect the ladder before climbing. Do not use rickety ladders or ladders with loose or missing parts.
Ensure the duty rating of the ladder is more than the total weight of the climber, tools and other objects that will be placed on the ladder.
Place the ladder on firm, level ground.
Only allow one person on the ladder at a time.
Use three points of contact to reduce the risk of slipping or falling. Face the ladder with two hands and one foot or two feet and one hand in contact with the ladder or side rails.
Wear slip resistant shoes.
It is our hope that you will be safe while cleaning around the house this spring. For more information on cleaning solutions and safety, please contact me at a.ferguson@fbfs.com.
Want more news on this topic? Farm Bureau members may subscribe for a free email news service, featuring the farm and rural topics that interest them most!