The Salt Lake County Jail Horticulture Program – Growing Food and Growing Change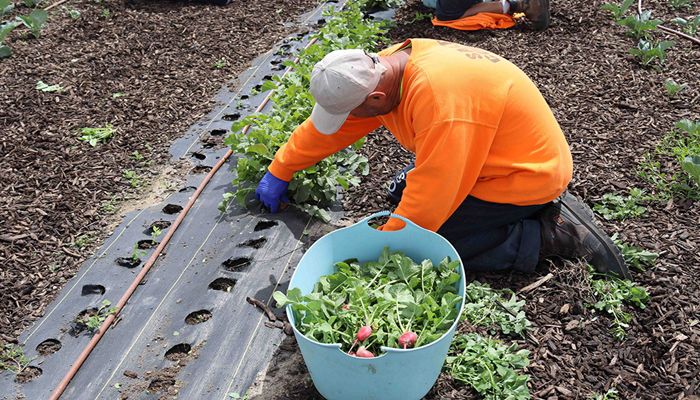 The Salt Lake County Jail Horticulture Program in partnership with Utah State University (USU) Extension teaches inmates how to nurture crops from seed to market. The program is in its 17th year and has a two-fold mission to provide an educational program where inmates have opportunities to change their lives and gain transformative skills and feed Utah's hungry.
"Every decision we make is measured by our mission. It must fit the mission, or it isn't considered," said Lieutenant Richard Morse, the director of the program who oversees its success.
The mission seems to be working as some inmates have gone on to earn valuable arborist certifications, start landscaping businesses, or start growing their own gardens. Fresh produce from the jail garden is distributed to local senior citizen centers, the Utah Food Bank, and other charitable organizations.
The program provides 20-30 inmates with classroom instruction and hands-on gardening training every year. Inmates can earn USU's "Excellence in Gardening" certificate after 40 hours of classroom instruction. The garden is beautiful in its simplicity. They plant by hand and harvest by hand. It demonstrates that starting and caring for a garden is doable. Participating inmates grow a variety of vegetables, fruits, herbs, and flowers and maintain 1.5 acres of fields, high-tunnels, greenhouses, and a chicken coop they've named "Coop Knox".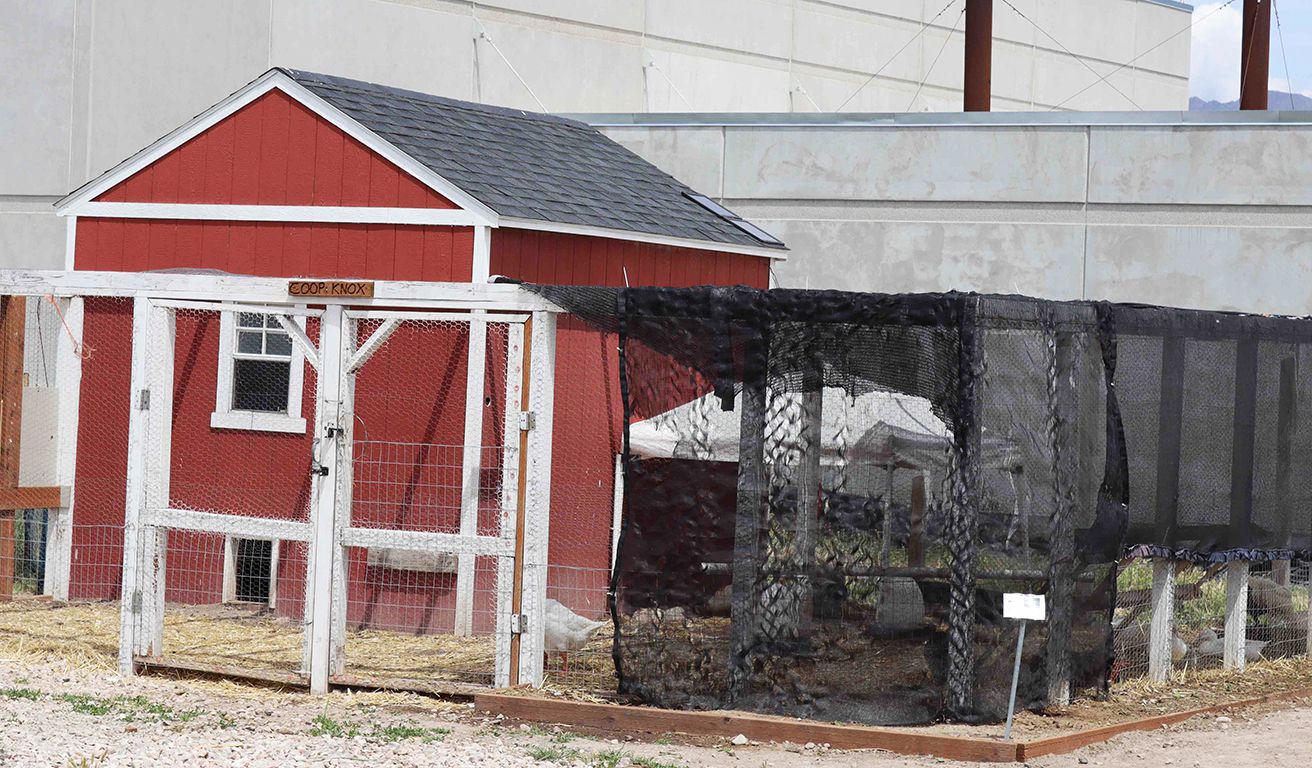 Danielle Ringle is the program's full-time horticulturalist. She worked as an arborist in Minnesota working long and physically taxing hours. Her love for the mountains and a desire to try something new brought Danielle and her husband to Utah. She realized something about herself – she loves education, food, and connecting people and food. She interviewed and was determined to be a perfect fit to be the program horticulturalist. One of the things Danielle says she loves about her job is that the inmates are super interested in learning.
Growing Good Citizens
Studies have found that work programs like the jail garden can reduce recidivism rates and health and behavioral issues in incarcerated populations. Although there hasn't been a study of the Salt Lake County Jail's Horticulture program, Lt. Morse has observed the growth of inmates who participate in the program.
"There are fewer sick calls and mental health calls for this group," Morse said. "For many of them, they are learning structure for the first time in their lives. To get up, to be somewhere on time, to shower and dress, and have a purpose."
Inmates must attain certain qualifications to participate in the program. They are on their best behavior. To some it is motivating to be outdoors, to be able to talk and bond with fellow inmates and staff. Ringle said, "Inmates don't want this to be their life. They are looking for ways to better themselves."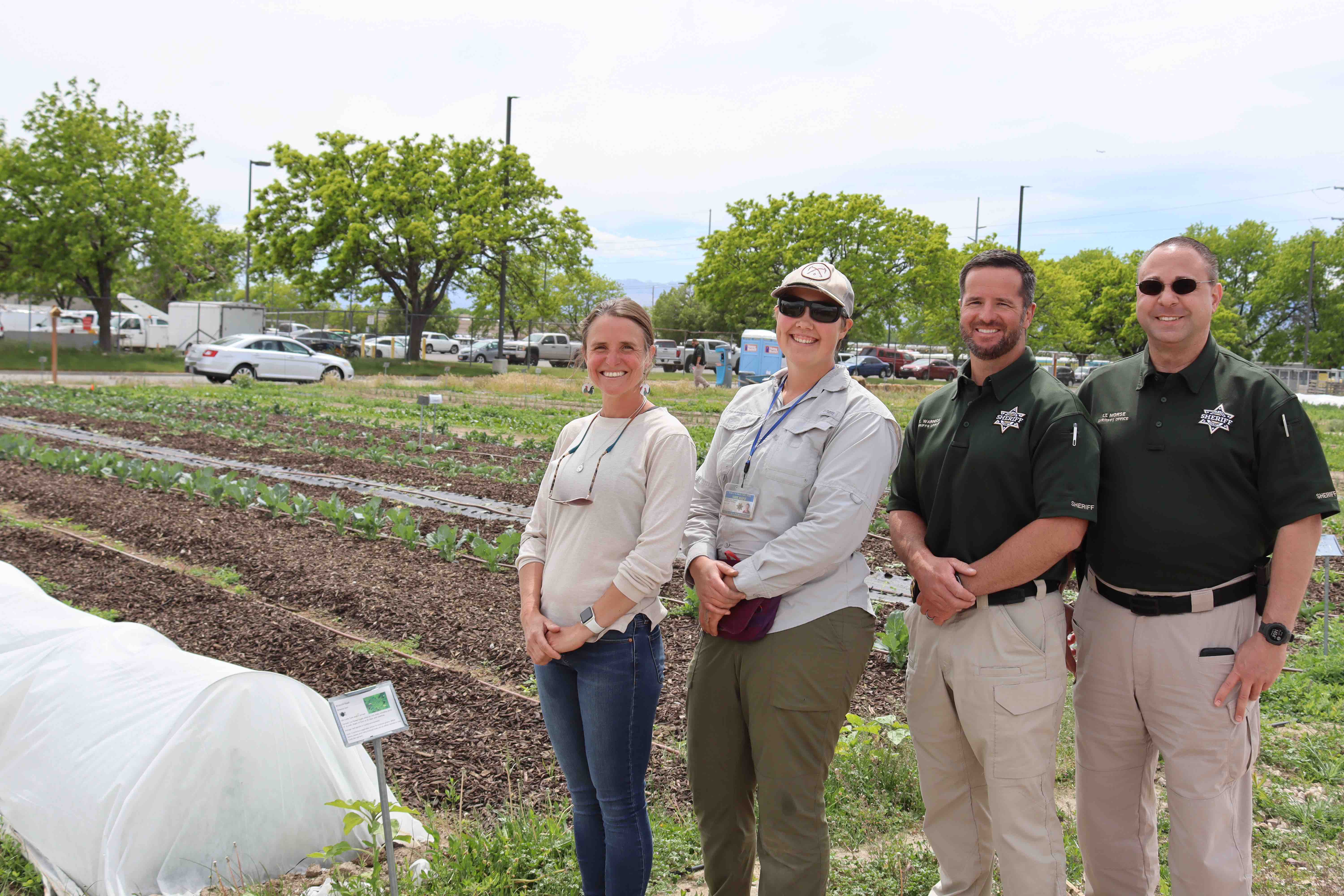 L to R - Katie Wagner, Danielle Ringle, Cole Warnick, and Richard Morse at the Salt Lake County Jail garden.
Danielle is the constant. She's there every day, planning, implementing, problem-solving, and building relationships of trust. As prisoners come out to the garden, she asks what they are good at—what they like to do. Some like to build, some like to work with animals, and some like to fix machinery. Danielle tries a strengths-based approach to match their strengths, skills, and interests to the jobs at hand.
The inmates are invested in the success of the garden. They often make suggestions for a better way to do something. The garden is a positive environment with positive conversations and positive outcomes.
But when the outcomes aren't positive, when they experience a failed crop or an injured bird, they turn the failure into a learning opportunity by asking questions. What happened? What could we do differently next time? Learning that failure isn't the end, but an avenue to greater progress is a valuable life lesson.
Growing food and the charitable distribution of the food also give the inmates something positive to talk about with their families during visitations.
Before Covid hit, the inmates sold their produce at the Downtown Farmer's Market. When you are involved in growing the food, there is a great sense of pride and accomplishment in the work.
The inmates are also taught how to cook what they are growing, so they can share their knowledge with customers. The market is a great opportunity for the inmates to learn social skills and business skills. The jail hasn't been at the farmer's market since Covid but plans to return at some point.
Feeding Utah's Hungry
Last year the jail garden distributed fresh produce to 120 senior centers in the Salt Lake area. It's a win-win situation. Inmates are mentored and educated in horticultural practices and the produce is helping targeted populations with food insecurity. For some inmates, it may be the first time they find themselves in a position to give back to the community.
The Salt Lake County Jail partners with USU Extension in distributing the food. Katie Wagner, Salt Lake County Extension Agent, explains the partnership, "The jail is good at growing food. USU has become good at disseminating the food, packaging the food, and identifying the people who are most at risk with food insecurity."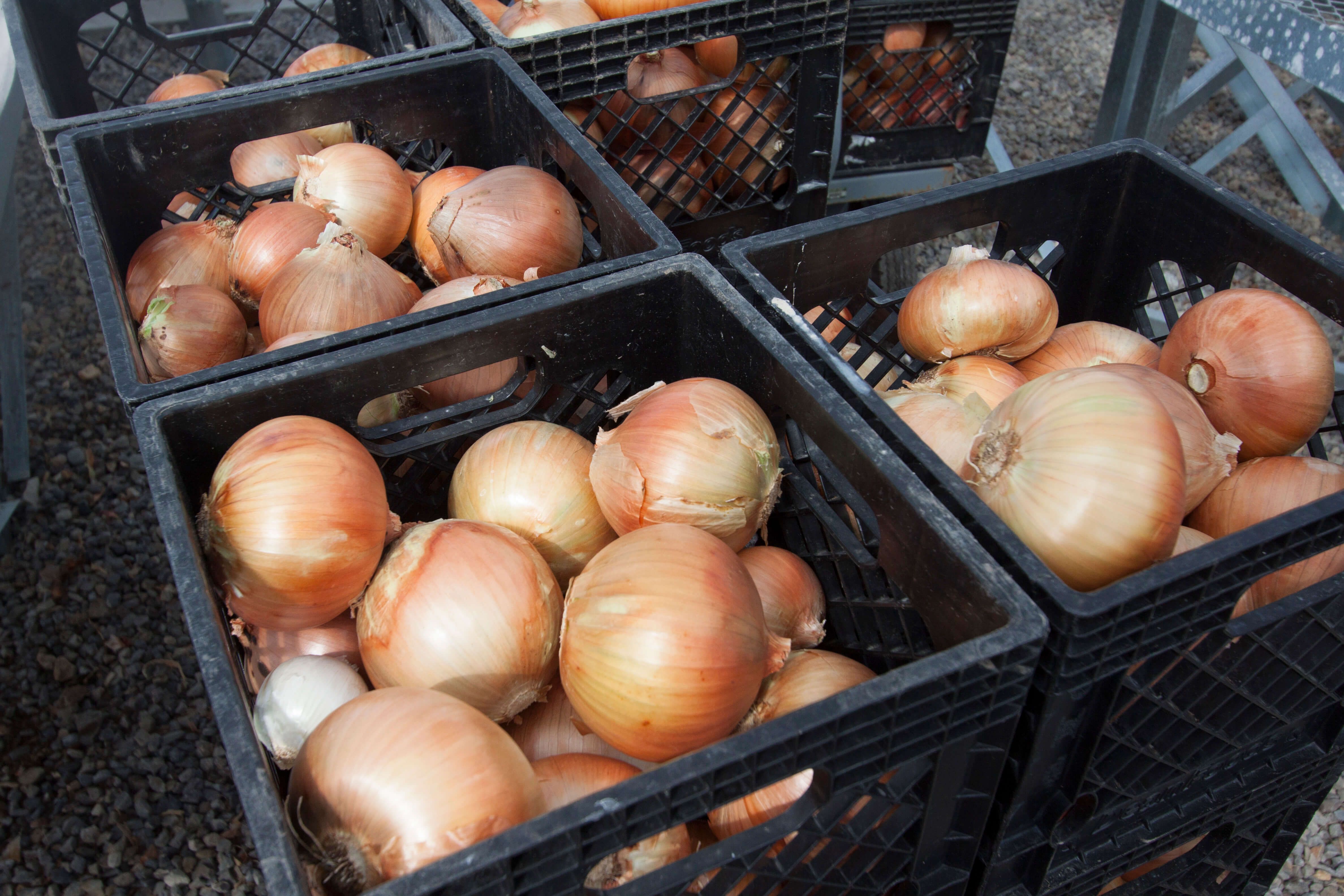 Pop-up farmer's markets are taken to senior centers where seniors can select fresh produce to add to their diets.
The jail garden program also provides food for the Utah Food Bank, and pumpkins for special needs children.
Growing Change
Growing isn't limited to the food or the inmates. It seems that everyone involved grows.
Lt. Morse remembers back when he was a new law enforcement officer. He was a strict, play-it-by-the-book kind of guy. That strict, unyielding mindset caused some conflicts early in his career.
He was offered a position in programming and has become a huge proponent of the good that comes from programs like the jail garden. Lt. Morse found his own purpose as a teacher and mentor. He says, "I've become a kinder, gentler, more compassionate man."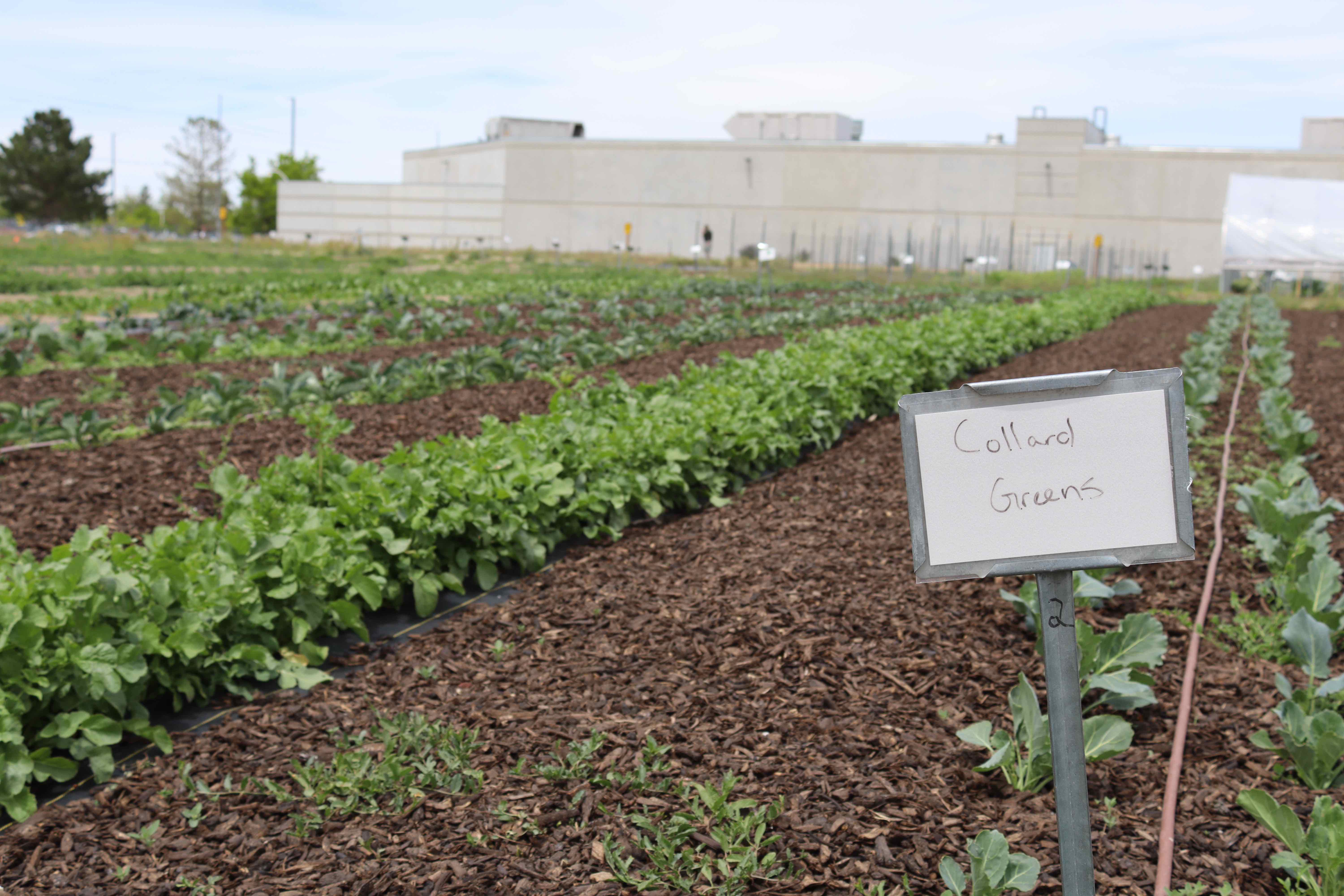 The Lieutenant's view of the inmates has also changed. He said, "They are people who made a mistake and deserve a chance to change."
Danielle reflected on the growth she has seen in herself over the past 18 months since she's been involved in the program, "I used to be hyper-performance focused. I was driven by production, but now I've learned to slow down and realize it's not about how much is produced, but who I can help. I've learned patience."
Some of the most profound lessons we learn in life happen outside the classroom. In places like a garden where self-confidence, and self-worth, find a favorable environment in which to grow.
Want more news on this topic? Farm Bureau members may subscribe for a free email news service, featuring the farm and rural topics that interest them most!