The Summer of Lemon Bar Sherbet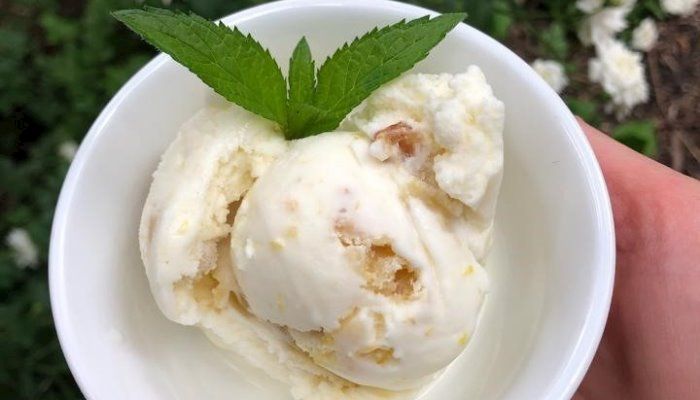 As I have mentioned before, I grew up in sunny Southern California, ten minutes in either direction from Disneyland and Knotts Berry Farm. As you can imagine, we had the most epic 4th of July fireworks in all the land, no purchase necessary. We just climbed on our roof and watched both parks shoot off theirs!
One summer, when I was in junior high, my mom and I made a habit of climbing on the roof to watch Disney's nightly 9:30 fireworks. We would stretch out on a blanket up there on the roof, talk, and share a bowl of lemon bar sherbet--an ice cream we had discovered only just that summer.
That sherbet blew our minds! It had a sharp, but creamy lemony sherbet with actual chunks of sweet, buttery lemon bar scattered throughout. I remember feeling so lucky that I had a mom who would do stuff like that with me. She was always thinking of fun things to do! That sherbet only lasted the summer, they discontinued it not long after, but I've never forgotten the taste of the sherbet or the memories of summer fireworks on the roof with mom.
In honor of that summer of fireworks and sherbet, I decided to create a lemon bar sherbet of my own. The recipe for the lemon bars is my mother's. She makes the best lemon bars, because she makes them with 1.5 the filling!! The recipe I used for the sherbet came from Joy of Baking: https://www.joyofbaking.com/LemonSherbet.html
This recipe only makes 4 servings, so feel free to dial up the recipe.
Lemon Bars (Generally my mom makes a 9x13 pan, I halved her recipe and made it in an 8x8 pan.)
Preheat the oven to 350°
Crust:
1 stick of softened butter
¼ cup powdered sugar
1 cup all-purpose flour
Blend all ingredients together to form a crumbly dough. Press dough into an 8x8 pan (make sure to spray with nonstick spray) & bake for 20 minutes, or until the crust is golden brown.
Filling:
3 eggs
1 ¼ cups sugar
4.5 Tbsp. lemon juice
2 Tbsp. Lemon zest
1 Tbsp. flour
¼ tsp. salt
Whip sugar and eggs together until sugar has dissolved. Add the lemon juice and zest and whip again. Then add salt and flour and whip once more to combine. Let sit while the crust is in the oven. Right before you pour the filling into the crust to be baked, whip it up one more time. Bake for 30 minutes, or until the center is firm. Cool them completely and then cover tightly and place in the fridge. Chill in the fridge until cold. Cut up some of the lemon bars into tiny pieces. You will have leftovers.
Lemon Sherbet Recipe:
1/2 cup (120 ml) freshly squeezed lemon juice (2 - 3 large lemons)
Zest of 1 large lemon (outer yellow skin)
1/2 cup (120 ml) heavy whipping cream
1/2 cup (120 ml) whole milk
1/3 cup (65 grams) granulated white sugar, or to taste
Lemon Sherbet: In a measuring cup, stir together the lemon juice, lemon zest, cream, milk, and sugar. Taste and add more sugar if needed (I felt that it did need more. The sherbet it very tart with only 1/3 cup of sugar.)
Cover and chill the mixture in the refrigerator for several hours until cold. Then place in your ice cream machine and process according to the manufacturer's instructions. Once the sherbet is thick, throw in the mini lemon bar chunks (add as many as you would like) and let the ice cream maker mix the bars in for 30 seconds, transfer to a container and store in the freezer.