The kindness that doesn't always make the news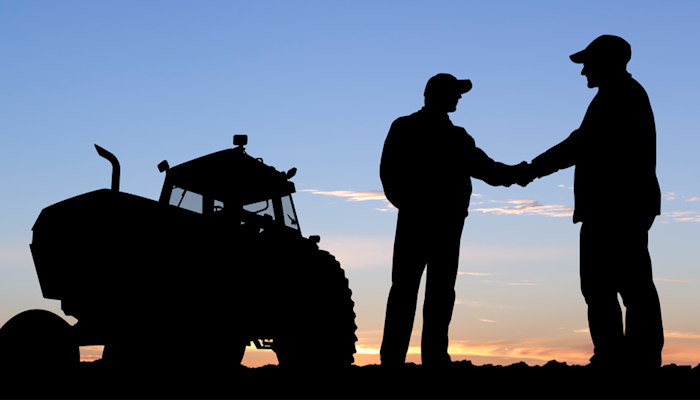 As I sat here pondering this past year, I feel very blessed and am amazed at the kindness that does exist in the world we live in. It doesn't always make the headlines or the top news story, but there are great people and organizations doing wonderful things to help each other.
I reflected on last September, when I had a serious medical condition that left me hospitalized right in the middle of 3rd crop hay. When I got home, I found that my hay was baled, hauled and stacked by good friends and neighbors – many of whom had never done that kind of work before. These were small bales – the kind many of you vaguely remember, and the kind that many try to forget. Many expressed concern for our family and my health, which humbled me greatly.
With the hot, dry summer that we experienced this year, there were many challenges with irrigation water or lack thereof. Again, I saw neighbors helping neighbors as any excess water was shared with another neighbor – sometimes making the difference between growing something or nothing at all. This dry weather led to disastrous conditions for wildfires throughout the state, most of which could have been prevented or lessened greatly if different decisions had been implemented. Again, I saw or heard of neighbors and friends reaching out and working to get cattle and sheep off the range in record time and record numbers. Our permits are up Spanish Fork Canyon and run from Diamond Fork to Sheep Creek on the north side of Highway 6. We were more fortunate than some as we had enough notice to be able to let down fence so that livestock were not trapped as they fled the approaching fire.
As we traveled up the canon to haul the cattle that had been gathered, I was very pleased with the law enforcement and those who were fighting the fires. They really pitched in and gave us pointers of where livestock were spotted so that we could go after them.
Also, one day as were finishing loading the semis and trailers, a black SUV came up and stopped. I thought this was strange as they were not letting any traffic up or down Highway 6. Out of the SUV hopped none other than our Lieutenant Governor Spencer Cox. He stopped to check on how things were going and to visit with all the cowboys there. As he was leaving, he asked if there was anything that we needed. One of the younger riders said, "We could use more riders to cover more ground." That night on Lt. Governor Cox's Facebook page was a plea for more riders to help. It included a place and time to meet. As some of you might imagine, that put a scare up the spine of every member of our Cattle association board as we thought of who might show up and what condition they and their horses would be in. We were worried that our cattle rescue would turn into a search and rescue for our cowboy wannabes. Fortunately, those that showed up were seasoned hands and that day we had 51 riders helping to cover our 96,000-acre permit. Again, the goodness of people came through.
As we became friends with the firefighting supervisor that was over the efforts in Covered Bridge Canyon – where our daughter, her husband and children live – he expressed to us the overwhelming response from the public. If the word got out that they needed anything, they were buried in kindness. As we finished sorting one of our large gathers of cattle in our corral across from Covered Bridge Canyon, here came the staff from Western AgCredit with pizza and drinks for everyone.
As we were finishing, here came our friend from the firefighters with boxes and boxes of fresh fruit and asked us to help him eat it.
"We told someone that we would like some fresh fruit and it showed up by the truck loads," the fire supervisor said. "We have fought fires all over the nation, but the people here are amazing. I have never seen anything like this."
The last thing that I reflected on was the fact that tragedy and disaster can unite and unify complete strangers. As the communities of Elk Ridge, Woodland Hills, and Covered Bridge Canyon were evacuated, the local Red Cross geared up for the enormous number of people that would show up. At the same time, word was spreading of homes to stay in and places to board pets and livestock. When it was all done, the response from the communities was so great that the resources of the Red Cross were not drained at all.
One final thought is the fact that so many voices from many religions were raised in humble prayer as a united petition to our Creator and miracles were witnessed. One Stake President from The Church of Jesus Christ of Latter-day Saints sent out the following plea:
"I believe in prayer. I also believe in the power of unified prayer. As such, I would ask that Friday-Sunday, each individual in our Stake stop and kneel wherever they are at 7 p.m. and offer a prayer. Please pray for those in and out of our stake (or group of congregations). Pray for favorable winds, for the strength of those fighting these fires, and for mercy and gratitude. I would ask that you communicate this out through ministering assignments and social media."
This spread rapidly, and I was told that the results were like an invisible wall was put in place so that the fires could not progress.
I hope that as this holiday season of gratitude is upon us, that we will gather others around us and give thanks for the blessings and friendships that we enjoy living here among the greatest people on earth.
Want more news on this topic? Farm Bureau members may subscribe for a free email news service, featuring the farm and rural topics that interest them most!