USU College of Veterinary Medicine Approved, Leadership Appointed, and Architect Selected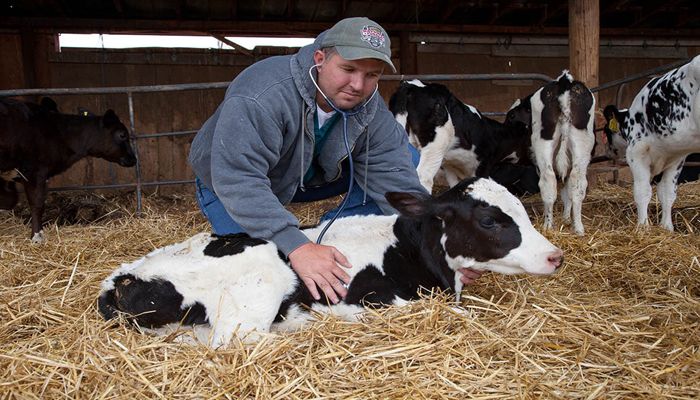 The new Utah State University College of Veterinary Medicine is officially USU's ninth college after receiving required approvals from university and state higher education governing groups. Leading the new college as interim dean is Dirk Vanderwall, who has served as head of USU's Department of Animal, Dairy and Veterinary Sciences and associate dean for the School of Veterinary Medicine since USU became part of the Washington-Idaho_Montana-Utah (WIMU) Regional Program in Veterinary Medicine 10 years ago.
"USU is fortunate to have a veterinarian, educator, scientist, and administrator of Dr. Vanderwall's caliber to lead the complex and substantial efforts to develop this demanding professional degree program," said USU President Noelle E. Cockett. "This is an exciting time of growth and that always comes with challenges, but our faculty and administrative team are enthusiastic about the opportunities we will provide for more veterinary medicine students. The College of Veterinary Medicine will also be an important aspect of USU's mission of education and service to people in Utah and the western region."
Earlier this year, the Utah Legislature committed to provide significant ongoing state funding to USU for what will be the first school of its kind in the state.
USU has been part of the WIMU program in which students complete their first two years of medical training at USU's Logan campus and the final two years of clinical work at Washington State University. The program's academic home at USU has been the College of Agriculture and Applied Sciences (CAAS) and Vanderwall said the decade of experience with the "2+2" veterinary medicine program means USU is well-positioned to make the transition over the next three years.
"I am extremely excited to have the opportunity to work with President Cockett, the entire USU administrative team, particularly CAAS Dean Ken White, and the faculty and staff in our current program to establish USU's new College of Veterinary Medicine," Vanderwall said. "As we transition to a separate college and full four-year DVM program, we remain fully committed to providing outstanding academic experiences for the students enrolled in our current 2+2 program with Washington State."
President Cockett noted that discussions about developing a doctor of veterinary medicine degree program at USU have happened periodically during the university's 134-year history but have not developed beyond that phase. The time is right for the new college to be launched as the state's population continues to rapidly grow along with the shortage of veterinarians locally and nationally.
"Animal agriculture is the largest sector in Utah's agricultural economy and accounts for more than $1 billion a year in value," Cockett said. "Veterinarians play an important role in food safety and public health and we have all seen during the COVID pandemic that human health is tied to animal health. Veterinarians care for large animals and wildlife, as well as caring for the pets we love like family members. Unfortunately, Utah ranks among the lowest in the nation for the number of veterinarians per capita."
She also noted that the new college's expanding faculty, facilities, and research capabilities will be important assets in Utah's bioscience research and innovation industry which is a vital part of the state's economy.
This week, the American Association of Veterinary Medical Colleges released a statement on the nation's veterinary medicine workforce, including some alarming data about the growing shortage of veterinarians. According to the statement, demand for pet healthcare has steadily increased since 1980 and 75% of U.S. veterinarians are caring only for pets. The shortage in that sector exacerbates the shortage of veterinarians caring for large animals and wildlife, focusing on public health linked to animals, ensuring food safety, doing research, or pursuing training in needed specialties.
In the current employment market for many medical specialties, there are as many as four times more open positions than there are trained veterinarians. The association added that animal diseases and emergencies have major impacts on the economy and public health, making veterinarians vital to biosecurity, food security, and emergency preparedness.
USU's current veterinary medicine program admits 30 students per year who then join with students from other WIMU schools in moving to complete years three and four of their training at Washington State University. When the USU's College of Veterinary Medicine admits its first class of students who will complete all four years at USU in 2025, plans are to admit 80 students annually, half of which will be Utah residents.
Vanderwall said the new College of Veterinary Medicine's faculty and staff are currently working toward two primary objectives: Obtaining accreditation through the American Veterinary Medical Association Council on Education; and the design and construction of a new Veterinary Medical Education Building that will accommodate faculty and administrative offices, classrooms, and laboratory instruction, and research labs for the new college.
This week, the State of Utah's Building Board announced the selection of the project architect for the new building. VCBO Architecture, with offices in Salt Lake City and St. George, has been awarded the contract. The firm is focused on sustainable design and innovation, and its portfolio includes the Meldrum Science Center at Westminster College, USU's Life Sciences Building, and the restoration and extensive seismic upgrade of Utah's State Capitol.
"The new building will be strategically located on the Innovation Campus near the Utah Veterinary Diagnostic Laboratory and the USDA Poisonous Plants Research Laboratory," Vanderwall said. "Both facilities and their personnel are integral parts of our current and future veterinary programs."
Want more news on this topic? Farm Bureau members may subscribe for a free email news service, featuring the farm and rural topics that interest them most!