Utah Farm Bureau Participates in Trade Meeting With U.S. Trade Representative Robert Lighthizer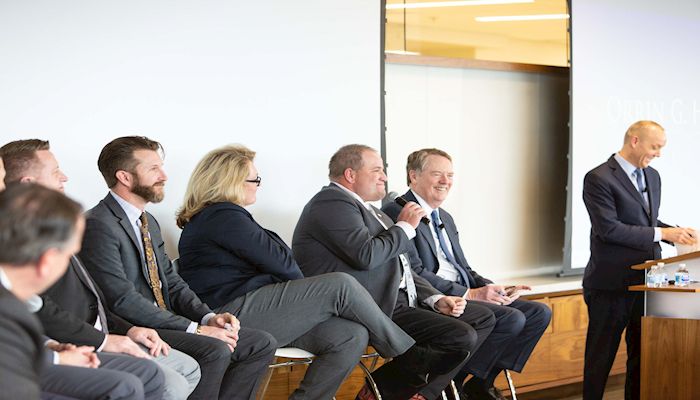 U.S. Trade Representative Robert Lighthizer spoke recently in Sandy at the invitation of former U.S. Senator Orrin Hatch and the Orrin G. Hatch Foundation, at its symposium on the future of geo-economics and international trade.
After some introductory remarks on the recently passed agreements and how much of an improvement the Phase 1 deal with China is, Lighthizer was joined on the stage with a panel of various industry leaders in Utah, including Utah Farm Bureau Federation President Ron Gibson.
"I was really happy that Utah Farm Bureau was included in the panel discussion, and that we got to hear how the process works from those in the middle of the trade negotiations," Ron Gibson said. "Exporting Utah agriculture is critical to our success going forward, and much of that has to do with relationship building."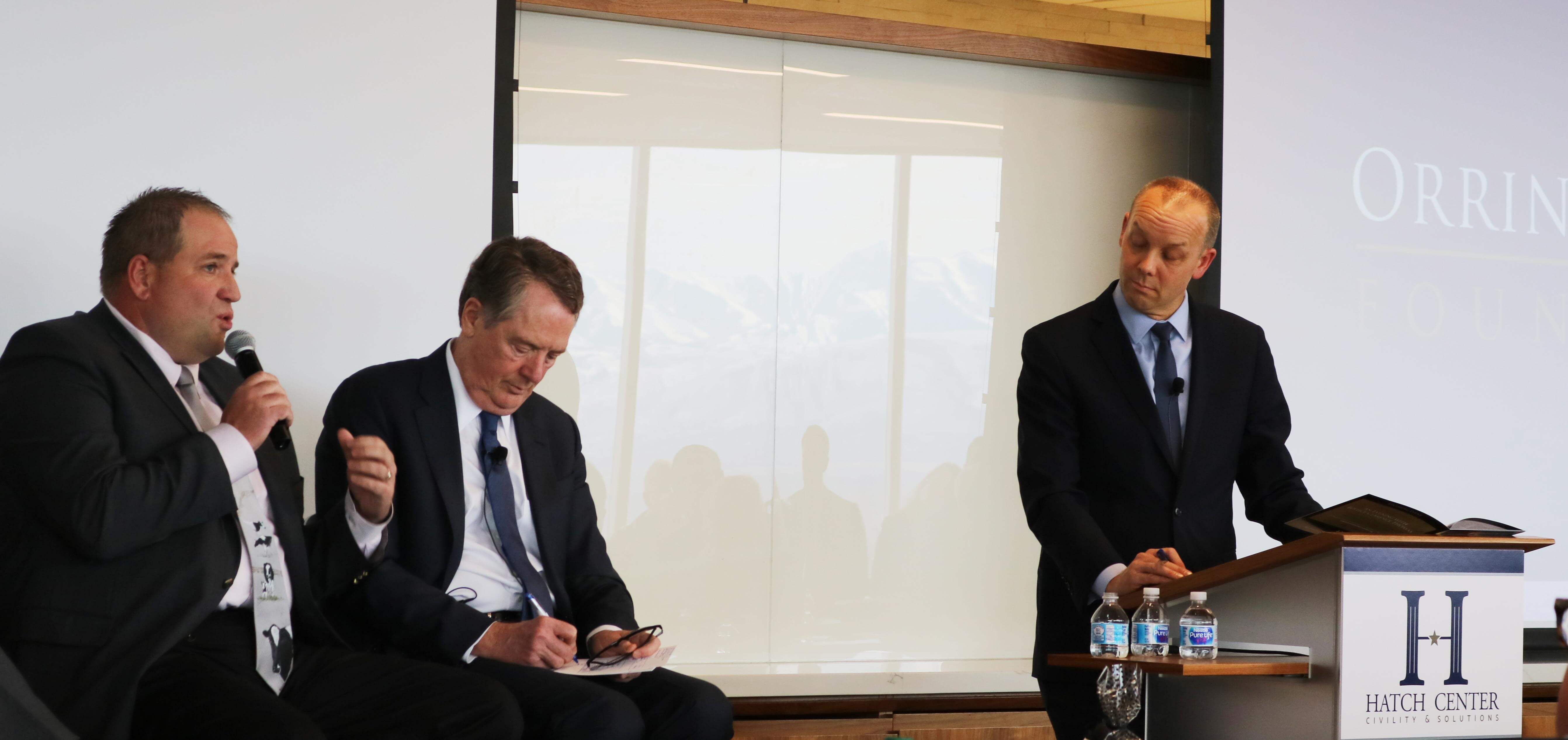 Utah Farm Bureau President Ron Gibson (left) speaks as part of a panel on international trade and economics. The guest presenter who also participated in the panel was U. S. Trade Ambassador Robert Lighthizher (center), and Matt Sandgren (right) executive director of the Hatch Center.
During the recent difficult economic period for agriculture, international trade has been at the forefront for farmers and ranchers. Despite the challenges, there has been light at the end of the tunnel recently in the forms of a ratified U.S—Mexico—Canada (USMCA) trade agreement, and the signing of a Phase 1 trade agreement with China.
Lighthizer has been at the center of those deals and the Trump Administration's trade strategy. The office of the United States Trade Representative (USTR) is the United States government agency responsible for developing and recommending United States trade policy to the president of the United States, conducting trade negotiations at bilateral and multilateral levels, and coordinating trade policy within the government.
"Ambassador Lighthizer has a proven record of standing up for American workers, farmers, manufacturers, and businesses," said Orrin G. Hatch, former U.S. Senator and chairman emeritus of the Hatch Center. "And he comes to us … on the heels of two tremendous victories on trade: securing a Phase 1 Deal with China and passing the U.S.-Mexico-Canada Agreement. These two trade deals will help shore up thousands of jobs right here in Utah and millions more across the United States."
Other industries were represented on the panel by Larry H. Miller Dealerships, Nu Skin, World Trade Center of Utah, Becton Dickinson (medical device manufacturer), DoTERRA, Rio Tinto, and Silicon Slopes. Additional companies and industries were represented among the attendees at the Larry H. Miller Group Corporate Office in Sandy.
"As the Ambassador has noticed, business is booming in the Beehive State," said Matt Sandgren, Executive Director of the Hatch Foundation. "The challenge today is maintaining the economic momentum to ensure that the next decade of growth is even greater than the last. Expanding trade opportunities for U.S. businesses will be key to achieving that goal."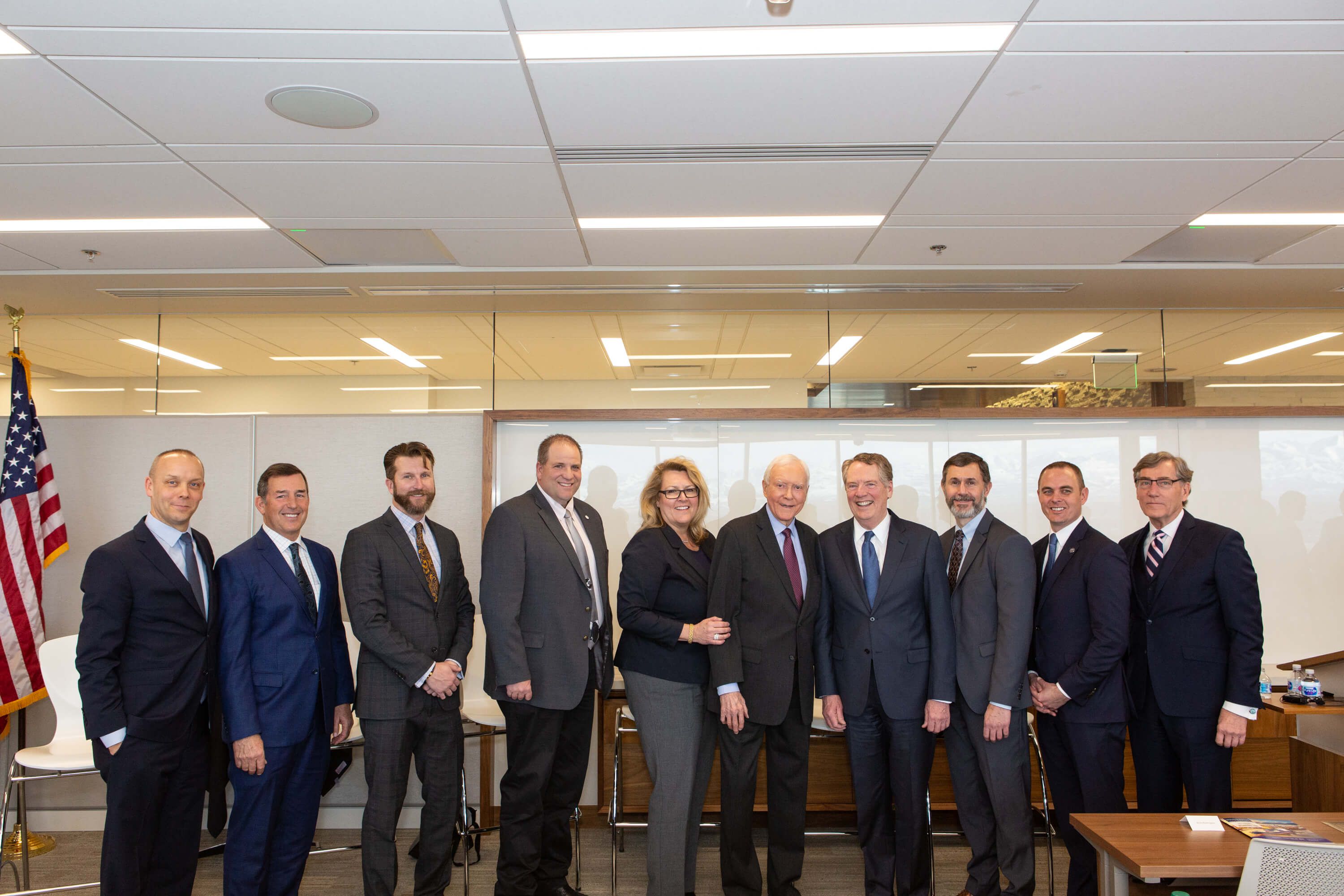 Participants in the Hatch Foundation Symposium on International Trade (from left to right): Matt Sandgren, Hatch Foundation; Rich Hartvigsen, Nu Skin; Josh Brown, Rio Tinto; Ron Gibson, Utah Farm Bureau; Carine Clark, Silicon Slopes; Sen. Orrin Hatch; Ambassador Robert Lighthizer; Rob Fredericks, Becton Dickinson; Miles Hansen, World Trade Center Utah; and Scott Anderson, Zions Bank. Missing from photo are Dean Fitzpatrick, Larry H. Miller Dealerships; and Shane Manwaring, DoTERRA.
USMCA Trade Agreement
The improvements of the USMCA were discussed, in terms of enforcement actions and effectiveness. It was said that improvements in the trade strategy were based on President Trump's desire for a practical approach to trade, rather than a theoretical one. Rather than simply being focused on economic efficiencies, President Trump's strategy in trade negotiations has been based on a desire for higher wages in the U.S. and more American jobs.
President Gibson talked about the feeling of local farmers and ranchers, who have been encouraged by President Trump's focus on farmers and the need to improve protectionist policies of the past.
Agriculture has been a focus of President Trump, as evidenced by his three straight visits to speak at the American Farm Bureau convention. It was discussed that of all areas of trade, agriculture is the most protectionist in the world.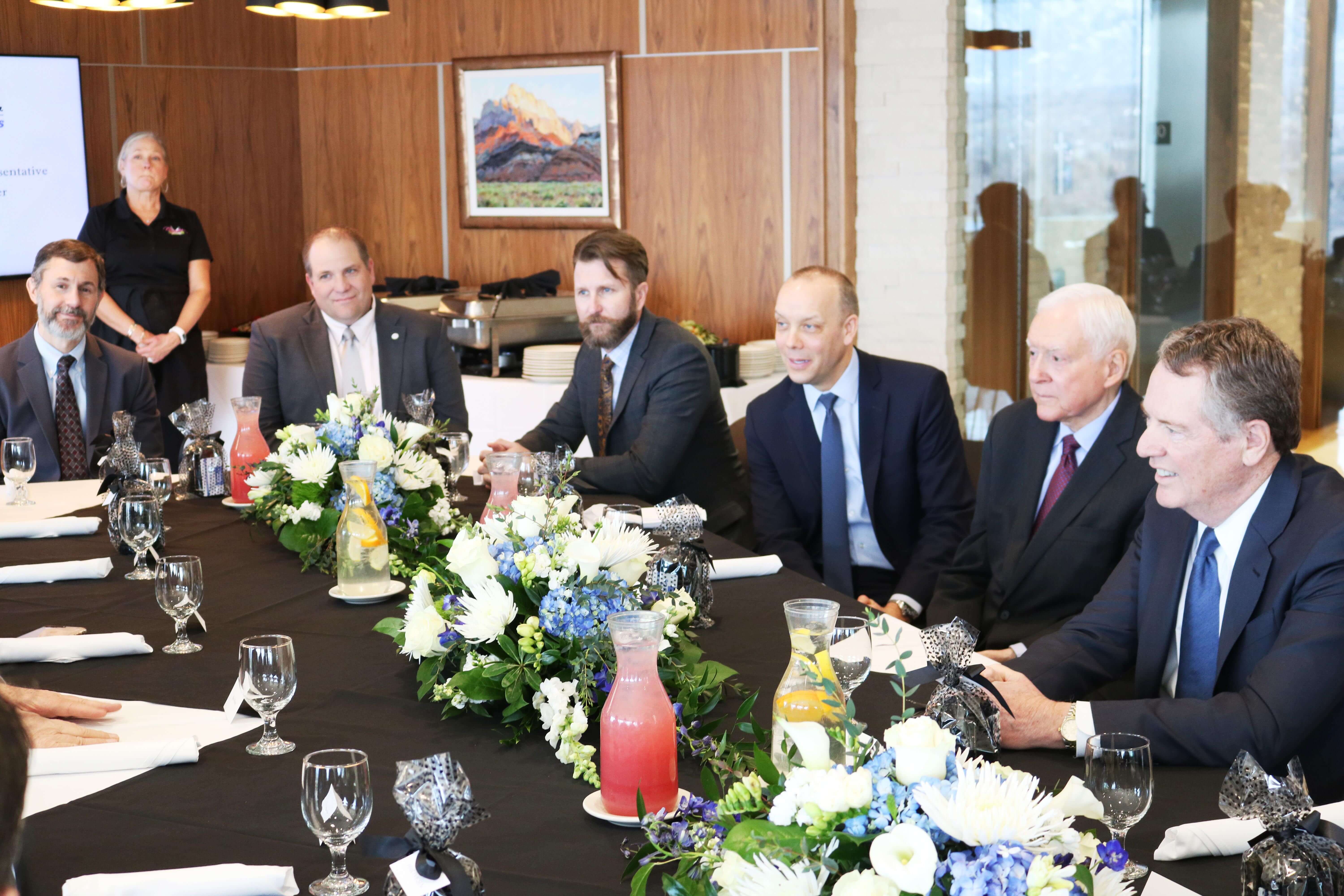 Prior to the meeting on trade, Pres. Ron Gibson (third from left) visited over lunch with Ambassador Lighthizer & Senator Orrin Hatch (far right) and other panel participants.
The panel went on to stress that agriculture is an American advantage in trade throughout the world and that pure political policies are what have kept agriculture from doing even better than it has.
With the implementation of the U.S.-Mexico-Canada Agreement, U.S. farmers and ranchers are eager to realize the more than $2 billion in additional farm exports and $65 billion in gross domestic product the pact is expected to provide. In particular, the agreement gives U.S. dairy products access to an additional 3.6% of Canada's dairy market – even better than what was proposed in the Trans-Pacific Partnership trade agreement. U.S. wheat will be treated more fairly, thanks to Canada's agreement to grade our wheat no less favorably than its own.
President Trump's signature was the final step in enacting the agreement in the U.S. Mexico approved the USMCA last year. Canada must still ratify the pact, which is expected to occur in the next few months. The agreement will take effect 90 days after all countries have approved it.
Phase 1 Deal with China
When the conversation shifted to the recent trade deal with China, the panel shared how fundamentally different this first part of the trade deal has been from the others in the past. Previously, Chinese trade deals lacked enforcement mechanisms and did nothing to protect against the theft of intellectual property and counterfeiting.
The panel provided some caution with the Phase 1 agreement, however, nothing that if people think it's a solution to all the problems with China, they're mistaken. Rather, the agreement focuses on doing the best it can, while recognizing there will still be challenges dealing with foreign governments going forward.
One of the great benefits to agriculture from the Phase 1 deal, the panel added, is that it requested specific amounts of purchases instead of asking the Chinese simply to reduce retaliatory tariffs. This is beneficial because there was an uncertainty that reduced tariffs would actually yield any sales. The agreement to purchase forces action and provides a dispute resolution mechanism if it doesn't happen.
In a news release from the Office of the Trade Representative, it noted that "the formation of a new Bilateral Evaluation and Dispute Resolution Office" was included in the Phase 1 agreement. "This office will monitor China's implementation of its commitments under the Phase One agreement and will be responsible for working with China's corresponding dispute resolution office to address disputes that arise over implementation matters."
As a result of the agreement, China has agreed to purchase at least $80 billion of U.S. agricultural products over the next two years, with at least $40 billion to be purchased annually. Tariffs, imposed on September 1, 2019, will also be reduced from 15% to 7.5% on $112 billion of imports from China. Tariffs will remain at 25% on $250 billion of imports.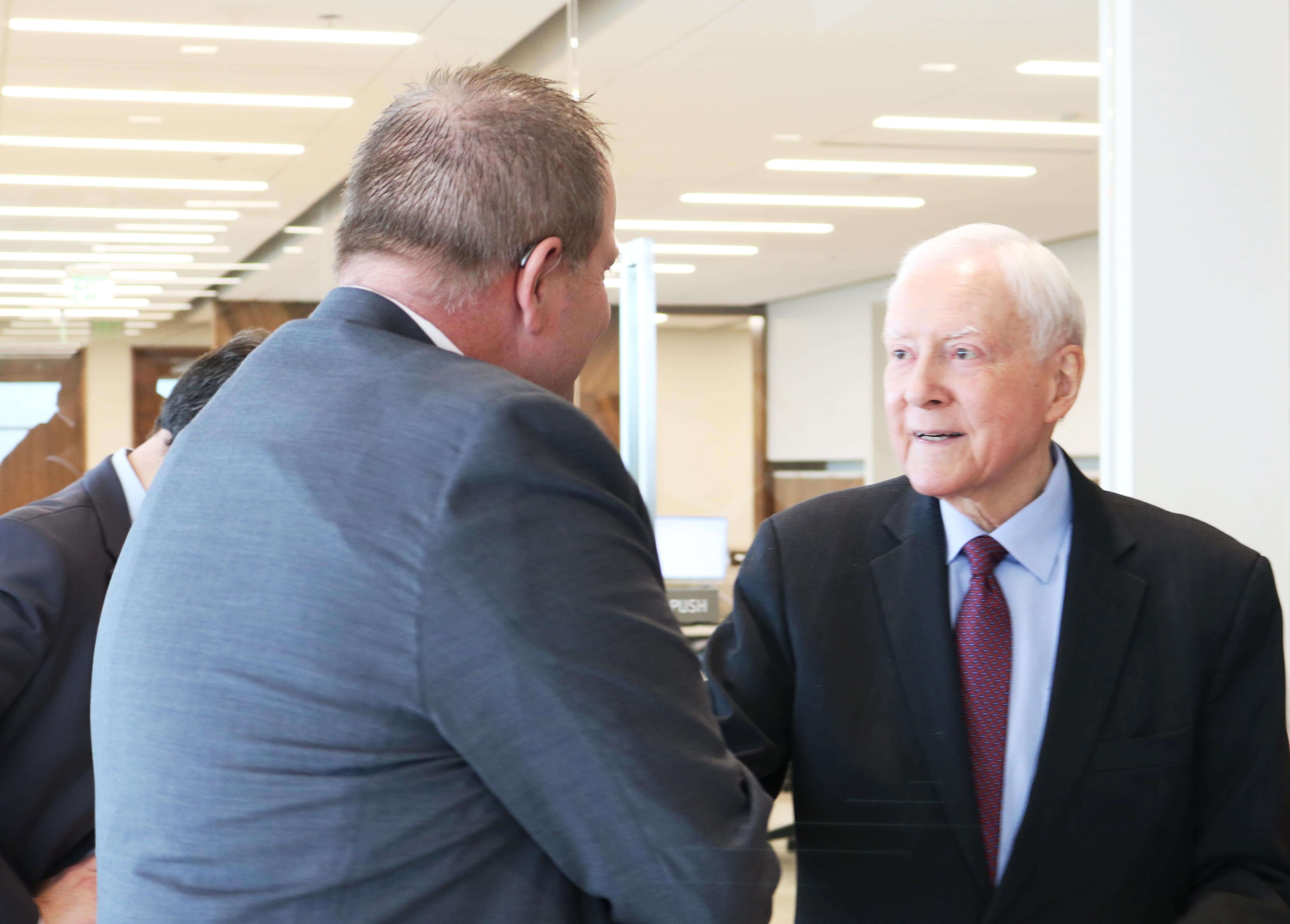 Retired Senator Orrin Hatch (right) greets Utah Farm Bureau President Ron Gibson and other guests.
Moving Forward
After speaking specifically about the two main trade deals, the conversation shifted to additional trade deals and general plans moving forward. The trade agreement with Japan is a great benefit to Utah agriculture, as the country is consistently among the top export destinations for Utah agriculture.
There will also be a focus on building trade agreements with the United Kingdom and the European Union (E.U.). Trade the E.U. amounts to $1 trillion worth of goods and services annually and $3.7 trillion in two-way direct investment. Although the EU has strongly resisted the inclusion of agricultural issues in this negotiation, Trump administration officials included agriculture in the negotiating objectives they submitted to Congress in early 2019.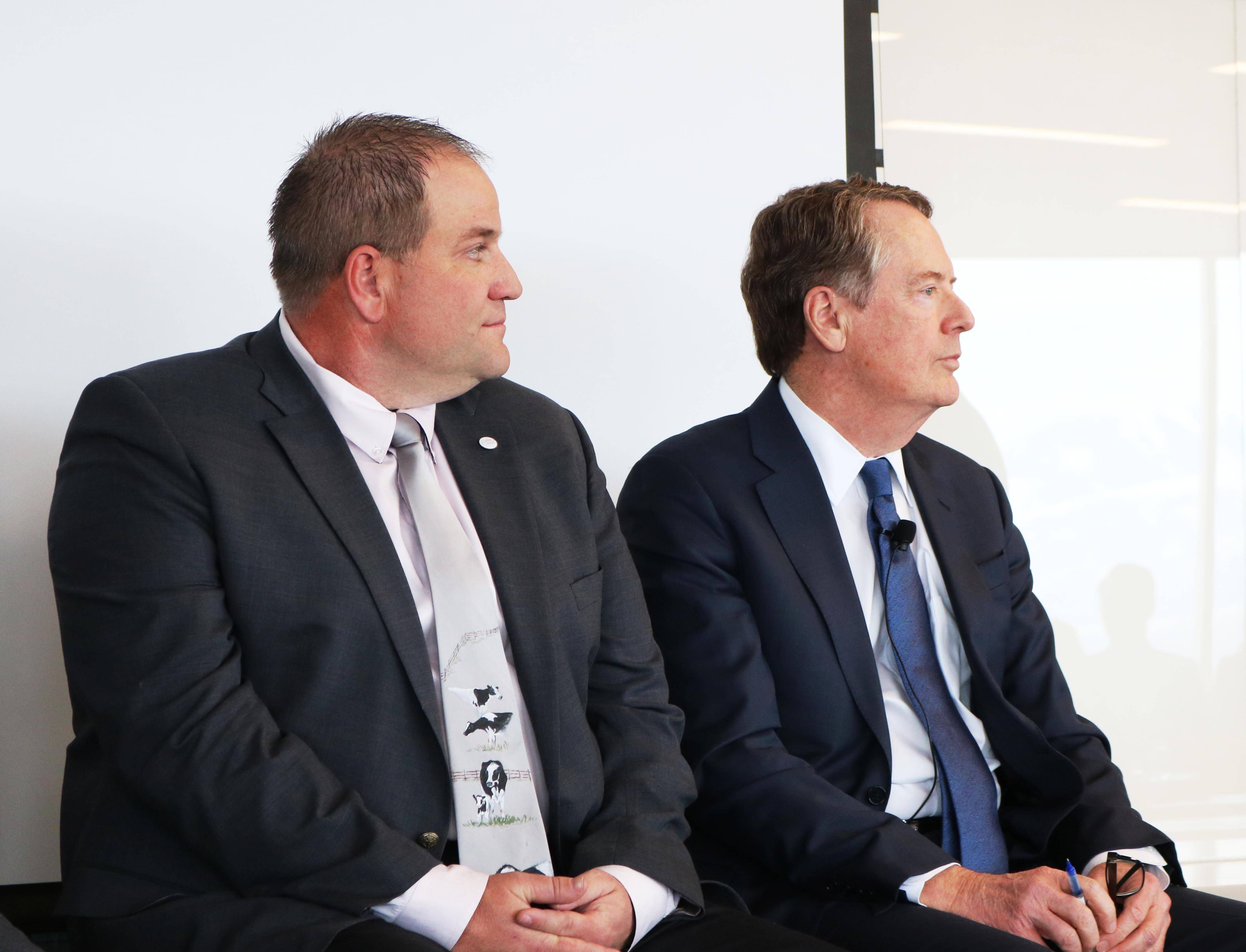 Gibson (left) and Ambassador Lighthizer awaiting the start of the panel discussion on trade.
"The trade war has taken its toll on our farm and ranch land and rural communities, and restoration of our markets cannot come soon enough," said Scott VanderWal, Vice President of the American Farm Bureau Federation and President of the South Dakota Farm Bureau. "While we all pray for Mother Nature to be kinder this year, farmers and ranchers across the country are ready not only to return to full steam in production, but also begin to explore opportunities for meeting the demand of expanding markets."
The recent trade panel represented a strong showing of Utah's export industries, with agriculture frequently mentioned among the state's best assets.
As trade is an ongoing issue, ensuring Utah's farmers and ranchers have a seat at the table is essential to the future success of agriculture.
Want more news on this topic? Farm Bureau members may subscribe for a free email news service, featuring the farm and rural topics that interest them most!