A Tough Nut to Crack: Southern Utah's Farmers Make Pistachios a Family Affair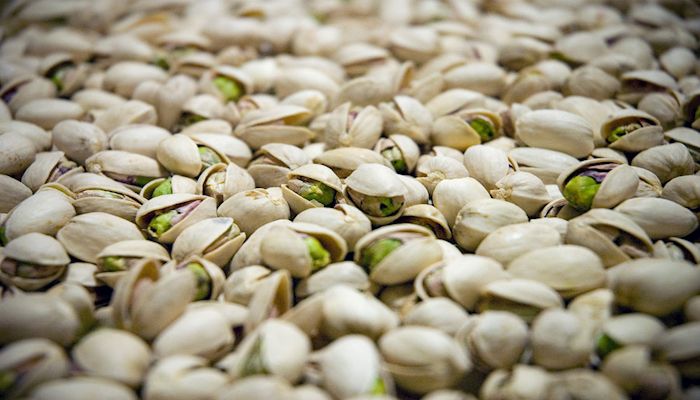 This article was originally written in 2009, but has been updated. Of note, farmer Fenton Moss is quoted frequently in this article, passed away in 2017.
HURRICANE, Washington County – While Southern Utah may not be known for its acres of almond or pistachio trees like California, or have the battle over pecan supremacy like Texas & New Mexico, some of the region's family farms are making a name for themselves when it comes to local nut production.
The Thompson family of Hurricane has been producing pecans, in addition to other fruits and vegetables for many years. But two neighboring family farms have emerged in the pistachio farming business with impressive results.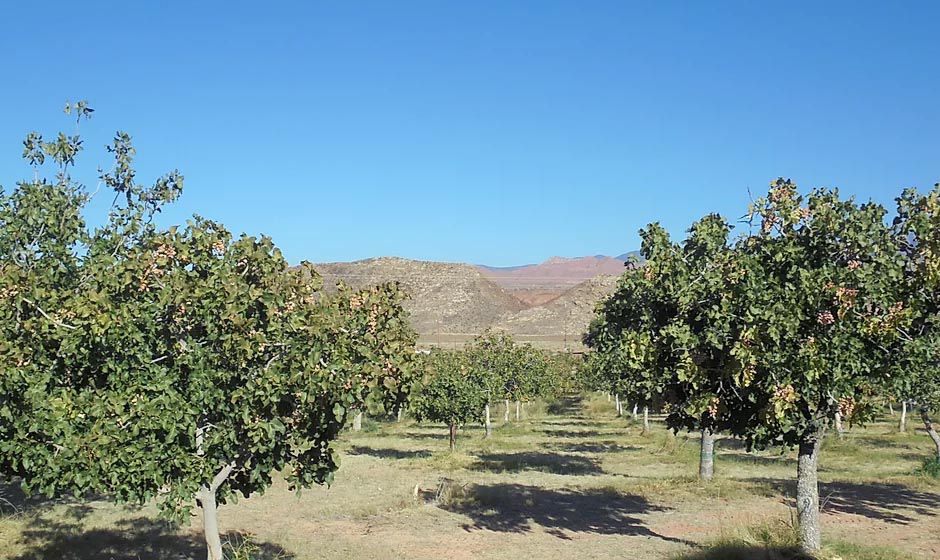 Red Rock Pistachio Farms orchards in Hurricane, Utah.
With a climate similar to that of the Middle East, Washington County has become a niche market for producing one of America's favorite snacks – pistachios.
Pistachios grow well in Southern Utah because of the area's prolonged hot summers and somewhat alkaline soils, which are a lot like the nuts' native growing regions of Iran, Turkey, Greece and Syria.
The nuts grow in clusters, similar to grapes. The hard shell consumers are familiar with is enveloped inside a soft outer husk, which changes color from green in the spring, to an autumnal yellow and red when ripe in the fall.
The United States produced a record 400,000+ tons of pistachios in 2016, and the U.S. is the top producing country in terms of total pistachios, about 47% of the global total. Most of the nuts are consumed in their raw form, though pistachios also appear in ice cream (such as Spumoni) and deserts like Baklava. The nuts are known to lower cholesterol and are helpful for decreasing the risk of heart disease.
But beyond their health benefits, the great taste of fresh pistachios is what led one family in Washington County to experiment with growing the crop.
Bryce Thornberg and his family have been selling their quality pistachios for approximately 20 years from their farm in Hurricane. An engineer by trade, Thornberg and his family also farm approximately 20 acres of pistachio trees (approximately 2,500 trees) and sell their pistachios to individuals and businesses at stands around the greater St. George metropolitan area.
How Pistachios Are Grown
The success and enjoyment Thornberg experienced with his farm spread to his neighbor to the north. Having moved down to St. George upon retirement from the University of Utah in 1988, Fenton Moss and his wife Claire were looking for something to take up time and provide a challenge. They certainly found it in agriculture! After talking with Thornberg about the opportunities and challenges associated with raising pistachios and tasting the difference between fresh versus stored pistachios, Fenton decided to convert 10 of his 40 acres of brush land into a pistachio orchard – calling it Fenclar Farms (an abbreviation of Fenton and Clair Moss).
"After talking with Bryce and doing some reading, we found that the climate pistachios are originally from (the Middle East) is a lot like Washington County, so we thought we'd give it a shot" Fenton Moss said. "It did take a lot of work to get the ground ready for an orchard though. We hauled away 75 dump truck loads of lava rock and other material; then we had to get water lines ready and ensure the right nutrients were in the soil."
Analysis of his soil by USU Extension agents in Washington County told Moss that he needed to reduce some of the salt in his soil, as well as increase the nitrogen and phosphate levels. Once the soil was ready and the water lines had been put in every 20 feet, it was time to plant trees.
The water right Moss purchased, which was related to how much land they had, dictated the number of trees they could put on their property. Initial calculations from the Utah Division of Water Rights showed Moss could plant 330 trees on his property. But it isn't as easy as just picking up pistachio trees from your local nursery and growing the nuts.
Pistachio trees are cultivars, which means the variety of tree with characteristics that are sought after are cultivated to produce the same characteristics every time. To do this, buds from mature pistachio trees are grafted onto one-year-old rootstock in order to produce a new pistachio tree. That tree then matures until it is able to produce nuts, which is about five or six years.
Pistachio trees are also dioecious, which means there are both male and female trees. Research and practice have shown that farmers need one male tree for every 10 or 15 female trees. In the spring, the male trees produce pods of dust-sized pollen, while at the same time, female pistachio trees produce grape-like clusters of flowers. The wind then carries the pollen over. Young male trees only pollinate approximately 50 to 60 percent of female trees, but this increases as the trees age.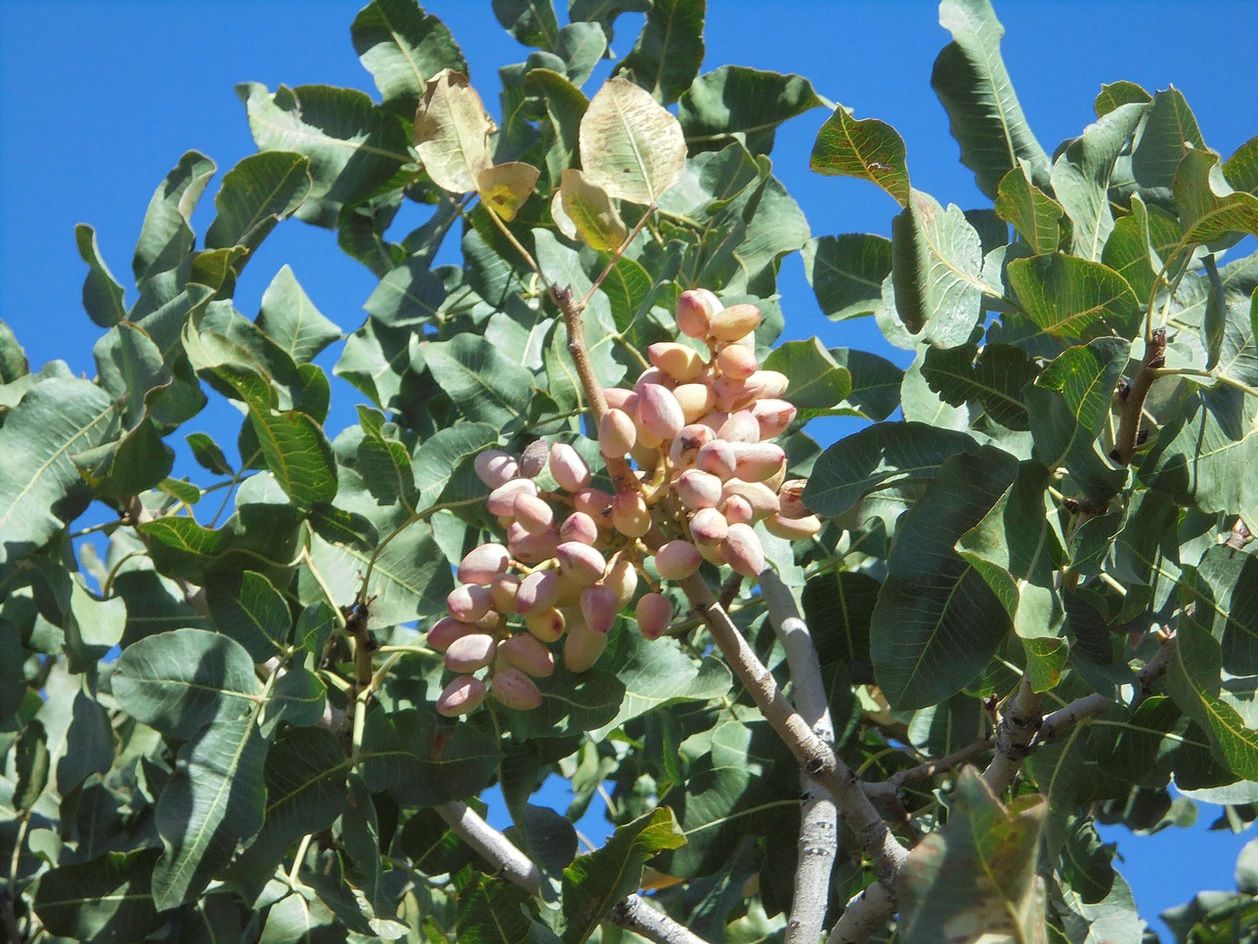 Fenclar Farms
Fenton Moss started his farm with 297 female trees and 33 male trees. A few years later, the Division of Water Rights found that Moss could indeed provide water for more trees than initially thought. So the family prepared ground for another five acres of trees and planted 570 additional trees, bringing the total to 900 trees.
A few years later in 2007, Moss and his family gathered for their first pistachio harvest. They only harvested about 300 pounds of nuts, but the family was excited to see results from their years of labor. Though the ultimate harvests were modest, for some in the family, just seeing any harvest was reward enough.
"My father [was] along enough in years that just to see the dream realized [was] great for me," said Daryl Moss, Fenton's oldest son.
Harvest Time
The harvest of the pistachios is a seven-step process. Bryce Thornberg, his family and some hired workers harvest the nuts in a manner a little different from Moss in the first step, which is the shaking and catching of the pistachios.
Thornberg places a set of nets on the ground below each tree, which are attached to a large holding container. Then a tractor equipped with mechanical shaker surrounds the trunk and shakes the nuts loose to the ground. Those shells that were not pollinated (and consequently don't have a nut), are often too light for the shaker, and will remain on the tree until they fall off later. The rest of Thornberg's process is similar to that of the Moss family.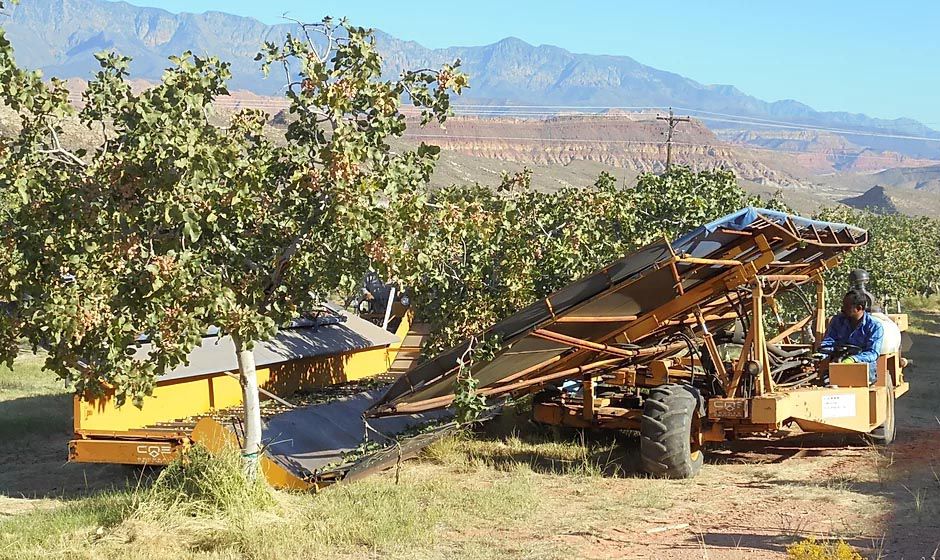 Harvesting pistachios on Thornberg's farm. Images courtesy of Red Rock Pistachio Farms.
Moss and his family, since they have fewer trees than Thornberg, handle the entire harvesting process themselves. Fenton's son-in-law John Whitaker invented a shaking and catching method that is unique for their operation. The 16' X 16' platform is powered by two 12-volt batteries and can be driven to each tree. The platform surrounds the tree, and then individuals armed with a motorized shaking arm, attach the hook of the shaker to each tree limb or pistachio cluster and shake the nuts until they fall on the platform.
While the additional pistachio shells are being gathered, which takes several days; earlier ones are brought to their warehouse where they are dumped into a series of potato peelers. These mechanized tubs have a rough lining, which is used to dehusk the soft outer layer from the pistachio as the nuts circle around the tub at fast speeds. Once the outer layer is removed, the shell that consumers are familiar with remains.
The shells are then immersed in water, where the shells which have a nut sink to the bottom while the unpollinated and worthless ones rise to the top. They are separated out and the pollinated shells are immersed in saltwater for 24-hours. This is what gives pistachios their characteristically salty taste.
After being salted, the nuts are then placed on drying racks for a 24- to 48-hour period. They are then run through a pizza oven twice for 10 minutes each time to roast and dry further. The nuts are then sorted by hand to remove those whose shells have not split open (typically 30 percent of the pollinated shells won't crack open.). Previously, those shells that have not cracked open are discarded, but technology is being developed to be able to force these shells open.
The remaining open-shelled pistachios are then bagged and stored, for sale at various businesses or stands in the around Washington County.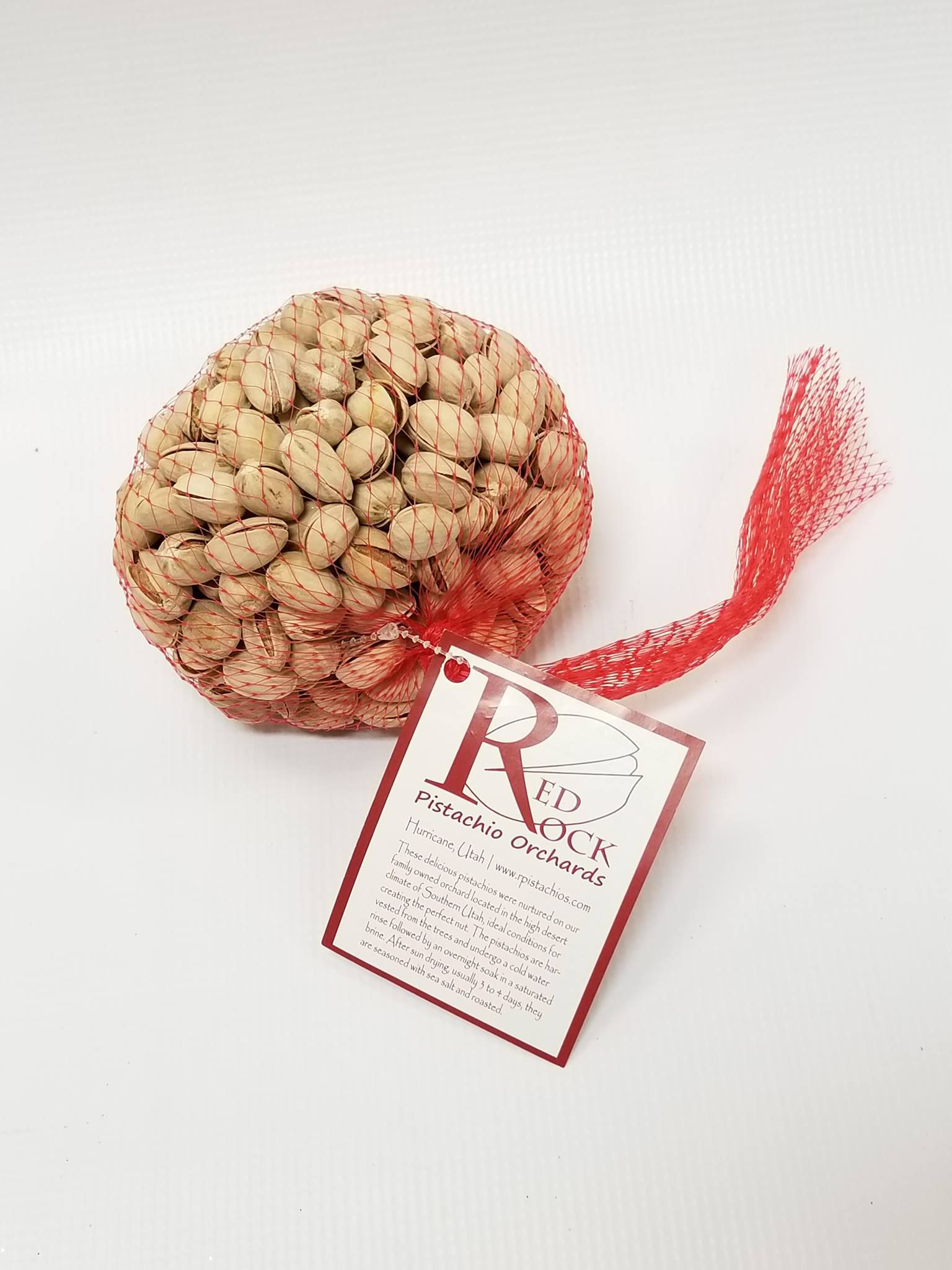 Loyal customers have been pleased with the results and attest to the great tasting, local pistachios. There are challenges that come with producing the nuts, familiar to most in agriculture, but the rewards of a good crop and time spent with family have been definitely worth it.
Thornberg has set up a website where customers can purchase the pistachios online from his Red Rock Ranch Pistachio Orchards. To make an order or for more information, please visit www.rpistachios.com.
Want more news on this topic? Farm Bureau members may subscribe for a free email news service, featuring the farm and rural topics that interest them most!