Adapt –Name of the Game for Utah County Ranching Family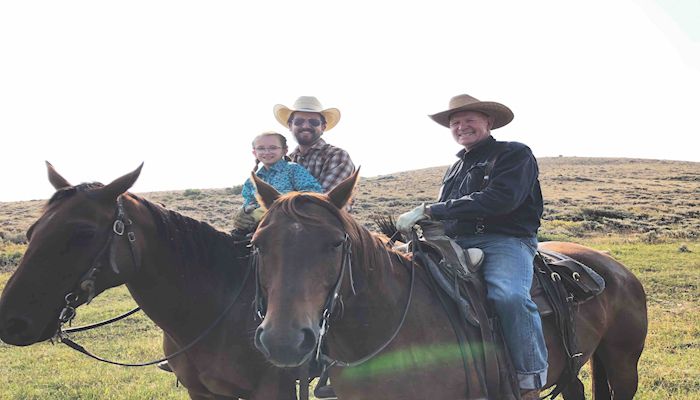 SPRINGVILLE, Utah. From Utah's earliest days when they were asked to settle Hobble Creek (near present-day Springville), the Crandall family has been a mainstay of Utah County agriculture. As people began to outnumber cattle in Utah County, the family learn to adapt to keep doing what they love – feeding America.
Being able to adapt to new circumstances has been the standard since pioneers made their way into the Utah territory. When Brigham Young called families to settle various locations, communities often had to adapt to new climates, growing conditions, and more.
Improving irrigation techniques and transportation methods allowed even more of the arid West to be settled. During this time, the Crandall family raised both cattle and sheep, eventually focusing more on beef cattle. The Crandalls followed the practice of grazing their cattle in pastures around mountain canyons during the spring, summer, and fall while moving to valley pastures during the winter.
"Over generations, we would graze our cattle near Nephi in the winter, and then move them to pastures near where the Jordanelle Reservoir is today in the summer," said Wes Crandall, the sixth generation of his family involved with the family ranch.
Rhett (left) and Beth Crandall and their dog Flint on the family ranch.
It was in the late 80s when the government built Jordanelle, that the Crandalls were compelled to find a new place to graze their cattle. They eventually bought a ranch near the small town of Robertson, Wyoming. Though four hours away from their winter grazing ground, the area has been great for their family.
"As a young kid, I loved going up to the ranch," Wes said. "It was perfect, with plenty of time to be on horses, riding ATV's, shooting BB-guns, and helping with the animals."
With the home base still in Springville, the distance has meant a longer commute for Wes' dad Calvin, as he juggled driving back-and-forth for church meetings, local irrigation board meetings, and more. But the family remained committed to the family business and each other. Working livestock has always been a family affair, which included Calvin and his wife Kathryn, and their kids Wes, Chase, Rhett, and Karen.
Changing the Normal Way of Doing Things
Raising cattle in Utah typically involves raising young calves until they get to a certain weight, and then selling them to feedlots in the Midwest where they can have additional weight put on before going to market. However, many ranching families will keep a few cattle until market size and sell them to individuals directly – typically as a whole, half, or quarter beef.
When Wes first got married to his wife Nikki, they lived full-time on the ranch in Wyoming but Wes saw an opportunity to expand what the ranch was then-currently offering. By creating their own branded beef, Wes could expand upon the number of cattle they were currently selling to friends and family, and look to get it into local stores – and thus Jones Creek Beef was born.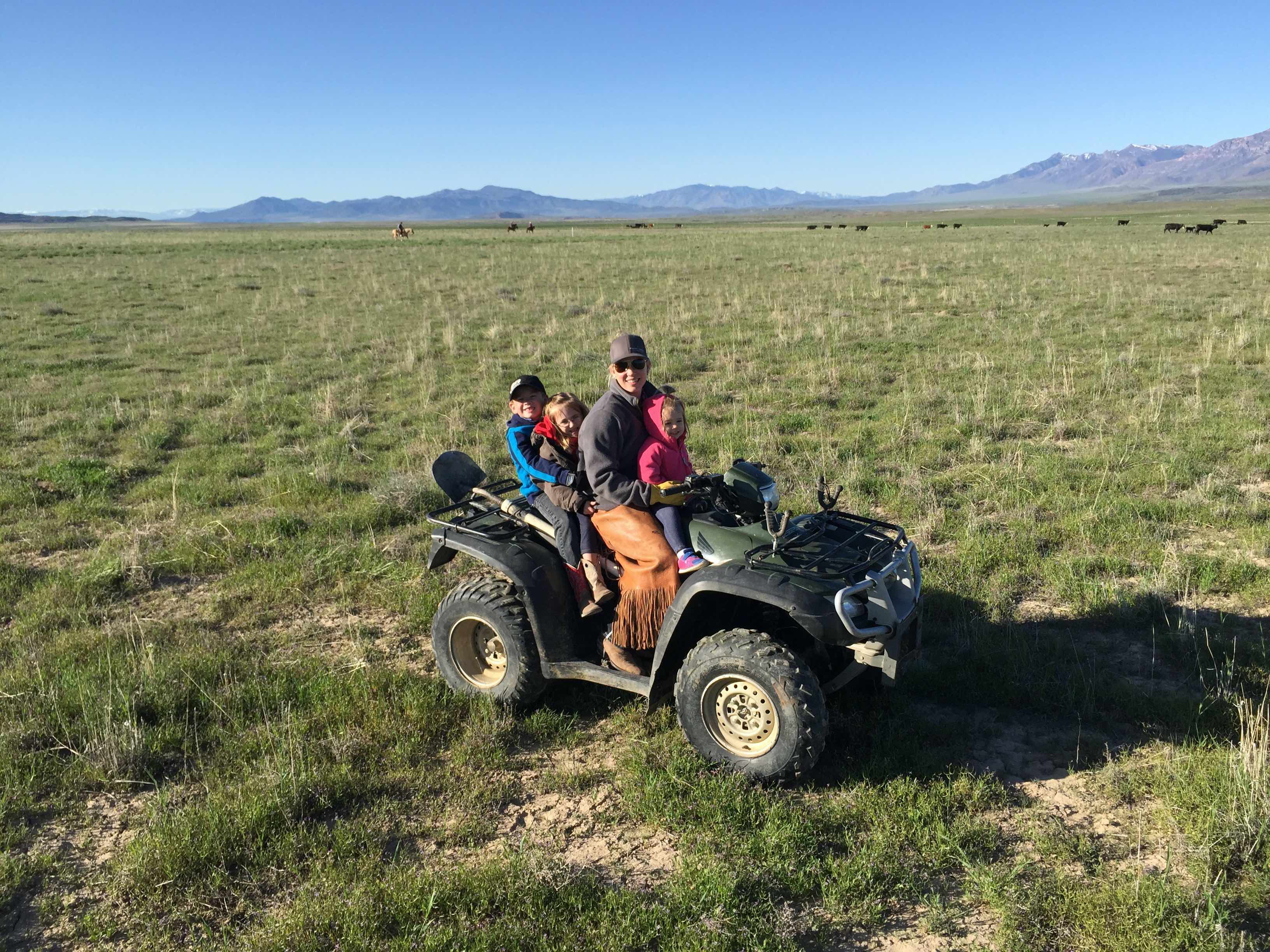 Nikki Crandall and her kids on the 4-wheeler at the family ranch.
With the new venture, Wes began marketing the family's grass-fed beef as a niche, value-added product – stepping a little out of the traditional way of selling beef as a commodity. Wes focused on the health benefits of beef and was able to get one local grocery store to take a chance.
"We learned a lot in the early days of working with retail that was all new to us," Wes said.
Then things changed seemingly overnight in 2012, all because they asked another retailer if they wanted to sell their grass-fed beef. One. Big. Retailer.
"We asked if Walmart would be interested in selling our beef, and they said 'yes' and gave us 100 stores to sell in," Wes said.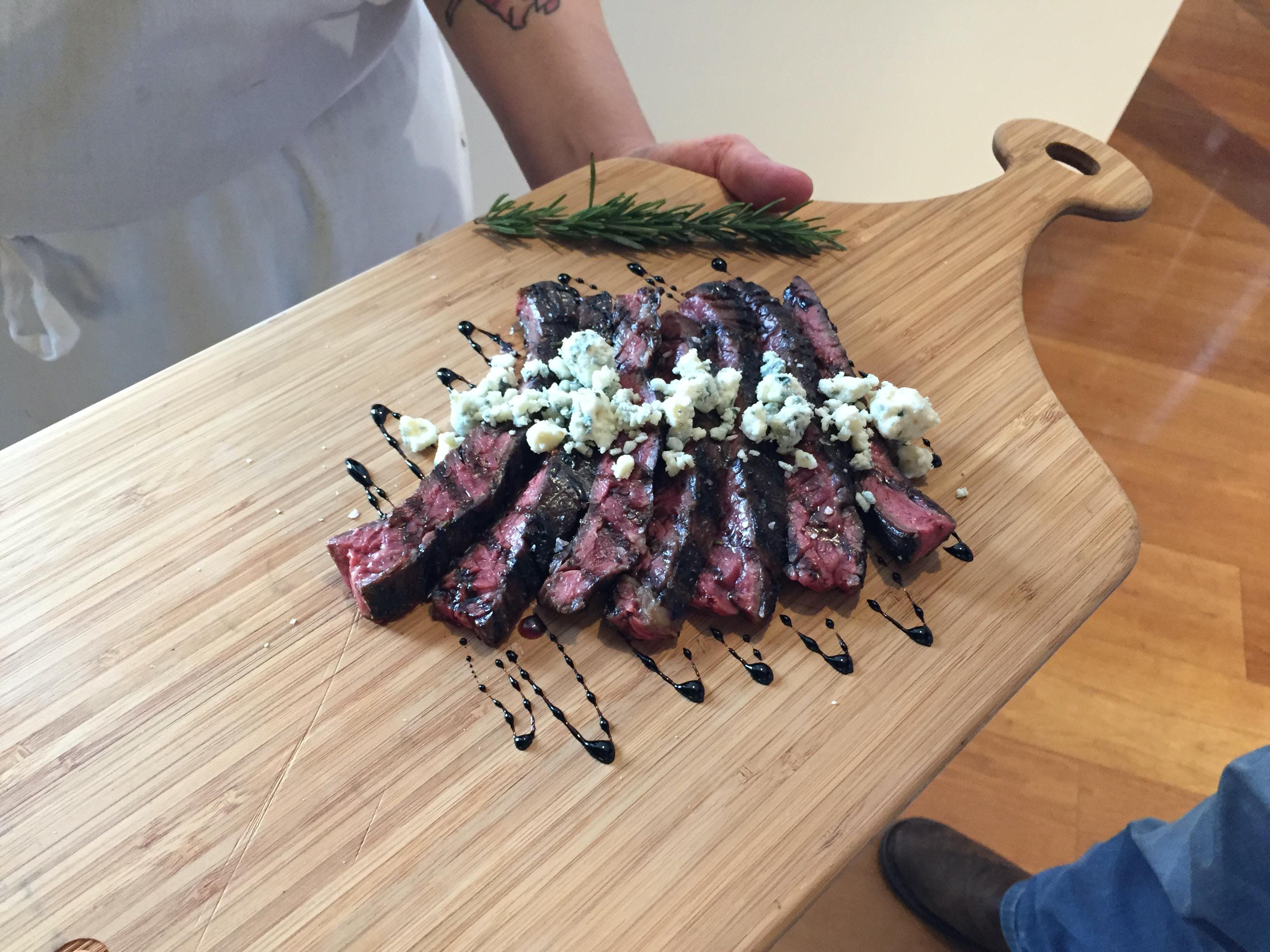 Jones Creek Beef prepared here with Bleu Cheese for display.
The demands from the stores were such that they needed 500-800 beef cattle per week to keep up, and that kind of scaling required outside help.
"All of the sudden, we couldn't fully supply all the beef ourselves and we had to expand and develop a network of ranchers to sell under this label that would keep to the standards we and our customers were wanting."
Walmart began featuring Jones Creek Beef in stores in Utah, as well as California, Colorado, North Carolina, New York, and Texas. As sales were increasing, Walmart began expressing its interest in expanding to more stores – jumping from 100 stores to 1,800 stores.
To meet these demands, the Crandalls began working with other ranchers in Utah, as well as from California, Colorado, Idaho, Montana, Oklahoma, Oregon, Texas, Washington, and Wyoming to get the beef they needed. Walmart also brought on another brand of grass-fed beef, to diversify its supply chain. Unfortunately, this resulted in a split of the locations where you could find Jones Creek Beef, with it currently located in the eastern and southeastern U.S.
Adjusting to New Customers
As the retail side of Jones Creek Beef expanded, so did the palates of their customers. The Crandalls saw this as an opportunity to get back to their roots and into the lamb market. They purchased the 'Morgan Valley Lamb' brand from its founders, Jamie and Linda Gillmor back in 2013 and brought back the popular brand of lamb.
The Gillmors had a loyal following of fans who purchased lamb, and it made sense for the Crandalls to bring it back and expand what they could offer their customers. In addition to home use, many restaurants were fans of the lamb and awaited its return.
Restaurants represented another new customer base that has grown over the years, with the Crandalls selling their beef directly to many well-known national chains.
"Starting Jones Creek Beef was a way for me to find a way to stay on the ranch and expand what our family had going," Wes said. "But it's grown so much that I actually get to spend less time on the ranch, and more time in the office. But I still try to get out on our horses and work on the ranch as much as I can."
Adjusting Yet Again
With all the growth to new markets, 2020 has provided a new challenge for the Crandalls, and many others in agriculture. As the global Covid-19 pandemic swept across the country, restaurants, cafeterias, cruise ships and more began closing their doors. This in turn led to calling food suppliers, like the Crandalls, to cancel orders.
"It has been a hard year for sure," Wes said. "We've had sporadic orders and times when we had to work with our ranchers to hold off on new orders as well. Other secondary markets for beef products have disappeared as well."
Producing great beef is a family affair, with all the Crandall family helping out.
While some orders have changed to stores or restaurants, Crandall has seen an uptick in families buying more beef directly, which remains a key part of their business.
"More people have been looking to buy direct and get good quality beef," Wes said. "By far, the most popular is to buy a ¼ beef, which will last a while for a family that eats beef 2-3 times per week."
Despite the challenges of growth and a fluctuating market, Crandall is looking forward to better days in 2021 as they continue to expand their offerings straight from the ranch. There may be future needs to adjust along the way, but that is something this family has been doing well for more than 100 years!
Want more news on this topic? Farm Bureau members may subscribe for a free email news service, featuring the farm and rural topics that interest them most!