Ag Education Is Always in Season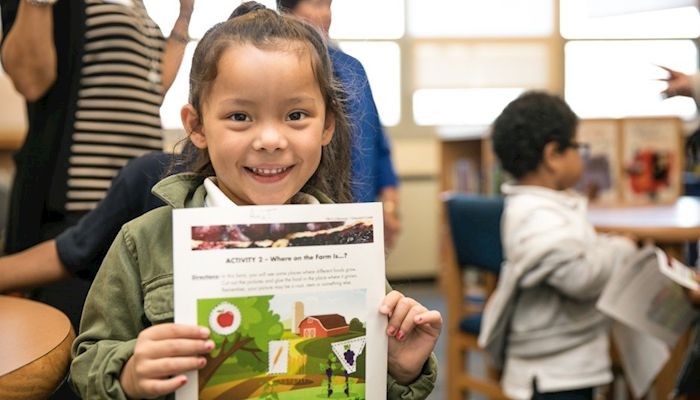 While this year has been full of unexpected challenges, we can also find hidden blessings throughout each season. I was reminded of this when my daughter Cora and her children came home for a short visit recently. One memory I'll hold onto from the weekend was introducing my grandchildren to my first love in farming, dairying. Their excitement is contagious, and I hope they will always love learning. Teaching the next generation about where their food comes from is a truly special privilege, and there's no shortage of valuable lessons children can glean from agriculture.
At the American Farm Bureau Foundation for Agriculture, our team has been working all year to find creative ways to continue to bring the farm home and give parents additional resources for distance learning. With more families spending time together, cooking and baking together, and even planting home gardens, I can't think of a better time to learn more about how food is grown and raised. And many of these resources are FREE.
Each week throughout the year, our Foundation team has gathered resources, activities and games for grades K through 5th. These resources are focused on a different agricultural topic or commodity each week and can be used at home or in the classroom. For example, this week's theme is apples, and includes an art activity and a video about how apples grow. It also features a farmer answering the question: What happens when you plant the seeds from the apple you just ate? Parents and teachers can find these resources and the entire collection of weekly educational activities at the top of the Ag Foundation's website.
These resources are just a slice of the pie when it comes to all the work the Ag Foundation does to build a greater understanding of agriculture with students of all ages. From grants to support classroom teachers and community programs to carefully researched and developed STEM curriculum, we are committed to building a solid foundation for the next generation of consumers to understand all that goes into growing a safe, sustainable food supply. And for kids who can't get out to the farm just now, we continue to bring the farm to them through interactive games, like My American Farm, to books that explore a variety of ag careers to videos of farmers answering kids' questions about farming and ranching.
I'm proud to say our Ag Foundation has become a go-to resource for teachers and parents alike. Over 1 million students have played My American Farm, and this year alone half a million visitors have come to the My American Farm website, 85% coming back to play again. There is a hunger to learn more about agriculture, and our Ag Foundation has risen to the challenge this year, and every year. We cannot do it alone, however. Our work is fueled by volunteers across the country, and the generosity of donors who partner with us financially.
I invite you to join with us by sharing the story of agriculture and sparking curiosity for students across the country. Who can say, but maybe the lessons learned this year will inspire the next generation of ag researchers, nutritionists, veterinarians, farmers and ranchers. Let's keep planting the seeds of agricultural understanding for a bountiful harvest to come.
Zippy Duvall
President
Vincent "Zippy" Duvall, a poultry, cattle and hay producer from Greene County, Georgia, is the 12th president of the American Farm Bureau Federation.
Want more news on this topic? Farm Bureau members may subscribe for a free email news service, featuring the farm and rural topics that interest them most!