Beef Burgers vs. Beyond Meat Plant-Based Burgers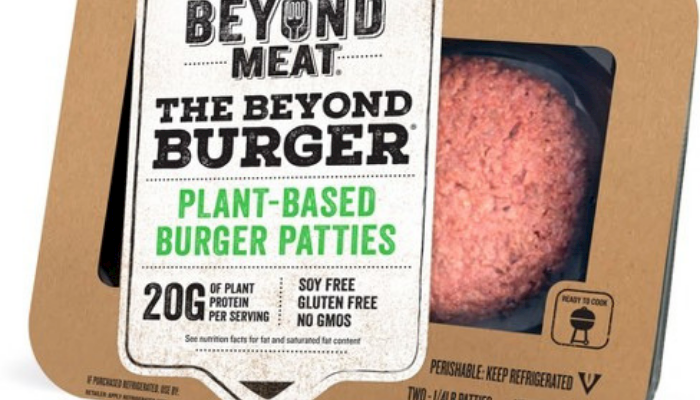 According to the New York Times, "Research conducted jointly (in 2016) by the NPD Group, Midan Marketing and Meatingplace, an industry publication, found that 70 percent of meat eaters said they used a meat substitute in place of meat protein at least once a week. And 22 percent said they were using such substitutes more frequently than a year earlier." This is a food trend that seems to be growing exponentially year after year.
One of the companies involved in this trend is the California based company, Beyond Meat. Beyond Meat is a plant-based protein company that has introduced several products onto the market, including the Beyond Burger, that claim to be "the world's first plant-based burger that looks, cooks, and satisfies like beef." It is made from water, pea protein isolate, expeller-pressed canola oil, refined coconut oil, and less than 2 percent of a list of ingredients (about 15) some of which are: beet juice extract (for color), cellulose from bamboo, maltodextrin, yeast extract, and salt.
I had seen advertising for Beyond Burgers as early as 2016 but didn't take much notice of them until I was asked to taste test them for work. I bought my Beyond Burgers at Harmons for the shocking sticker price of $6.49 for two ¼ pound patties. They are packaged just like hamburger would be—in a styrofoam shell with a cellophane wrap.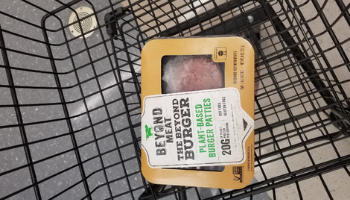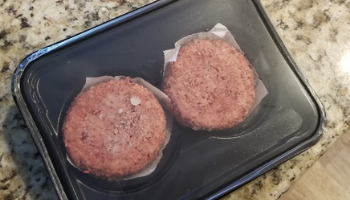 The raw "meat" had a fairly convincing feel and color, and when I placed it in the hot skillet, it sizzled like a real hamburger patty would. There wasn't the smell of cooking meat as the patties sizzled, but they browned up nicely. However, in a side-by-side comparison of a cooked Beyond Burger and a hamburger patty, the difference was notable. The Beyond patty strangely kept its pinkish hue (a product of beet dye) and perfectly uniform shape, while the hamburger patty browned and was not as uniform.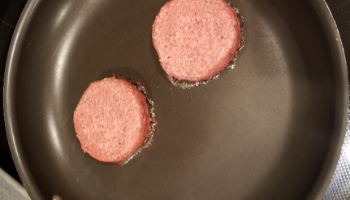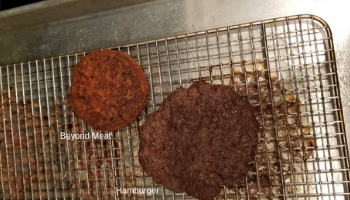 For this taste test, we had another couple over to get a wider range of opinions. We left one of each type as a plain patty, and dressed up they other burgers with cheddar cheese, BBQ sauce, onion rings and buns. Much to our surprise, the Beyond Burger was actually good! The texture was very similar to a hamburger, and the patty had a charred flavor that was really unexpected and quite good. When we cut open the dressed up Beyond burger, it was almost indistinguishable from a real hamburger.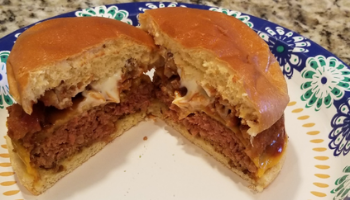 While we all agreed that the Beyond burger was equally as good, they were not better than a real hamburger. I think that a Beyond burger is a good choice for those who cannot or choose not to eat meat, but still want to enjoy an occasional "burger."
However, at such a high price point, real hamburger meat is much more economical, and just as good. I also have to make the argument that while a Beyond Burger tastes great, the ingredients required to make it is long. Whereas hamburger meat contains just beef. Long lists of ingredients aren't necessarily a bad thing, but as a preference I prefer whole foods.
Beyond Meat has done well enough to catch the eye of Tyson Foods who have invested $13 million for a 5 percent stake in the company.1 Ms. McGurk of Tyson, which is based in Springdale, Arkansass said, "The investment for us is not about an 'either-or choice,' it's about the 'and,' this is just another form for consumers to enjoy protein as part of their daily diet."
So how does this affect Utah farmers and ranchers? I think Ms. McGurk and Tyson Foods has a good point when it comes to protein substitutes. Why not be a part of and profit from a product that consumers want? Tyson Meats is diversifying and adapting as consumer trends change, and so can Utah farmers & ranchers if they so choose.
Pea protein isolate comes from dried split peas. Split peas, like other types of peas like cool weather and well drained soil, and according to Utah State University Extension Office, most varieties grow well in Utah. There will always be a market for animal protein, but by looking at plant-based protein as an "and" instead of an "either-or" you can create an opportunity instead of a threat.
1.Information about Tyson Foods investment came from forbs.com and nytimes.com
2. nytimes.com
Want more news on this topic? Farm Bureau members may subscribe for a free email news service, featuring the farm and rural topics that interest them most!