Caramelized Onions in a Crock Pot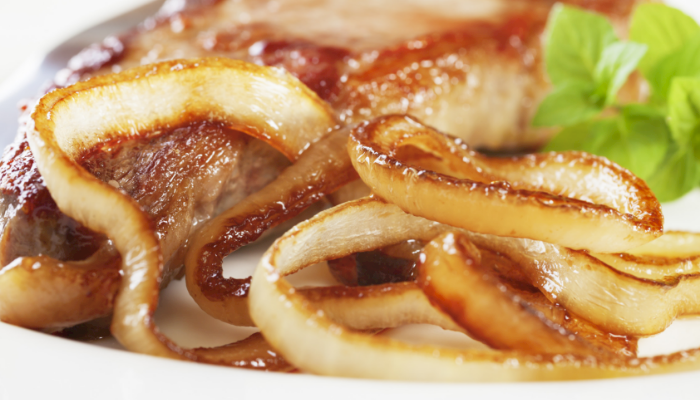 I love caramelized onions, they add such a punch of flavor to everything from burgers and pizza, to eggs and biscuits. But let's be honest, who has the time to stand in front of your stove for an hour slowly cooking them to golden perfection? I wanted to find a way to make a big batch of caramelized onions without having to babysit them, and after some research, I found that you could caramelize onions in your crockpot! The process is definitely meant for a weekend, as it takes a whole lot longer than an hour (18-20 hours!!!), but the nice thing is that its hands and mind-free, so you can go about your day while your crock pot does all the work.
I find the easiest time to start the onions in right before you go to bed, that way they can cook all night undisturbed.
First you thinly slice 5-8 large white onions, depending on the size of your crock pot, and toss with 3-4 Tbsp. melted butter and ½ tsp. salt, making sure all the onions are lightly coated.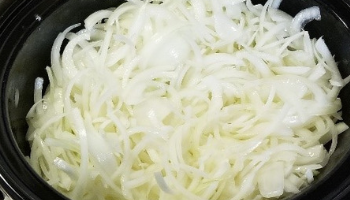 Then you put the lid on, turn the crock pot on low, and go to bed! Your onions should look this: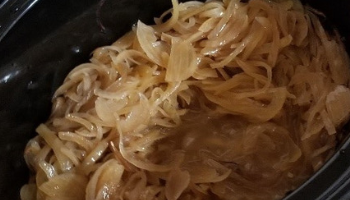 They will be a light golden brown and there will be a lot of liquid in the pot.
You can call it quits at this point, but I like a really jammy concentrated flavor out of my caramelized onions, and if that's what you are looking for, plan on another 8-10 hours of cooking. At this point you will need to prop the lid of your crock pot open so that all the liquid can slowly evaporate. Keep the onions on the low setting and stir once every couple of hours until most of the liquid is gone and your onions are a dark brown.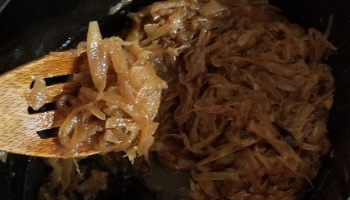 It always surprises me at how much the onions reduce in size, but you will still have way more onions than you can cook in a pan on the stove top. The onions freeze well, and one of my favorite ways to store them is to portion them out into ice cube trays, freeze and then pop out into a freezer Ziplock bag. They will keep for up to 3 months, and a single cube is the perfect amount for a sandwich.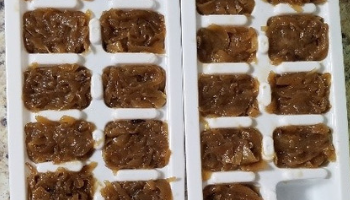 Caramelized onions are very versatile. A few ways to use them include: Biscuits (think a sharp cheese, the onions, and some herbs), a topping for burgers, sandwiches or in a grilled cheese, baked into your favorite mac n' cheese, scrambled into your morning eggs, or on a pizza! *Later this week I will share a favorite pizza recipe I developed using caramelized onions. *
Enjoy!
If you are looking to buy locally, onions are one of the first crops to pop up in Utah for the season. A few local farms who grow onions are: Roberts Family Farms, Bennett Farms, and McFarland Family Farms.
Want more news on this topic? Farm Bureau members may subscribe for a free email news service, featuring the farm and rural topics that interest them most!