Farmers impacted by drought, hope for relief in recent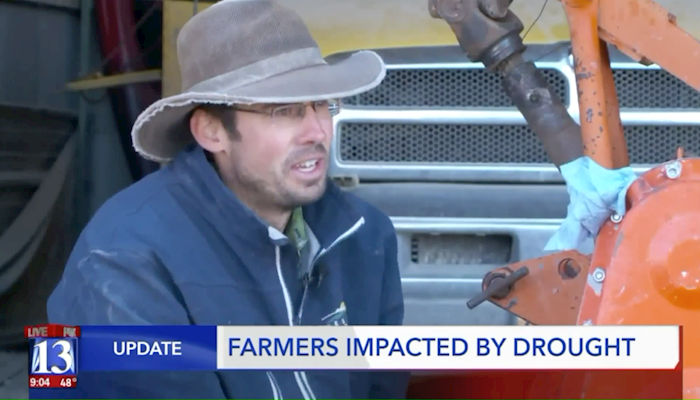 While recent precipitation has been beneficial, Utah remains in a serious drought. As a result, Utah Gov. Gary R. Herbert recently issued an Executive Order declaring a state of emergency due to drought. This declaration allows drought-affected communities, agricultural producers and others to officially begin the process that may provide access to state or federal resources.
Additionally, six rural Utah counties have also declared emergency drought disasters, including Box Elder, Carbon, Emery, Grand, San Juan and Wayne counties.
"The rainfall we have received helps, but the drought is at a level unseen for many years and will not be solved with a small series of storms. In some areas, the drought is at, or near, historic levels," Gov. Herbert said. "Such difficult conditions are harming the quality of life and the livelihoods of many Utah families and agricultural producers. The ramifications of drought extend beyond our depleted water supply. Drought harms our industries, agriculture, recreation and wildlife, and it worsens wildfire conditions and air quality."
Farmers and ranchers in some of the most affected areas, including Sanpete and San Juan Counties have had to drastically alter how and what they farmed this last year. One such farmer, Stan Jensen, is a hay farmer in Sanpete County. He recently was interviewed by Fox 13 Utah's DJ Bolerjack about the impact the drought had on his family's farm this summer.
"This declaration opens doors for the Utah families and industries most harmed by this drought. Hopefully, it's also an eye opener for the rest of us, and we're encouraged to do our part," said Mike Styler, executive director of the Utah Department of Natural Resources (DNR) and chair of the Drought Review and Reporting Committee (DRRC).
Styler recommended the declaration to Gov. Herbert after the reactivated DRRC met last month. It's was the first time the committee had been activated in about ten years, and it was necessary because conditions had reached a threshold that triggers the state's statutory responsibility to convene.
Reservoir storage facts and updates:
All of Utah's 29 counties are experiencing some level of drought.
Sixteen of Utah's top 49 reservoirs are less than 20 percent full.
Eight of Utah's top 49 reservoirs are less than five percent full.
Want more news on this topic? Farm Bureau members may subscribe for a free email news service, featuring the farm and rural topics that interest them most!