Food Deliveries Continue for Miracle of Agriculture Foundation's 'Farmers Feeding Utah' Campaign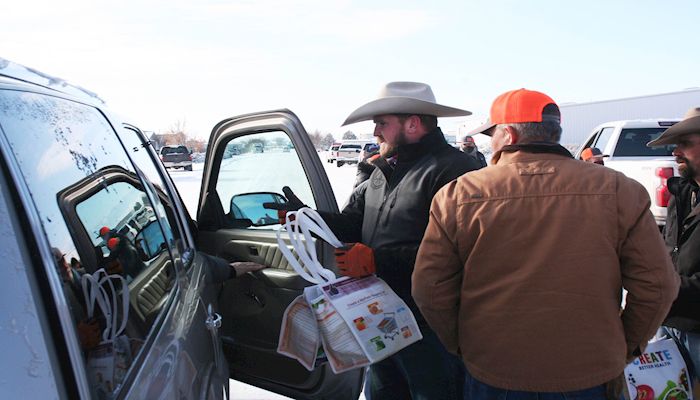 The generosity of Utahns continues to be felt through Farmers Feeding Utah 'Miracle Projects' throughout Utah this week. Created as a response to the double-whammy of families and farmers being impacted by the pandemic, the Utah Farm Bureau Federation created the Miracle of Agriculture Foundation as a charitable arm to find ways to assist the poor and underprivileged by providing assistance and relief during disasters, emergencies, and temporary hardships, with particular emphasis on those persons and communities involved in agriculture, farming and ranching.
Partnering with The Church of Jesus Christ of Latter-day Saints and Utah State University's Hunger Solutions Institute & Create Better Health program, the Miracle of Ag Foundation loaded trucks and set off down I-15 with 21,000 lbs. of Salami, 1,350 lbs. of cheese and 1,200 lbs. of apples. The first stop was in Richfield, where food was given to approximately 400 families as well as to the Central Utah Food Sharing pantry, to be distributed to families in need in the surrounding area. Following that delivery, the group made its way south to St. George to provide salami to the southern distribution center of the Utah Food Bank. With every stop, gratitude was the dominant emotion.
"Thank you! Thank you! The donation from Farmers Feeding Utah was incredible. We are so lucky to be the recipients of such a generous gift," said Linda Trujillo, Director of the Utah Food Bank's Southern Distribution Center. "We will be using this product to send to agencies for local food boxes. Without support and partnerships from people and organizations such as Farmers Feeding Utah, we could not do what we do."
Trujillo said the distributions would take place in Washington, Kane Garfield, Beaver and Iron Counties.
The very next day, the Miracle of Agriculture Foundation donated 38,000 lbs. of Utah-grown, fresh potatoes and more than 3,000 packages of dried Utah tart cherries to five Title 1 elementary schools and one Title 1 middle school in Salt Lake City to support the families of over 1,500 students attending these schools. Title 1 schools have 40% or more of their students classified as high-poverty; such schools qualify for funding to provide free breakfast and lunch to their students — but not during weekends or holidays. Many of these kids and their families struggle for food during holidays when the kids are away from school.
The Salt Lake City schools that received the donations included Backman Elementary, Escalante Elementary, Mary Jackson Elementary, Meadowlark Elementary, Rose Park Elementary, and Northwest Middle School. This donation was made in partnership with For The Kids, a 501(c)(3) nonprofit based in Salt Lake City, and Melea Johnson, a Utah-based social media influencer and host/producer of The Melea Show on YouTube. The dried tart cherries were donated from Payson Fruit Growers in Payson.
"We've been able to raise money to buy food from local farmers and then donate that food to people who have food insecurity and people in need," said Ron Gibson, President of the Utah Farm Bureau Federation. "Through all of these difficult times, we've been able to do some great things."
To date, the Farmers Feeding Utah campaign has provided approximately 800,000 lbs. of food, with a retail value of more than $900,000 to Utah residents in the Navajo Nation, northern Utah, West Salt Lake, Vernal, Provo, Ogden and to smaller community pantries throughout the Wasatch Front. To make a tax-deductible contribution to this project, individuals and businesses can go to FarmersFeedingUtah.org or MiracleofAg.org.
Want more news on this topic? Farm Bureau members may subscribe for a free email news service, featuring the farm and rural topics that interest them most!