Grab-N-Go Breakfasts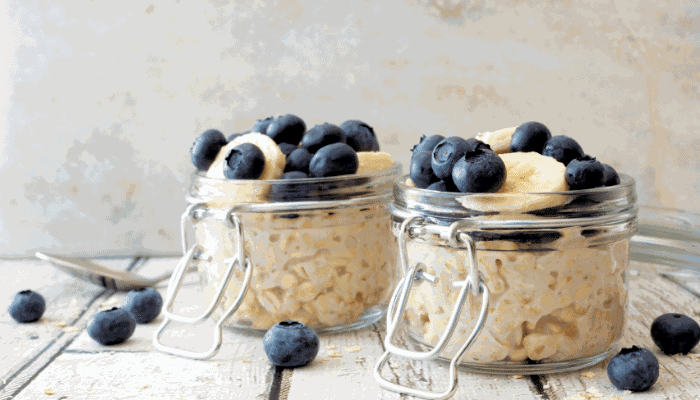 As much as I wish I had the time to sit down and have a leisurely breakfast in the morning, generally I am in a rush. Whether I am rushing to the pool for my 5 am swim or running out the door for work, I don't have time for anything that's not ready to grab and go.
Over the years I have accumulated several recipes that work for me and my family. I have a few criteria: They need to be easy to make ahead, individually package, and/or freeze, and they need to be breakfast worthy; by that I mean they need to be fairly healthy. Most are customizable for what you have in the fridge, and hopefully will make mornings a little easier for all of us.
Overnight Oats
Overnight oats are a favorite for the summer months, as you eat them cold (I however like to heat mine up for 30 seconds to 1 minutes to loosen them up a bit). The sky's the limit on customizations here, and I will list a few combos that I like below the recipe:
Makes 1 serving, but I usually quadruple the recipe to make 4 servings and keep them in the fridge for the week.
1/3 cup oats
2 tbsp. chia seeds
2 tbsp. chopped nut of choice
¾ cup milk
¼ cup plain Greek yogurt
1 tsp. vanilla extract
Chopped fruit of choice
Couple drops of liquid Stevia (optional)
1/2 tsp. vanilla (or other extract- almond, coconut, etc.)
Dash of cinnamon (optional)
Drizzle of honey (optional)
Mix oats, chia, nuts, cinnamon, fruit. In a separate bowl, mix Greek yogurt, milk, stevia and vanilla. Pour over oat mixture, stir to combine, cover and place in the fridge overnight.
In the morning you can eat it cold or pop it in the micro for 30 sec-1 min to warm a little and then drizzle with a little honey.
Flavor options: peanut butter, banana, cocoa powder/ blueberry, toasted almonds, almond extract/ Apple, cranberry, walnut, cinnamon/ strawberry rhubarb compote, fresh berries, toasted almonds
Auntie's Breakfast Muffins
My great aunt came up with this recipe for no sugar, no flour muffins; and it is rare that I don't have a batch of these tucked away in my freezer. I never really put the same thing in these muffins twice. What's my secret to make the most perfect no sugar, no flour breakfast muffin? Add a little sugar! It's totally optional, because they are delicious on their own, but sometimes I like to spoon a teaspoon (or 2) of crunchy cookie butter into the center of these muffins before they bake. Then when I pull one out of the freezer, I will pop it into the microwave for a minute and you have a wonderfully sweet, melty surprise in the middle of your otherwise super healthy muffin.
Makes 12 muffins
Ingredients:
1 cup almond meal
1 ¼ cups oat bran
2 mashed, ripe bananas
1 ¼ cups milk
3 tbsp. of unsweetened apple sauce
½ cup of chia seeds, hemp seeds, or ground flax seeds (I usually do a mix of all three, but you can also just stick to one-I would suggests at least some chia seeds though, they help thicken the batter)
1 cup blueberries (fresh or frozen)
1 tbsp baking powder
2 eggs
½-1 cup of walnuts, pecans, sliced almonds (optional)
Splash of vanilla
1 Tbsp Cinnamon
1-2 tsp. crunchy cookie butter per muffin (totally optional, but delicious!)
Preheat oven to 425 degrees.
Mix all the wet ingredients and all the dry ingredients separately, then pour the wet into the dry. Spoon into a greased muffin tin. If you are planning on adding the cookie butter, fill each tin half-way, spoon in the cookie butter, and then top with the rest of the batter. Bake for 18 minutes.
Keep these in the fridge or freezer, as they mold easily.
Sometimes I switch it up and replace the banana with grated zucchini and carrots or switch out the blueberries for dried cherries, I will add shredded unsweetened coconut, pumpkin seeds, and cacao nibs occasionally as well. I've also found that coconut butter can replace the apple sauce nicely.
Quinoa Egg Cups
I got the original recipe, listed below, for these from the blog Iowagirleats.com years ago, and the thing I love about them, is that they are freezable, portable, packed with protein, and SO customizable! I have made so many variations of these I've lost count so let your imagination (or what you have in the fridge) rule the day here.
Makes 12 cups
Ingredients:
2 cups cooked quinoa (about 3/4 cup uncooked)
2 eggs
2 egg whites
1 cup zucchini shredded
1 cup shredded sharp cheddar cheese
1/2 cup diced ham
1/4 cup parsley chopped
2 Tbsp. Parmesan cheese
2 green onions sliced
salt & pepper to taste
Directions:
Preheat oven to 350 degrees. Combine all ingredients in a large bowl and mix to combine. Liberally spray a muffin tin with non-stick spray and spoon mixture to the top of each cup. Bake for 25-30 minutes, or until the edges of the cups are golden brown. Let cool for at least 5 minutes before removing from the muffin tin.
To freeze: Place baked cups on a baking sheet then freeze until solid and transfer to a freezer bag. Microwave for 20-40 seconds depending on how many you're reheating.
The nice thing about this recipe is you can replace the ingredients, besides the quinoa, eggs, and cheese (you can change the type of cheese you use). I have done lemon, rosemary, asparagus and sausage ones, Vegetarian ones, Mexican style ones with corn, black beans, green onion, cilantro.
Whole Flour Breakfast Cookies
That's right, it's a cookie! This totally counts as breakfast though, because there is enough whole grains, nuts and seeds in it that I feel like it counterbalances the natural sugars used. These breakfast cookies freeze well, and you can pop one in the microwave for 30 seconds to warm it up before heading out the door. I found this recipe by Joanna Chang on Food52.com. Side note: Watch them carefully towards the end of their bake, I burned my first batch!
Makes 15 cookies
Ingredients
3/4 cup (75 grams) walnuts, roughly chopped 1/2 pound (2 sticks or 225 grams) unsalted butter
1/2 cup (170 grams) maple syrup 1 tsp. vanilla extract
3 large eggs 1 ripe banana mashed (about 100 grams or 1/3 cup)
3/4 cup (100 grams) pepitas 3/4 cup (40 grams) flaked unsweetened coconut
1/2 cup (45 grams) sunflower seeds 1/2 cup (50 grams) flaxseeds
1/4 cup (50 grams) millet 1 1/2 cups (150 grams) rolled oats
1 cup (160 grams) dried cranberries 2/3 cup (100 grams) whole-wheat flour
1/2 cup (80 grams) dried cherries 1 tsp. baking soda
1 tsp. kosher salt 1 tsp. ground cinnamon
1/4 tsp. ground nutmeg
Directions
Heat the oven to 350° F and place a rack in the center of the oven. Place the walnuts on a baking tray and toast for 6 to 8 minutes, until light golden brown and fragrant. Remove from the oven and let cool. Line a baking tray with parchment or grease the tray and set aside.
Melt the butter and place in a medium bowl. Whisk in the maple syrup and vanilla until well combined. Whisk in the eggs and banana until the mixture is totally homogeneous. The banana needs to be completely mashed so it whisks in smoothly.
In a large bowl, stir together pepitas, flaked coconut, sunflower seeds, flaxseeds, and millet. Remove 1/2 cup of the mixture and set aside for topping the cookies. Add the cooled walnuts, oats, cranberries, whole-wheat flour, cherries, baking soda, salt, cinnamon, and nutmeg to the bowl and stir well to combine. Make a well in the center of the dry mixture and add the butter/maple mixture. Stir well to combine. The mixture will be more like a soft batter than a stiff cookie dough. Let the mixture sit at room temperature for about 30 minutes or in the fridge for up to overnight.
Scoop about 1/4-cup-sized balls of cookie batter with your hands and roll them in a rough ball. Dip the top of each ball into the reserved seed mixture and plop it, seed side up, on the prepared baking tray. Press the cookie down with the palm of your hand to flatten.
Bake at 350° F for 20 to 22 minutes, until the cookies are golden brown on the edges and firm when you press them in the middle. Remove from the oven and let cool.
Want more news on this topic? Farm Bureau members may subscribe for a free email news service, featuring the farm and rural topics that interest them most!