If I Only Had Five Minutes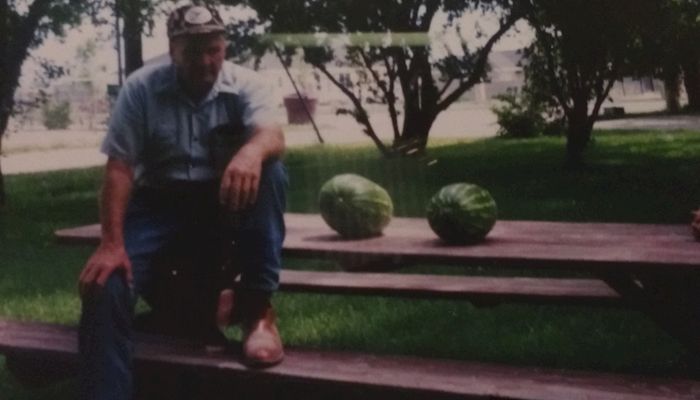 My name is Paige Alma Criner Norton. I am the daughter of Skip and Janet Wheadon Criner. I am the granddaughter of Dell and Norma Wheadon. My middle name, Alma, comes from both my great-grandfather and his father, my great-great-grandfather, Alma Wheadon, who was one of the founding members of South Jordan City making me a fifth generation South Jordanite.
If I only had five minutes to tell you about life on my Grandpa's farm, I think I would start by telling you that my grandpa had a scholarship offer to play on the University of Utah's basketball team that won the 1947 national basketball championship, but gave it up to help his dad on their farm. When he made that decision, his coach told him that he wasn't just giving up a scholarship, he was giving up a career. That decision forced him to work two jobs – one as a farmer and the other for Kennecott - but I never once heard him complain. Ever. And if he hadn't made that decision, it would have changed all our lives forever.
After working hard for his dad throughout his young life, his dad gifted my grandpa the 40-acre farm at 10000 South and 2700 West for my grandpa and grandma to make a life on together. With a desire to keep their posterity close, they generously gave one acre of the farm to each of their five children, free of charge. Consequently, I grew up with my aunts, uncles, cousins, and grandparents on my mother's side living right next door to me.
In 1980, one of my grandpa's two sons died suddenly. His other son was an over-the-road trucker. That meant that the responsibility to run the farm now rested on him and his three daughters' very capable shoulders. He may have taken comfort in the thought that help would soon be coming via grandsons. Never could he have guessed that out of 16 grandkids, he would be "blessed" with 13 granddaughters! That just meant that both his daughters, and their daughters, learned to work like hard. Growing up, Grandpa would tell us, "There's work horses and there's show horses. You need to know which one you are." Then — in case there was any confusion on our part — he would clarify, "You ain't show horses!"
I have no idea how I would talk about music practice, clogging practice, doing chores, planting, weeding, and harvesting the garden, hauling hay, canning food, riding horses and countless other activities that shaped and changed my life, and only talk for five minutes.
But then again, if I only had five minutes to tell you about the days spent on Grandpa's farm, I'd want to spend it telling you about the special days. I'd tell you about winter days when we'd ride up on the school bus and see Grandpa out in the pasture with our horses Molly or Buddy hitched up to the sleigh, waiting for us to race to change into snow clothes and get out there and ride. I'd tell you about summer days when Grandpa would call down to each house on the street and say, "Watermelon on the Wagon!" then hang up the phone and watch all of us pour out of our houses and race up the street to eat our fill of Green River watermelons. I'd tell you about how my grandpa would pick my siblings, my cousins and myself up from school by horse and wagon the first and last days of the school year. I'd tell you about Thanksgiving, Christmas, Easter, birthdays, weddings and so many other days that make you feel like, "I wish every day could be just like this!"
Come to think of it, if I only had five minutes to tell you about growing up on my grandpa's farm, I wouldn't tell you about events at all. I'd tell you about relationships. How many people have had the honor and privilege of having the example and influence of their grandparents, aunts, uncles, and cousins every day of their lives? I did. Because my grandparents cared more about making memories with their posterity than they ever did about making money, I am richer for it.
If I only had five minutes to share with you the lessons I learned on Grandpa's farm, it would be hard to talk to you about all the lessons of service, sacrifice, and generosity that I learned; for I could talk for days about those topics and not even scratch the surface of the example that was set for me! I learned that God carefully organized our family and that every member of the family has assets, contributions, and responsibilities. When every member of the family gives freely of their time and talents, all bases are covered and every need is met.
If I only had five minutes to talk about life on a farm, I would need to tell you that the things that people are seeking in life – peace, quiet, exercise, tranquility, a slower life pace, fun activities for the kids and the whole family (that don't involve electronics), opportunities to teach your kids hard work, responsibility, and a million other life lessons – all those things and countless others exist on the farm.
It's funny to watch the responses of people when they ask why we don't sell the farm – after all, don't we know how much it's worth? My family always responds with, "Yes, but then all we'd have is money." We could avoid a lot of headaches if we gave up, sold the farm, and bought land somewhere else. But I'd want to spend my five minutes explaining that there have been moments that have occurred on that piece of land that are sacred to me and my family.
Like after sleigh riding, when it was completely still and quiet and all the other kids had gone in to have hot chocolate and marshmallows with grandma, and I stayed outside cooling off the horse while grandpa put away the tack. In the stillness, I could hear only the horse's breath and footsteps, and my grandpa singing, whistling, talking to himself, and talking to me.
But if I was going to tell you about those dark days, I should also tell you about the miracle that occurred on the farm the day we buried Grandpa. I'd want to tell you every detail. That day we borrowed our friend's horses and wagon to take his body to the cemetery. I'd want to tell you about how when we passed the bottom of our livestock pasture, with all our horses in it– completely contrary to horse's nature – all of Grandpa's horses walked calmly towards the east end of the pasture and lined up and stood like statues as we took their master's body to its final resting place.
More than anything, I'd want to convey that the footprints of my hero grandpa are etched into every square inch of 40 acres of what I consider 'Heaven on Earth' in South Jordan, Utah. I want to tell you what a privilege it was to walk in my grandpa's shadow and I will try my best every day to live a life he would be proud of – a life that honors the example I was taught on my grandpa's farm. That's what I would tell you if I only had five minutes.
For five minutes, I would want to tell you about my favorite Christmas memory of my entire life, which took place in my grandpa's backyard. I would tell you about caring for my grandpa for the last seven years of his life, my cousin Shannon for the last two years of her life, and my grandma for the last few years of her life – all on Grandpa's farm. But I'd also want to tell you about how my family has looked out for each other every day of our lives. I want to tell you in no uncertain terms that none of us could have made it without each other to lean on in hard times. If I wanted to be honest, I'd have to admit that life on Grandpa's farm wasn't all sunshine and bumper crops. You better believe there were arguments, differences of opinion, and too many knockdown, drag-outs to count. After all, if you think it's hard to get along with one set of parents and siblings, try five! I wouldn't want to tell you about the three darkest days on the farm; the days my dad, my little sister and my grandma all took their final breaths on that piece of hallowed ground.
Want more news on this topic? Farm Bureau members may subscribe for a free email news service, featuring the farm and rural topics that interest them most!