I'm Not a Farmer But… Actor and restaurant owners share their love of food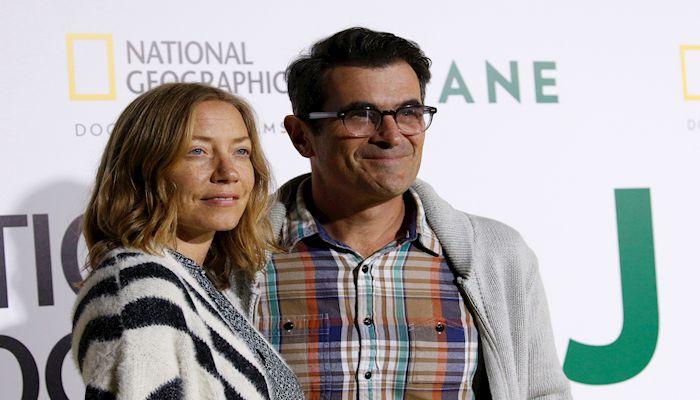 Utah Farm and Fork caught up with Ty & Holly Burrell to talk about their memories of food and how it connects us all. Holly Burrell is a native Utahn from Davis County, and after years of living in Washington, D.C., New York, and Los Angeles, with her actor husband Ty Burrell, have decided to make Utah their permanent home. This was helped by the fact that the Burrells are part of an ownership group in a few local restaurants and drinking establishments including Bar X and Beer Bar in Salt Lake City, the newly renovated Cotton Bottom Inn in Holladay, and The Eating Establishment in Park City.
Ty Burrell is known by many as the goofy dad character Phil Dunphy from the ABC television sitcom Modern Family, along with film credits such as Muppets Most Wanted, Finding Dory, National Treasure: Book of Secrets, and Mr. Peabody & Sherman among others. Holly, who also studied theater at the University of Utah, met Ty while working in Washington, D.C. In addition to film and television, Ty later spent time working at the Utah Shakespeare Festival, and fell in love with the state. With Modern Family now over, the family is able to spend more time in Utah, and plan on making it their permanent home.

What are your hometowns? Where have you lived during your life? Holly's hometown is Fruit Heights, Utah and mine is Ashland, Oregon. We've lived together in Washington, D.C. (where we met), New York City, Los Angeles, and, of course, Utah.
Tell me about your families.

Holly: "I come from a very close-knit Mormon family with lots of art, music, and love."
Ty: "I come from a typically western family. Many of my recent ancestors were itinerant and, consequently, we ended up being a mixed bag, culturally. My immediate family values surrounded kindness and laughter, primarily."
Were you raised on a farm or a ranch? If so, what type of animals did you raise and/or the crops did you grow? Also, if so, what chores did you have? Any that you particularly liked or disliked?
Ty: "After my 4th grade year, we moved from Ashland, Oregon to a five-acre parcel of land on the Applegate river in the middle of the woods in Oregon. We were never really suited to have a ranch, but we did take a few swings at raising animals. I had typical chores for the country – moving irrigation pipes, digging ditch, and a few times a year, bailing hay for ourselves and our neighbors. Otherwise, I was either down at the river or inside listening to Steve Martin albums."
If you were not raised on a farm/ranch, did you have extended family that had a farm or ranch? Did your family have a garden when you were growing up? And if so, what types of plants did you grow in their garden. Did you have a responsibility with the garden? Holly: "My mother has had a garden for as long as I can remember. She's a very committed gardener and I'm sure it influenced my love of food and my connection to cooking. She used every bit of the summer harvest and taught me how to preserve everything from tomatoes and grape juice to fruit jams."
What type of student were you while growing up?
Ty: "I was a daydreamer, which didn't put me in good stead with my teachers or, for that matter, my parents. I was very lucky to have found sports (We didn't have theater that far out in the country – or irony.) and it gave me an identity through high school, even though I was soon to discover at college that I was only a deluded average athlete."
Did you have favorite subjects? Or classes that you did especially well in?
Ty: "I was serviceable in typing class, which is why I'm doing the legwork on this interview."
What do you do in your career? (Please describe a typical workday for me.)
Ty: "I'm an actor and a typical workday for me is falling over a couch and landing in a bowl of bean dip over and over and over again."
How did you end up as an actor, and how did you break into the industry? Was your family involved in a creative industry growing up?
Ty: "I became an actor shortly after my father passed in 1989. I was 22 and had no reference point for a career in anything creative. My father, who was a very talented painter and wished that he had pursued it professionally, told me that he thought that I should look into being an actor. Sadly, it took his death to shake me up enough to stick my neck out into that world."
If you weren't involved in acting or a similar field, what else would you do for a living?
Ty: "I think I'd make a hell of a mail carrier. Truly. I love to walk and I'm pretty sure that my only true gift is carrying heavy things over a great distance. I can only imagine how many audiobooks I'd get through, and one can only assume I'd need a brace for my waving hand. I have tremendous admiration for our mail carriers, especially during this pandemic. Other than that, I have no real skill sets other than the aforementioned couch and bean dip gig."
Did you go to college or university?
Holly: "I went to the University of Utah." Ty: "I went to the University of Oregon and Southern Oregon University for undergrad and Penn State for my master's degree in Theater."
What brought you to Utah? (If you are not a Utah native.)
Ty: I first came to Utah to perform at the Utah Shakespeare festival in Cedar City. I did that for two summers and, in between, met Holly in Washington D.C., where we were both performing at the Shakespeare Theater. I was already in love with Utah and after she and I fell in love it was always in the back of our minds to live here someday."
Can you tell me about your current family situation? Kids, grandkids, etc.
Holly: "We've got two beautiful and energetic girls - 8 and 10. They keep us laughing and exhausted."
Where do you live today? Salt Lake City
Is there something you like to eat that reminds you of home?
Holly: "My mom is a master of cooking simple meals from her garden. Any time I eat something with fresh tomatoes I'm reminded of her."
Ty: "Blackberry jam. My mom used to make it from the bramble along the river."
Do you have (or plan to have) a garden and/or fruit trees?
Ty: "I'm gardening for the first time in my life and truly loving it. We're in the process of moving to SLC full-time and I spent a morning with my mom staking out the future beds in our backyard. Our goal is to make the whole property food productive in some way. We have a pear tree, a nectarine tree, and a couple plum trees. We're hoping to add to that."
Do you have a favorite food?
Ty: "Hard to pick any of these but I'll try. Hot Peppers, Mango, Pork Belly, Sourdough, every other food on earth."
Holly: "Anything that is right in season is the thing on my mind. Right now, I can't get enough nectarines. Other foods I adore are cauliflower, rainbow trout, cheese and all baked goods."
How would you classify yourself from an eating standpoint? Are you an omnivore (someone who eats any and everything), an herbivore (someone who just eats plants), someone on a paleo diet (just meats and dairy products), or something else?
Ty: "We're both omnivores. We do our best to be responsible omnivores. I'm in the middle of the book The Third Plate, by our favorite chef, Dan Barber, and it's been inspirational about ways to make all of our food sustainable. As well as a reality check on how some of it just isn't."
Additionally, are you someone who eats because they have to? Or are you someone who eats because you love to eat?
Holly: "Food is a primary source of joy for us. We both love to eat. We are definitely not in the first category"
Is there a restaurant in Utah you like to go to?
Ty: "So many. HSL, Copper Onion, Hub & Spoke Diner, Taqueria 27, Current, Tradition, the list goes on and on. We're so happy to have so many options here in town."
What's the worst thing you've ever eaten?
Ty: "Cheap liver and onions. We weren't poor growing up, but I always felt like if I glanced down, I could see the poverty line. One of our proteins was liver but it wasn't high quality and it tasted like a well-sauced license plate."
What's the best meal you've ever had? And why?
Holly: "Hard to say the best meal. We've had very memorable meals that we won't forget and have talked about with each other again and again. A meal at Guy Savoy in Paris (Neither one of us had ever eaten a finessed, coursed-out meal like that, so it was a truly shared experience), a hugely anticipated meal at The French Laundry (which lived up to all the hype), and a few very distinct meals at Blue Hill at Stone Barns (Dan Barber is a hero to us, so basically those meals are the top of the heap). But truly, most of the best meals have been simple ones, in our backyard, shared with friends and family."
What was the favorite meal/food you ate growing up? Or what food memories to you have from your childhood?
Ty: "One of my father's many gifts was to mix laughter and joy into life's profound uncertainty. When my dad was unemployed for a stretch in the early 80's, he decided to learn to cook true Italian food. We'd come home and noodles would be hanging over the chairs and opera blasting through the house, accompanied by his semi-dulcet tones. In the midst of the stress he was going through, he managed to make meals that tasted of perspective."
Have you visited a farm/ranch or farmers market in Utah before?
Ty: "We haven't visited a ranch but we're devotees of the SLC farmers market. Both the summer and the winter markets are a highlight of our week and sustain our family throughout the year."
Describe to me your favorite kind of meal, something you eat on a fairly regular basis.
Holly: "I value meals that we can put together in about an hour. Someday when our kids are grown, I'll relish taking half a day to prepare something, but right now I want something healthy, tasty, and reliably fast. I love Melissa Clark's cookbook Dinner for this reason, and there's a One-Pot Mujadara in there that makes it into the rotation quite a bit. I love sheet-pan dinners too - something you can throw together fast but uses fresh, tasty ingredients. When Ty's cooking, he wants to grill something, so I'll whip up a couple of sides to go with whatever he's got going."
Do you like to cook or is someone else the main cook? If yes, what is your go-to meal/dish/ recipe?
Holly: "I do most of the cooking and baking and Ty does all of the grilling. We're a good team."
If you don't want to cook anything fancy or elaborate, what is your basic comfort food you like to eat?
Holly: "Most of the time, these days, I don't cook anything fancy or elaborate. I cooked Sloppy Joes and a side of steamed broccoli the other night for dinner because it's tasty, healthy, and nobody was going to complain."
Ty: I think Holly's downplaying her skills a bit here. If I may toot her horn for her, (because she's not here as I type this...mwahahaha) she graduated with honors from the pastry program at the International Culinary Center in New York and regularly surprises us with things that she considers basic but, to the three of us, feel like little miracles. Gelato, a rustic Galette, homemade breads, cakes, shortbreads, etc. Most of her 'basic' meals are accompanied by one or more of those beautiful, delicious things.
Do you have a favorite recipe?
Holly: "I have a lot of favorite recipes. One thing I'll make once a week is a soup. It's a practical thing about making something that will provide some leftovers for lunches for the rest of the week, and also a comforting thing because soups and stews are so versatile. Sometimes all you need is a great loaf of bread or a muffin to go with it, or other times you can make a more elaborate peasant board with lots of yummy fruits and cheeses and charcuterie. It's also a great way to get some diversity into your kids' diet, especially if you find them veggie-averse. One soup recipe I came across during this pandemic that I've made several times is something called Any Vegetable Soup. It's extremely resourceful, uses up all of the veggies you have going bad, and the result is a really delicious, comforting meal. She's very clear that you don't have to make it exactly as she writes it, and it's true. I've made it with different vegetables every time.
Any other thoughts about agriculture, or about farmers & ranchers?
Ty: "We're so grateful for the farmers and ranchers in Utah and are constantly looking for the best practices in both. We're not educated nearly enough, but one thing we feel like we've learned from people like Joel Salatin, Michael Pollan, and Dan Barber, is that small farm and ranch production, if done responsibly and without scaling up, is a good life for our food, good for the earth, good for people, and tastes better. We want to support those farmers and ranchers."
"However, in the midst of Covid-19, it feels a little tone deaf to be talking about only buying from farmers following certain practices when many people are trying to cope with food insecurity. We realize how lucky we are and, I suppose, we're hoping that by opting into that system it will eventually help to bring those prices down. We'd love to see a Utah, and an America for that matter, where small farmers are supported, and everyone can afford the food from those small farms without the two being bifurcated."
Is there anything else you'd like to add to our conversation to the readers of UTAH FARM AND FORK?
"We hope you're all getting through these strange times with safety and relative sanity!"
-Holly and Ty."
Want more news on this topic? Farm Bureau members may subscribe for a free email news service, featuring the farm and rural topics that interest them most!