It is All About Connection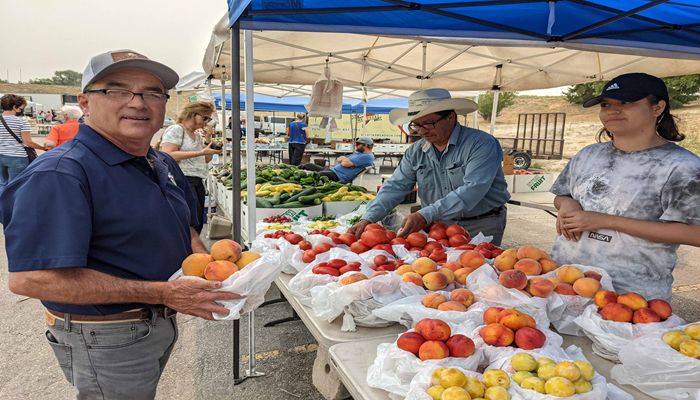 I heard a story on the news the other day that illustrates the importance of connection.
 
The news report was about a former Uber driver that earned her bachelor's degree and credited a generous passenger she met in 2018 for making it possible.
 
Latonya Young, a single mother of three, was working late one night to earn money to pay her utility bill. That night she picked up a passenger, Kevin Esch, and shared that she had dropped out of college after struggling to pay tuition and how she wanted to be the first member of her family to earn a degree.
 
When they arrived at Esch's destination, he gave Latonya his number and asked her to let him know about her enrollment in school. He left a $150 tip to cover her utility bill.
 
When Young tried to re-enroll at Georgia State, she found she had a $700 outstanding balance. She told Kevin about it and without her knowing it, he paid off the debt.
 
Young worked three jobs to make it happen and also received financial aid from the Jeanette Rankin Women's Scholarship Fund. In May of 2021, she earned her degree in criminal justice from Georgia State and is seeking a job as a parole officer. She's also writing a book, From Broken to Blessed.
 
What if Kevin got into the car and spent the entire Uber ride on his phone? What if Latonya hadn't shared her dream to be the first member of her family to earn a degree?"
 
Latonya wasn't afraid to open up and talk about what was happening in her life. Her vulnerability opened the door to a new friendship.
 
Connection comes naturally to some people and can be harder for others who are uncomfortable about opening up. But the truth is, when we are willing to be honest and vulnerable it opens the door to empathy and connection.
 
Humans are all about connection. From our daily interactions with family to meeting new people around the globe, we all crave it.
 
Food is something we all have in common, and it is a great vehicle for connection.
 
How Does Food Connect Us?
We all eat and we all have experiences around food. The power of food to help us connect is amazing. Food helps us share our culture and heritage. It can bring us comfort and it can help us celebrate. We catch up with old friends and make new friends over a meal. Food can be at the center of family traditions and food can be the topic of our conversations.
 
I caught up with some farmers to ask them about their connection with food and how food has helped them make connections with others.
 
Family Traditions and a Sense of Belonging
Sarah (McMullin) O'Gwin was 15 years old when she started selling fruit from her family's orchard across from the high school in Payson. As early as she can remember, her mother would take her and her siblings to the orchard to work and they would sell peaches from their wagons.
 
"I had the opportunity to learn how to talk to people at a young age," Sarah reflected. "At the market, you meet a lot of really good people. People who work hard for their living. I got confident in conversing with people. I was taught at a very young age to be respectful of others and treat everyone as equals."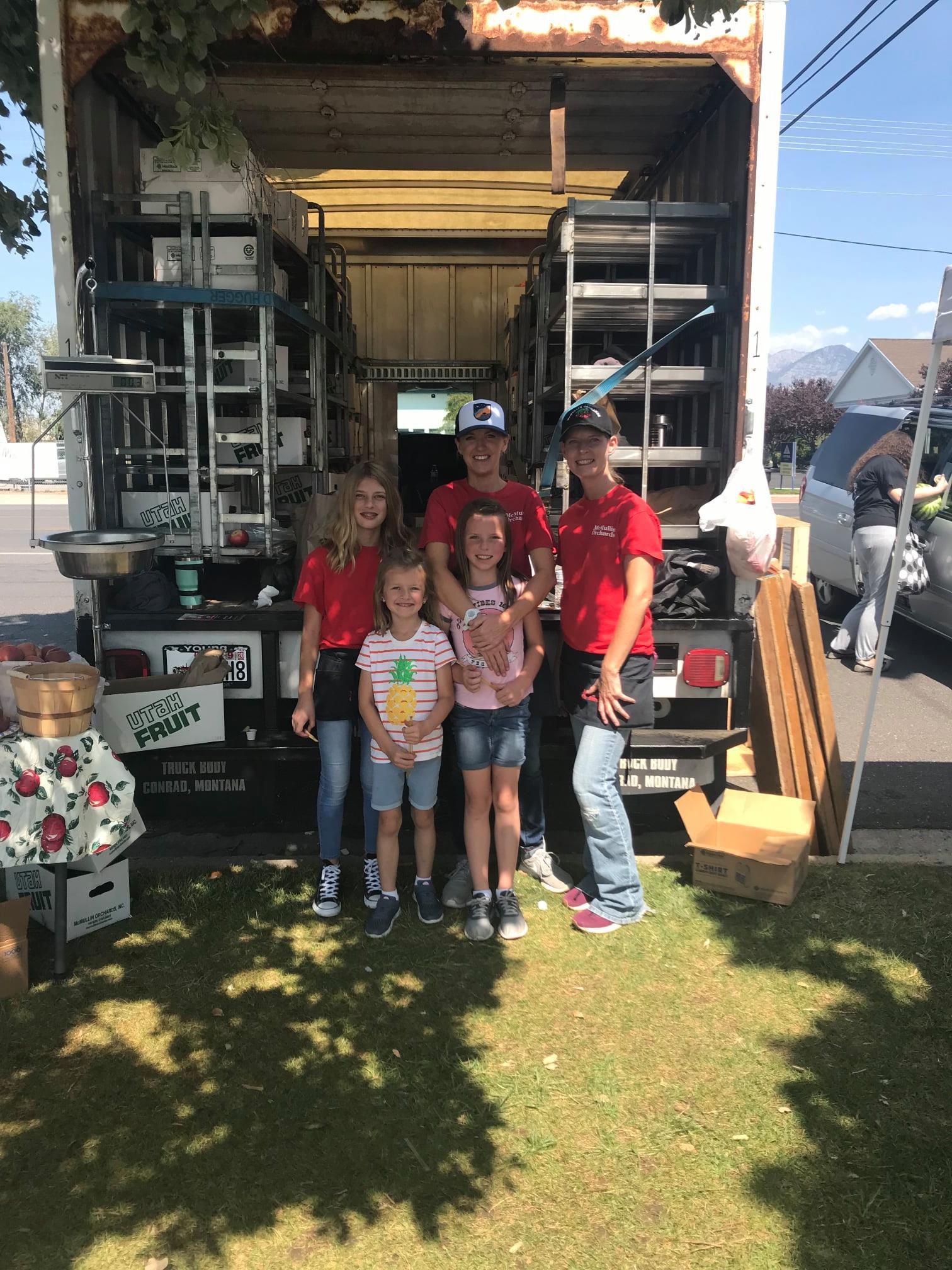 Sarah (McMullin) O'Gwin (far right) at the farmers market in Spanish Fork.
In Sarah's opinion, the secret to connecting with people is to take an interest in them and remember them. When you do, they take an interest in and remember you.
Howard Creer, Sarah's elementary school principal, took an interest in her when she lost her mother at an early age. Creer and his wife Joy regularly visited her at the farmers market and bought peaches to bottle. When they were unable to can peaches for themselves, Sarah started bottling their peaches for them. When Sarah's health did not allow her to can the peaches, her cousin Angie continued the act of service. At Mr. Creer's funeral, his children mentioned how much he appreciated this act of kindness over the years. 
Sarah was diagnosed with cancer when she was 19 years old. She remembers one summer when she wasn't able to help at the farm and how hard that was for her. It's more than just a farm, to Sarah it's a safe haven.
For three or four summers, Sarah chose to be on a diet for her health and she couldn't eat fruit.
"It was so hard not to eat fruit from the orchard," Sarah reminisced. "I remember at the end of that diet, I cried when I ate a peach fresh off the tree. I was so grateful."
Growing fruit on their multi-generational farm has bonded the McMullin family. Sarah grew up working alongside her parents, aunts, uncles, and cousins and everyone had a part to play on the farm. 
"I have so much love and respect for my family. It's a great thing to work side by side with people you love at something bigger than yourself."
Sharing Our Heritage and Culture
Roberts Family Farms has been a vendor at Utah Farm Bureau's Murray Farmers Market since it opened in 1981. Deven Roberts along with his wife, Michelle, and their children have all worked the booth and have made lifelong friends with their regular market customers.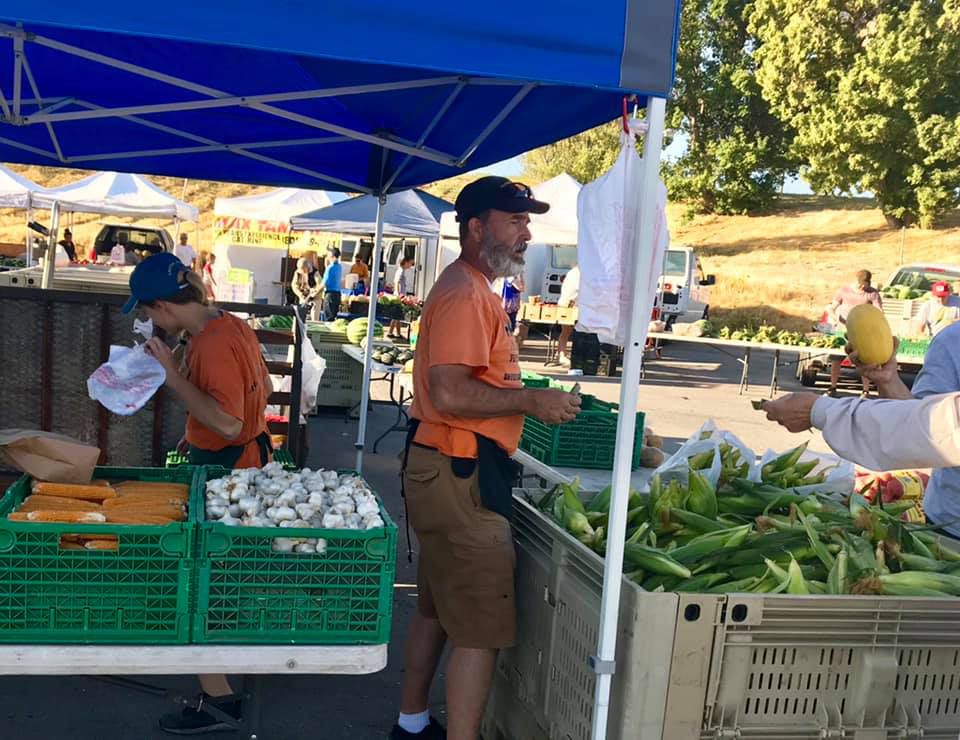 Deven Roberts (right) visits with a customer at the farmers market in Murray.
 The Murray Market has a very diverse customer base which gives the Roberts an opportunity to talk to people of many different nationalities. 
 "Sometimes we don't even speak the same language, but we are able to connect through food," Roberts reflected. When we talk to people outside our usual social circle, encountering lives and worldviews that are different from our own, our understanding and friendships grow.
To Deven, building friendships is one of the fun things about being at the market. For example, the Roberts have built a friendship with a family from Russia. Deven and his friend, Natasha, exchange recipes and ideas on how to prepare the vegetables grown on Roberts' farm. Natasha shared her recipe for Borscht which is a beet soup common in Eastern Europe. It is typically made using beets and combining meat or bone stock with sautéed or boiled vegetables like cabbage, carrots, onions, potatoes, and tomatoes. Take some farm-fresh beets and combine them with a favorite family recipe and they made a connection.
Food Starts Conversations
Tamra Annett grew up in Spring City on a lambing and ewe farm. She was raised on garden vegetables, and grass and grain-finished beef, lamb, and pork.
In high school, she remembers hearing about New Zealand and Australia-grown wool and wondered why anyone would import wool when they could buy local wool. That thought and years of education brought Tamra to the Utah Department of Agriculture and Food. She is a marketing specialist for Utah's Own and connects consumers with local farm-fresh food.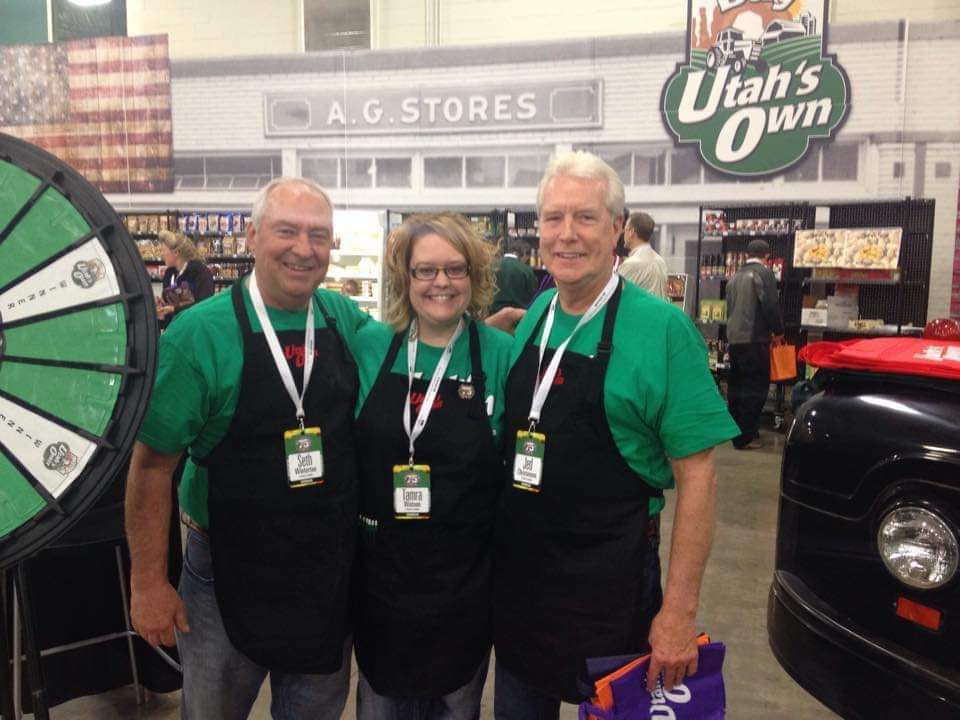 Tamra Annett (center) and her Utah's Own colleagues work throughout the state to help Utah's food producers gain a foothold in the marketplace of products.
 Tamra believes food is a common connector—it's breaking bread together at business meetings, family gatherings, or catching up with friends over lunch. Food helps create memories and stirs feelings of nostalgia. 
At its earliest beginnings, America was built on agriculture. Farmers worked their ground and started working together to provide food sources. Communities were built and began to thrive through food production. 
Tamra explains, "Today we have decreased personal farm experiences. Smaller farms have done a great job of reconnecting communities with some type of farm experiences. They are connecting with their consumers." 
Helping farmers tell their stories and realize their entrepreneurial dreams is what drives Tamra. 
"Striking up a conversation about Utah crops is simple and connects farmers and consumers," Annett says. 
Tamra likes to share seasonal crop information such as when cherry season is on and that it will only last for three weeks, or the first crop of Utah sweet corn is ready. 
Another conversation starter is how Utah's micro-climates make specific areas of the state prime growing spots for certain crops. Utah Lake contributes to Utah County's micro-climate that is excellent for growing tart cherries, peaches, and apples. 
On the flip side, there are also areas in Utah that aren't suitable for growing crops but are perfect for grazing cattle and sheep. 
To Tamra, talking about local food is a joy and a privilege. 
Stop and think about the number of strangers you brush by every day. Maybe it's the man standing in line behind you at the post office or a farmer at a roadside stand. Maybe it's the teenager that walks by you carrying his skateboard or the driver of the next Uber you get in. Every day we are presented with opportunities to connect with new people. We all share something in common, so challenge yourself to have a conversation with one stranger every week. All it requires is a little bit of courage.
Want more news on this topic? Farm Bureau members may subscribe for a free email news service, featuring the farm and rural topics that interest them most!