JY Ferry & Son Receives 2019 Utah Leopold Conservation Award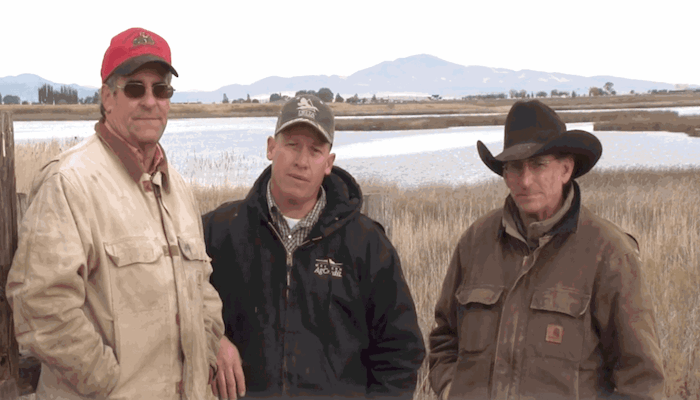 LAYTON, Utah – JY Ferry & Son, Inc. has been selected as the recipient of the 2019 Utah Leopold Conservation Award®.

Given in honor of renowned conservationist Aldo Leopold, the award recognizes farmers, ranchers and foresters who inspire others with their dedication to land, water and wildlife habitat management on private, working land.

In Utah the award is presented annually by Sand County Foundation, Utah Farm Bureau Federation, Western AgCredit and Utah Cattlemen's Association.
The Ferry family was presented with the $10,000 award and a crystal award November 22 at the Utah Farm Bureau Federation's Annual Convention in Layton.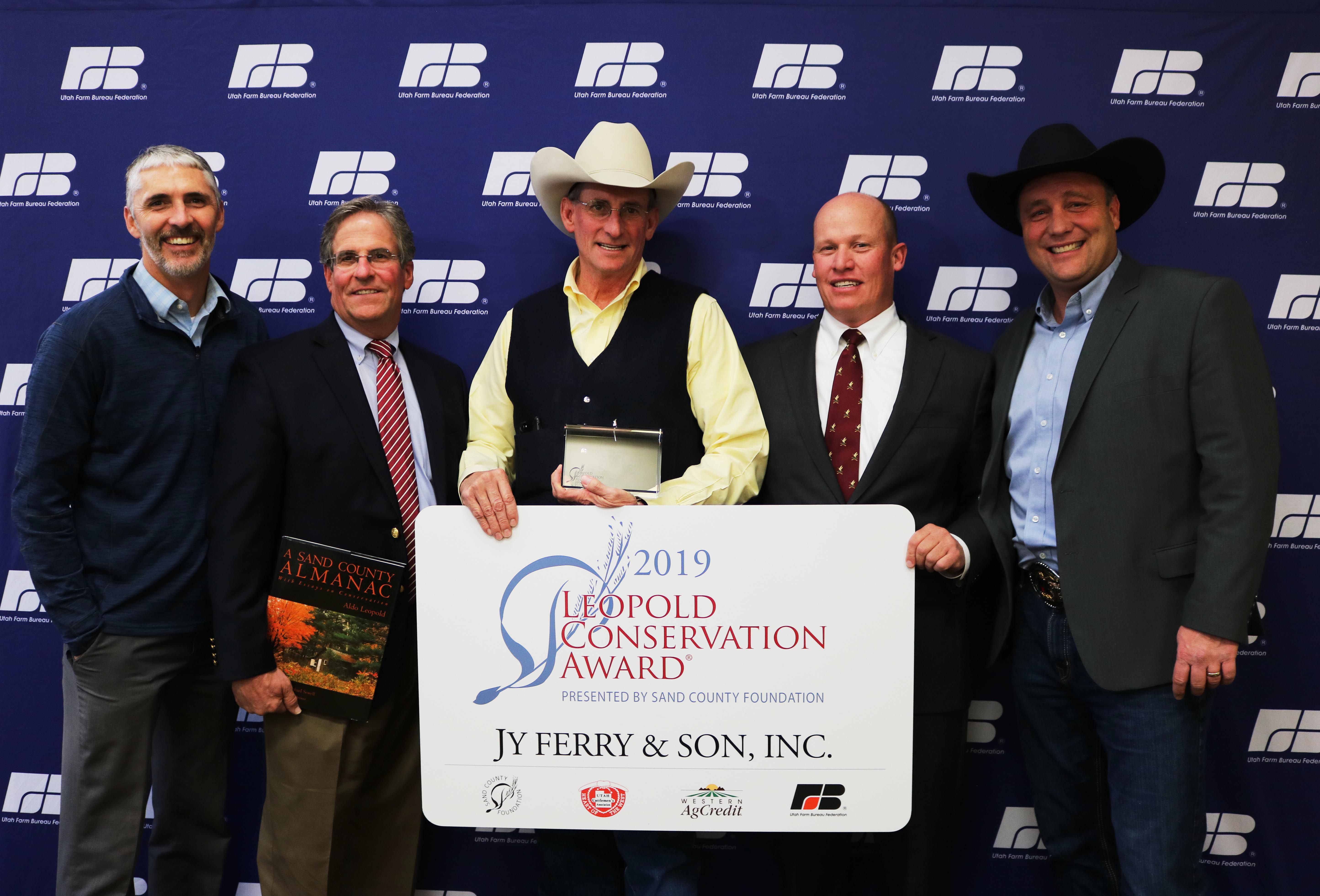 "We congratulate the Ferry family for winning this award, and know of the great work they've done for generations to take care of the land," said Ron Gibson, Utah Farm Bureau Federation President. "The Ferrys are great examples of the conservation ethic the Leopold name represents. We know there are many farmers and ranchers in our state committed to doing the right things for the land. We're happy to partner with the Sand County Foundation and our great partners in Utah in presenting this outstanding award."
"Western AgCredit is proud to sponsor the Leopold Conservation Award in Utah. These families have worked for generations to improve the quality and production capacity of their ranches. Conservation is a way of life to these families and we appreciate their commitment to being exemplary stewards of the land," said David Brown, Western AgCredit CEO.

"The Utah Cattlemen's Association congratulates the landowners in our state who are demonstrating a commitment of conservation to the land and the natural resources in their stewardship," said Brent Tanner, Utah Cattlemen's Association Executive Vice President.

Earlier this year, Utah landowners were encouraged to apply (or be nominated) for the award. Applications were reviewed by an independent panel of agricultural and conservation leaders. Among the many outstanding Utah landowners nominated for the award were finalists: Half Circle Cross Ranch of Coalville in Summit County, and Ferril and Dorothy Heaton Family LLC of Alton in Kane County.
The first Utah Leopold Conservation Award recipient was Harold Selman Ranches of Tremonton in 2007. The 2018 recipient was Ercanbrack Livestock of Coalville.
The Leopold Conservation Award in Utah is made possible thanks to the generous contributions from Western AgCredit, Utah Farm Bureau Federation, Utah Cattlemen's Association, Utah Association of Conservation Districts, The Nature Conservancy, Utah Wool Growers Association, Producers Livestock Marketing Association, and the Utah Department of Agriculture and Food.
In his influential 1949 book, A Sand County Almanac, Leopold called for an ethical relationship between people and the land they own and manage, which he called "an evolutionary possibility and an ecological necessity."

Sand County Foundation presents the Leopold Conservation Award to private landowners in 20 states for extraordinary achievement in voluntary conservation. To read the stories of other extraordinary landowners, visit www.leopoldconservationaward.org.

ABOUT JY FERRY & SON, INC.
The Ferry family's land ethic has conserved Utah's natural resources for more than a century.

John Y. Ferry came to northern Utah in 1900 and bought the land that would become JY Ferry & Son, Inc. The cattle-ranching family helped form the Bear River Valley's first drainage district in the early 1900s. Today, brothers John and Ben Ferry, and John's son Joel, embrace land management practices that improve soil health, water efficiency and wildlife habitat on 3,200 acres of irrigated farmland, 15,000 acres of wetlands and 20,000 acres of rangeland.

The Ferrys removed invasive species along the Bear River before contouring and re-vegetating its banks. They've fenced their cattle away from sensitive riparian areas, and relocated a riverside feed yard with capacity for 400 cattle away from the river. With assistance from the Utah Department of Environmental Quality, 600 feet of Bear River streambed has been restored.

To reduce erosion and improve water retention, they plant cover crops and use conservation tillage and no-till practices on their corn and wheat fields. Water efficiency has increased by laser-leveling more than 2,000 acres of farmland and pasture, and installing a new irrigation storage system with 15,000 feet of earthen irrigation ditches. They have also removed several hundred acres of saltcedar trees, which lower the water table and create large deposits of salt in the soil.

The Ferrys host Utah State University research on the impacts of grazing and cover crops on soil health. They have also demonstrated the environmental and economic benefits of grazing cattle on wetlands that become overrun by phragmites. They discovered their cattle will eat phragmites, a tall and dense invasive grass that crowds out beneficial native plants. Rather than burning or spraying the phragmites with chemicals, cattle naturally increase the diversity of desirable wetland plants and improve wildlife habitat by eating phragmites.
Federal and state agencies have observed the synergistic benefits of grazing wetlands, and for the past six years the Ferrys have grazed 1,200 head of cattle on public wetlands. This has led to a sustainable rehabilitation and improvement of thousands of acres of prime state and federal wetlands.
The U.S. Fish and Wildlife Service (USFWS) assisted the Ferrys with control structures that move their runoff water into restored wetlands. The family voluntarily placed 750 acres of wetland and upland under USFWS conservation easements. The Ferrys own, graze or farm on each of the multiple properties that make up 150,000 contiguous acres of prime wetlands under coordinated conservation management.
The Ferrys appreciate the balance that can be reached between providing quality wildlife habitat and the realities of agriculture. To manage a thriving wildlife population and duck hunting opportunities, rows of corn and small grains are strategically left unharvested to provide cover and feed for upland birds and migrating waterfowl. Grazing and haying management plans correspond with nesting seasons to have minimal impacts on nesting birds.
# # #
LEOPOLD CONSERVATION AWARD PROGRAM
The Leopold Conservation Award is a competitive award that recognizes landowner achievement in voluntary conservation. Sand County Foundation presents the award in California, Colorado, Kansas, Kentucky, Missouri, Montana, Nebraska, North Dakota, Oklahoma, Pennsylvania, South Dakota, Texas, Utah, Wisconsin, and in New England (Connecticut, Maine, Massachusetts, New Hampshire, Rhode Island and Vermont). www.leopoldconservationaward.org.

SAND COUNTY FOUNDATION
Sand County Foundation inspires and enables a growing number of private landowners to ethically manage natural resources in their care, so future generations have clean and abundant water, healthy soil to support agriculture and forestry, plentiful habitat for wildlife and opportunities for outdoor recreation. www.sandcountyfoundation.org.
UTAH FARM BUREAU FEDERATION
The Utah Farm Bureau is the largest general farm and ranch organization in the state with more than 34,000 member families. Its mission is to inspire all Utah families to connect, succeed and grow through the miracle of agriculture. It strives to bring value to every citizen and community through love of God, family, country, and the land through political action, educational and informational means. www.utahfarmbureau.org.
WESTERN AgCREDIT
Western AgCredit is the leader within the agricultural finance industry with nearly 100 years of lending to farmers in the Intermountain West. It currently serves approximately 1,700 customers with a full range of credit and financial services, as well as providing financial and volunteer support to several agricultural and community activities, including, among others, Utah Farm Bureau, Utah Cattlemen's Association, Utah Wool Growers Association, the FFA, and the 4-H. www.westernagcredit.com.
UTAH CATTLEMEN'S ASSOCIATION
The Utah Cattlemen's Association has represented Utah cattle producers since 1870, preserving the heritage and strength of the industry through education and public policy and by supporting and establishing the adoption of good principles of raising and marketing cattle and caring for the land we ranch on. Efforts are made possible through membership contributions. www.utahcattlemen.org.

Want more news on this topic? Farm Bureau members may subscribe for a free email news service, featuring the farm and rural topics that interest them most!