Let's Talk Herbs!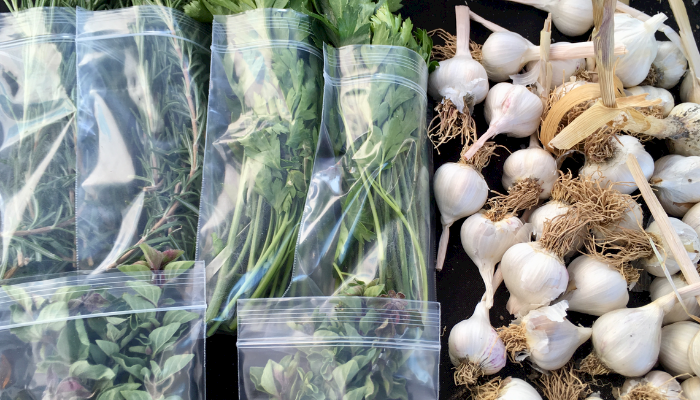 Herbs are a very popular addition to any garden, whether you're a novice or expert gardener. Most herbs grow well in Utah since many are from the Mediterranean and like hot climates; however, they still need plenty of water!

I interviewed Heather Peeters, Co-owner of Solstice Spices and vendor at the Utah Farm Bureau's Murray Farmers Market about all things herbs. As a reminder, the Utah Farm Bureau manages Farmers Markets in Murray and South Jordan City Hall.

Q: Please tell me about your farm and business.
My husband, Tony, and I have been growing food for market for 13 years. We started growing in backyards around Murray and have ended up on two beautiful acres in Millcreek, in the middle of Salt Lake County. This is because of an opportunity we were given from the Salt Lake County Urban Farming division. The program is called Farmlink, and it connects private landowners with urban farmers. We are grateful to have been paired with our farm's landowner, Bonnie, as she is generous and kind and a lover of the land.

We sell heirloom tomatoes, fresh herbs, and make amazing spices from farm-fresh produce. Our biggest market is the Murray Park Farmers Market, which runs from the end of July to the end of September. But we also participate in the Downtown SLC market from November through July.

Q: Walk me through what you grow and sell on your farm?
Our largest crop is our unique, quality heirloom tomatoes. Our second-largest crop is the best fresh basil available. We grow many other herbs and hot peppers for our spices. During the summer, we usually have Armenian cucumbers and a variety of unusual eggplant and zucchini. In the winter and spring, we try to have lettuce, carrots, radishes, and beets.

Q: Did you ever think you would be a farmer?
Not in the sense that it would be our profession. We've always had an affinity to all things food and gardening – many people do. I think a lot of people also have a neglected inner desire to farm, maybe not knowing how hard it is, but still longing for that indescribable satisfaction that is missing.

Q: Which herbs are your favorite to eat and/or grow?
The basil plants seem to get our biggest affection. We eat and grow them the most, but their season is limited. Most of the other spices we grow are dried for our farm-to-jar Solstice Spices. We eat and grow as much as we can.

Q: How difficult is it to grow herbs?
My best advice is to watch your plants and trust your intuitions when it comes to herbs. It is not hard, and I believe that, at the very least, everyone should have a few herbs in their yard. Thyme, Sage, Parsley, and Rosemary will not need much attention and will taste a million times better than anything you could buy at the grocery store.

Q: Where and in what seasons can herbs be grown?
Perennial herbs will survive year-round (thyme, sage, oregano, mint) however they do go through a dormant stage when the daylight is short. Annual herbs, such as basil and parsley, only grow in Utah from May-to-October and may reseed if dead plants are left through the winter.

Q: What advice would you give to someone wanting to grow herbs inside or outside?
Herbs don't really love to grow inside, but it is possible to make them last. The best chance is to get them nice and strong in the summer before you bring them inside. When you bring them in, keep them in a sunny window and water when the soil is dry.

Also, a note about those live plants available in the produce section. These are raised in the perfect climate of a greenhouse and are usually not very happy when we bring them inside our homes.

Q: What are your favorite recipes using fresh or dried herbs?
I honestly believe you should add herbs to anything you are cooking. And you don't have to follow any rules. If all you have is Thyme, then use Thyme. Taste the herbs first to decide how much you want. Once you start using them and tasting them, you'll learn what you like. And you'll also learn that the added flavor of herbs is what brings your cooking over the top.

Of course, my favorite summer dish is sliced tomatoes with lots of fresh basil, olive oil, and fresh spices.

Q: What are your favorite herb combinations?
There are so many different combinations and they cross through cooking cultures like spider webs. It may be helpful to know that more hardy herbs like rosemary and sage can be cooked for a while, but tender herbs like basil or parsley should be added at the end after the heat is off.
Q: Do you have anything else to add about herbs?
Taste them! Have a little nibble of each leaf and you will know.
Want more news on this topic? Farm Bureau members may subscribe for a free email news service, featuring the farm and rural topics that interest them most!