Mama's Zucchini Bread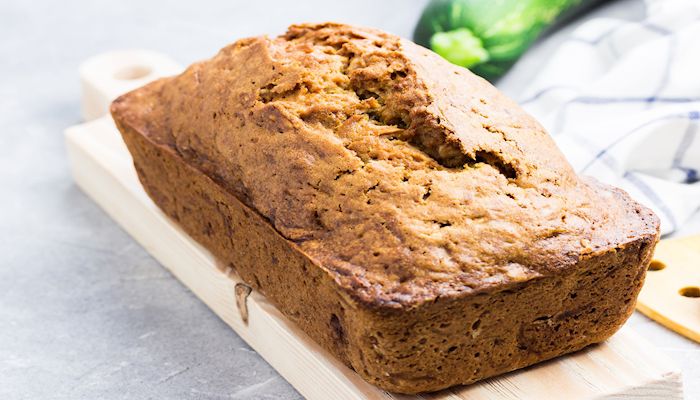 I grew up with a mother who LOVED to garden, and because we lived in Southern California she was able to (and still does) garden year round. One year she had over 50 different varieties of fruits and vegetables growing in our back yard! One staple that was always available in the summer was an (over) abundance of zucchini. This lead mom to develop her own zucchini bread recipe. It quickly became a neighborhood favorite. Ever since I can remember, any time the neighborhood kids saw my mom wearing her apron during the summer, they would run over to the house to get a loaf of the fresh baked bread.
Cinnamon is a household favorite, and there is a lot of it in this recipe with 1 tbsp. in the bread and 1 tbsp. in the icing. You may think you want to lessen the amount. . . but don't! It isn't my old neighborhood's favorite for no reason.
INGREDIENTS- The Bread
3 eggs
1 cup vegetable oil
2 cups sugar
3 cups flour (3 cups all-purpose OR
2 cups all-purpose and 1 cup wheat)
1 cup chopped pecans or walnuts
1 cup dried cranberries
2 cups shredded zucchini
1 tbsp. vanilla
1tbsp. Cinnamon
1 tsp salt
1 tsp baking powder
1 tsp baking soda
1 tsp nutmeg
INGREDIENTS- The Icing
1 cup powdered sugar
1 tbsp. softened butter
1 tbsp. cinnamon
Splash of vanilla
Splash of milk
INSTRUCTIONS
Preheat oven to 325 & grease 3 8X3 inch loaf pans-set aside. In a large bowl, whip together the oil, sugar, eggs and vanilla until the sugar has dissolved and you have an even mixture. Stir in the grated zucchini. In a smaller bowl combined the flour, salt, baking powder and soda, cinnamon and nutmeg. Pour all of the combined dry ingredients into the wet ones and mix thoroughly, making sure there are no pockets of dry ingredients hiding in the batter. Lastly, fold in the chopped nuts and cranberries, and pour batter into the prepared loaf pans. Bake for 1 hour or until the top is golden brown and a tester comes out clean. Let the bread cool in their pans for 15-20 minutes while you prepare the icing.
Whip the powdered sugar, cinnamon, butter, vanilla and milk together. Start with just a tbsp. or two of milk, and add more as needed. You want a medium consistency in the icing-thin enough to be able to run off the back of a spoon, but in thick ribbons.
Once the bread has cooled slightly, but is still warm-remove it from the pans and spoon generous amounts of icing over the top. It will run down the sides a little, but that adds to the charm. Let the bread cool completely, and the icing firm up. Eat!
Vendors selling zuchini at Murray Market
Vendors selling zuchini at South Jordan
Schmidts: #38-#40
Schmidts: #22-#23
Tagges: #33-#35
Roberts: #2-#3
Strattons: #43-#45
Tagges: #29-#30
CK Farms: #49-51
Petersen: #9
Jensen: #59-#60
Guerra: #11-#12
Guerra: #64-#65
Vasquez: #24
Vasquez: #8, #18-#19
Pyne: #25
West: #21-#22
Roberts: #55
Peeters #56
Hatfield #16 & #20
Day Farms #13-#14
Want more news on this topic? Farm Bureau members may subscribe for a free email news service, featuring the farm and rural topics that interest them most!