2023 UFBF Leadership Conference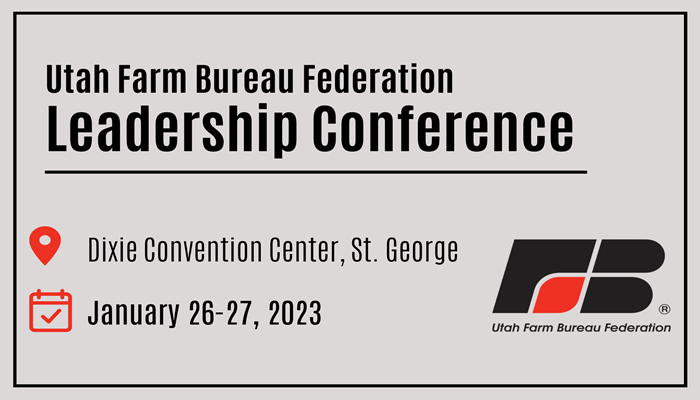 Join other farmers and ranchers from throughout Utah in a newly refreshed Farm Bureau Leadership Conference, January 26-27, 2023 in St. George, Utah. There will be great speakers, breakout sessions and evening events to bring Farm Bureau members together. You'll leave the conference with new friends, new ideas and new energy for your farm and for your Farm Bureau.
The conference will also include several presentations and perspectives on policies that will affect your farm or agribusiness in 2023. This is your opportunity to improve your abilities to be a leading voice for agriculture and your community. Participate in educational workshops to advance your leadership skills, expand your business acumen, and gain deep insight into the policies, trends and realities impacting food production. We look forward to seeing you in St. George!
Program of Events: leadership-program
REGISTRATION

The cost of registration for our Western Leadership Conference including meals is $100.
When registering, if you are a County Farm Bureau leader, and your county is paying for your registration, please select "CHECK" as your payment method and your county will be billed accordingly. Disregard the invoice that will be sent to your email. 
*Registration is still open. If you register after 1/20/23 your meals during the convention will not be guaranteed. Meal tickets are on a first come first serve basis after January 20, 2023. During convention, you will need your registration badge to be admitted to a meal.  Spouses and children need to be registered or information sent to sadie.sweat@fbfs.com to be ensured a meal*
The conference will be held at Dixie Convention Center. You will find more information about the convention center, including maps, here.
HOTEL INFORMATION
There are is only one hotel that we have contracted group rates with. To book with the rate you will need to call the Comfort Inn Hotel at this number: (435) 628-8544 The contracted rate is $95/night. The hotel is located at
138 E Riverside Dr, Saint George, UT  84790
*The last day to guarantee booking these hotels with the group rate is January 10, 2022. After that date it is a first come first serve basis*
Here are an additional list of hotels that will be around the convention center. They generally have very affordable rates. You can call or book on their website. 
Hilton Garden Inn
Website Booking Link or call 435-634-4100
1731 South Convention Center Drive St George, Utah 84790
Hyatt Place St. George Convention Center
1819 S 120 E, St. George, UT 84790

Fairfield Inn St George
Website Booking Link or call 435-673-6066
1660 South Convention Center Dr. St. George, Utah 84790
Holiday Inn: St. George Convention Center
Booking Link or call 435-628-8007
1808 South Crosby Way, Saint George, Utah 84790 
My Place Hotel St George Convention Center
1644 S 270 E St, Saint George, UT  84790
AGENDA
Click here to see an early version of our Agenda: 2023 UFBF Leadership Draft Agenda.pdf