Performance Coach – Track Star – Farm Girl. Davis County Farmer Shares Nutrition Lessons with Elite Athletes & Weekend Warriors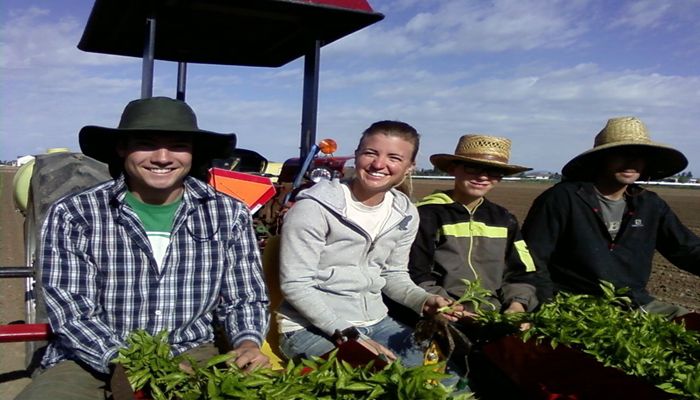 Utah Farm & Fork caught up with Dr. Jen Day, RN, Ph. D., a food and nutrition expert that lends her skills to elite athletes training in Utah and found out her foundation with food comes straight from the farm. Jen shared with us some of her thoughts on food, nutrition, and how to cut through the clutter around the two.
Q. Tell us about how you got involved in nutrition? Have you always had a love of food and sports performance? 
A. I grew up on a produce farm in Layton, Utah – my love for healthy food and a healthy lifestyle started there as a child. I spent my teenage and college years picking and selling produce at roadside stands and farmer's markets. I loved providing a product to people that would not only taste great but was also healthy and fresh. I also loved being connected to the land and being a part of the growing process and having the opportunity to spend the summer working with my family. 
I ran track for Utah State University (USU) and had the opportunity to meet with a dietitian to improve my eating to support my training. That was when I started to combine my love of healthy eating and sports performance.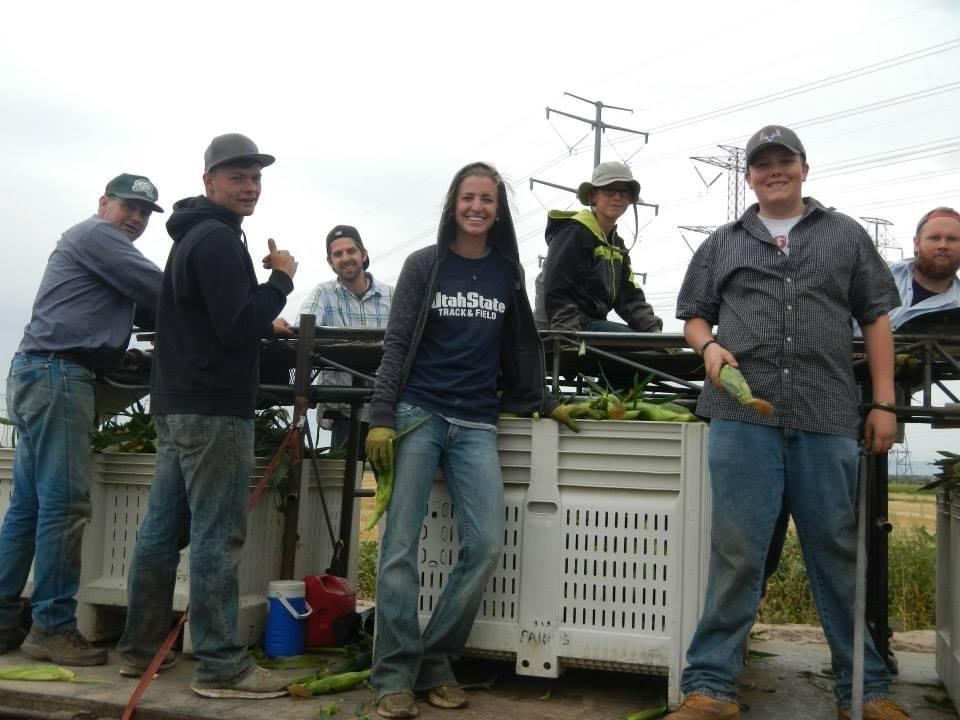 Q. Please tell us about your professional training and what you do for work currently? 
A. Meeting with the sports dietitian at USU when I was an athlete inspired me to switch majors and study dietetics myself. I completed a B.S. in Dietetics and then a Ph.D. in Nutrition and Food Sciences with an emphasis in Sports Nutrition – both from the College of Agriculture at USU under the best mentor there is – Dr. Heidi Wengreen.
I am a registered dietitian as well as a board-certified specialist in sports dietetics. I teach full-time at Salt Lake Community College (SLCC) in the Exercise Science Department, and I am the sports dietitian for the U.S. Speedskating Team.
Q. What is your favorite thing about your work? 
A. I love teaching. Having the opportunity to introduce students and athletes to a healthier lifestyle and seeing them understand the "why" behind better food choices is so fulfilling. It is also really fun to help athletes gain a competitive edge by dialing in their eating and supplementation. I also love that I can work closely with people and feel like I am making a difference in my community.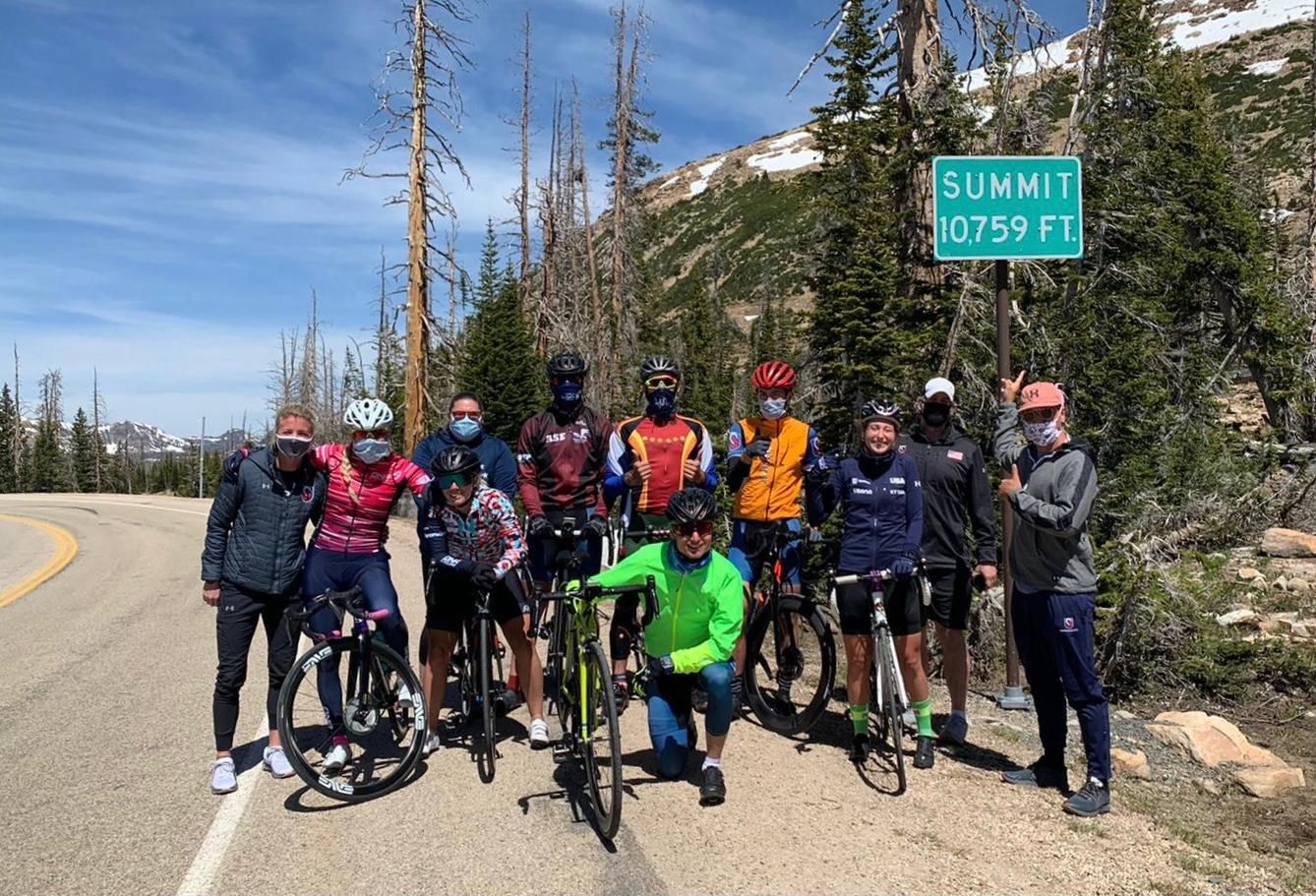 Q. What inspires the work you do with athletes?
A. I miss being a competitive athlete myself and feel at home in the world of athletics. I want to help provide the help and guidance with food and supplements that I wished I had during my competitive career. I also see how hard elite athletes work and the dedication they have to their sport and I want to help them achieve success and have support!
Q. What trends are you seeing when it comes to food and nutrition?
A. There are a lot of powders and pills out there promising to replace or be better than eating "good ol' food" to enhance performance, meet daily fruit and vegetable needs, or help with weight loss. I believe that there is a place for supplements – but that we should always try to meet our needs from food first.  We are designed to obtain the greatest benefit from eating whole foods – and if you can find those whole foods fresh and local – even better!
Q. What part of cooking is your favorite? Main dishes? Grilling? Desserts? etc.
A. I love cooking from start to finish, and main dishes are probably my favorite to make. I am a big breakfast person and love long lazy mornings when I have time to make a big breakfast.
If I have enough time I love to cook from scratch and watch everything combine to make a meal that is beautiful and delicious. Cooking for me is always more fun with someone else and I am lucky to have someone to bustle around the kitchen with.
Q. What is your favorite thing that you make?
A. I have a few! I was very lucky growing up to have two great parents who were excellent cooks. I try to replicate a lot of the dishes I grew up eating.  Here are my three favorite things to make/eat:
 My mom's steak fajita recipe in the summer when everything is fresh from the farm
My dad's burgers in the summer with a big slice of tomato and sweet corn and watermelon from the farm on the side. Yum!
Lemon Piccata pasta prepared with shrimp, white wine, EXTRA lemon, and capers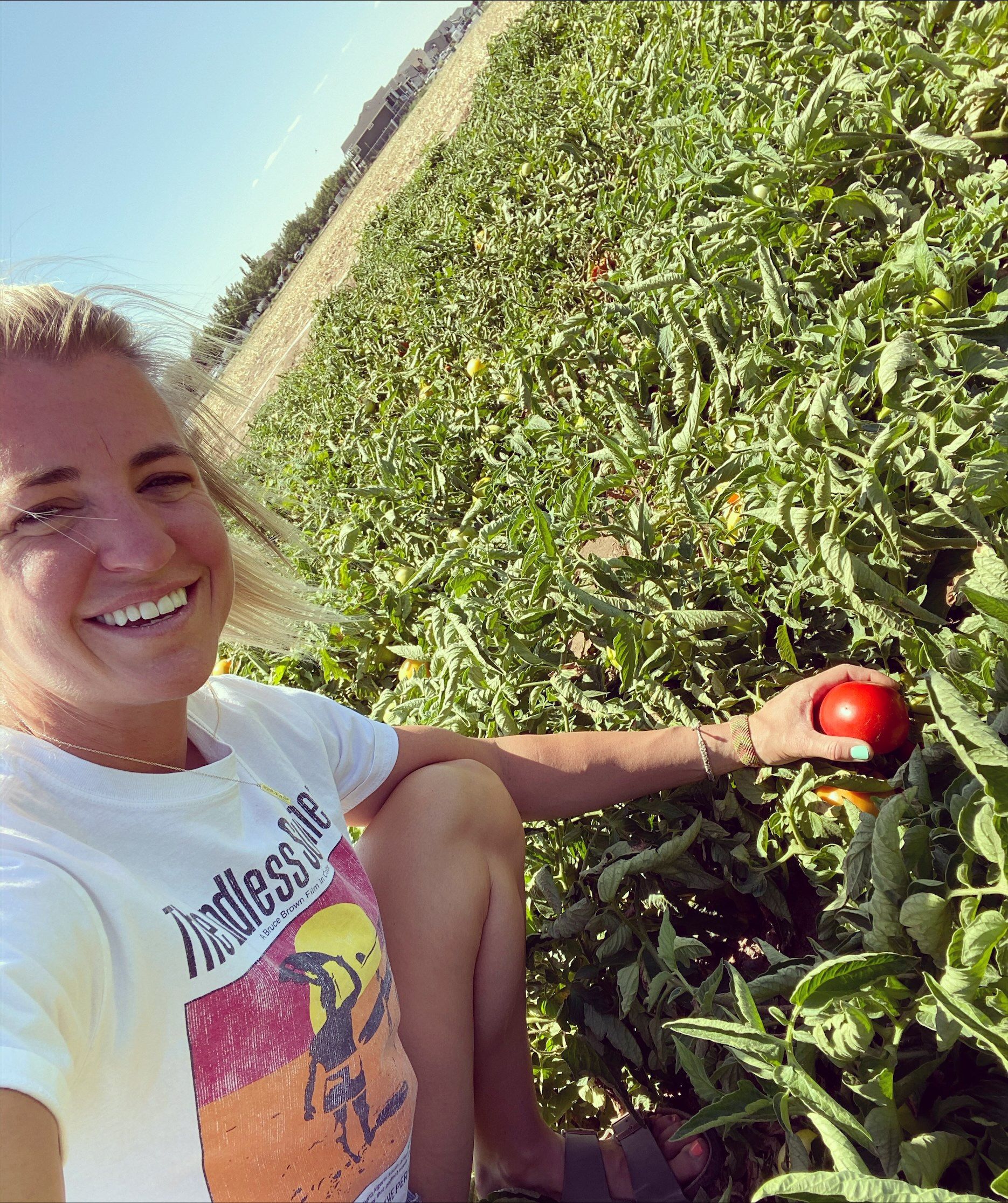 Q. What do you think most influences our food choices?
A. We actually talk about this topic in my nutrition class – Taste plays a role in our food choices, but so does convenience, cost, and marketing.  Nutrition as an influencing factor is usually pretty far down the list. Most of the students and athletes that I interact with will admit that convenience plays a larger and larger role in influencing their food choices. The number of people that I interact with that prepare meals in the home is declining at a steady rate.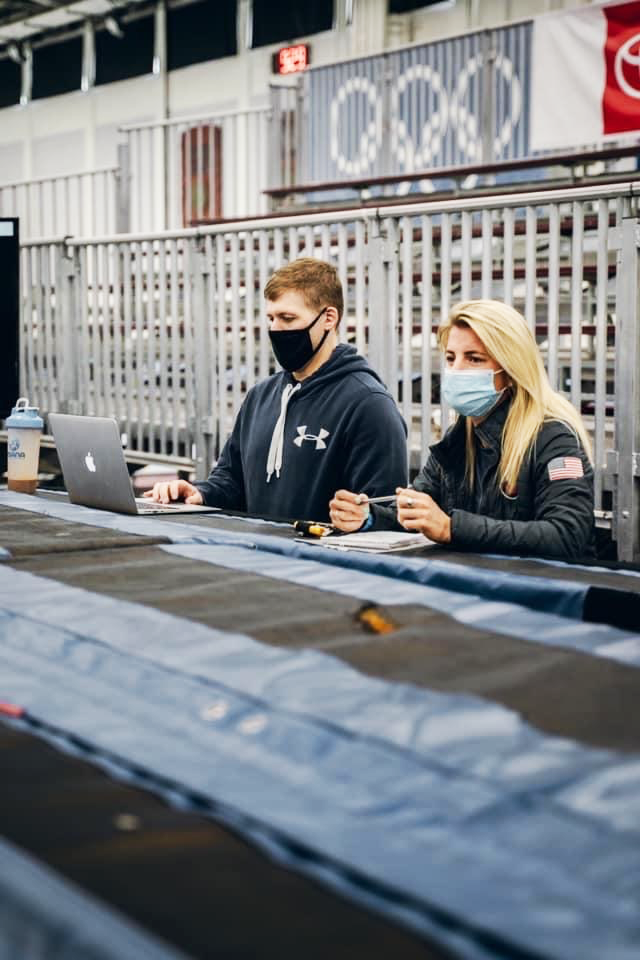 Q. What are your biggest concerns related to food?
A. That people are beginning to lose touch with where their food comes from. I worry that some people will never know what a farm-fresh, juicy, red-all-the-way-through and picked ripe-on-the-vine tomato tastes like. I like to bring fresh peaches to the speedskaters from a local farm. There are always a few skaters who are so shocked at how good the peaches are because they have never had a fresh local peach. It's one of my very favorite things- seeing the look on their faces as they take their first bite.
Q. With so much marketing, fads, etc. related to food and nutrition, how does someone sort through all that to find information on food that will help them make the best choices?
A. Come take a nutrition class from me at SLCC!  I love helping people sort through all the hype and media to see that just because something is marketed as healthy – does NOT mean that the product is actually going to provide any health benefit. I also think that nutrition doesn't have to be complicated – a major motto I am always repeating to my students and athletes is – to improve your diet substantially eat more fruits, veggies, and whole grains. Fruits, veggies, and whole grains…  It has become somewhat of a jingle, and everyone knows that is my go-to. I like to focus on crowding out "less healthy" foods with "more healthy" foods and keeping things simple.
Q. How important is it for you to know where your food comes from and why?
A. I believe that the more removed we are from the growing process and where our food comes from, the less healthy our food choices become overall.  I have had many students and athletes who never thought past the grocery store as a source for their food.
I've noticed that attendance at farmer's markets has increased over the years, and this is great! More people are able to experience fresh, local produce. I would love to see a movement towards more at-home gardening.  I think it would be eye-opening for people to understand the time and effort it takes to raise produce. I think everyone would be more grateful for the food they have if they were more involved in the growing process. There is also something spectacular about having your hands in the dirt and watching something grow from start to finish and sitting down to dinner to enjoy the fruits of your labors.
Q. Tell us about your background or experience in agriculture?
A. My experience in agriculture mainly involved planting and selling produce and working with the public. I have a great appreciation for farmers as I watched my grandfather, my uncle and my dad work endless hours in the summer to provide an impressive harvest for the local community. My mom ran the business side of the farm, which was equally as impressive, and she taught my brothers and me a lot about accounting and working with customers. There is a lot more that goes into running a farm than most people think. 
I started following my dad around the farm with a little plastic shovel over my shoulder as soon as I could walk.  I was very involved with the farm in different roles starting as a small child until I graduated from college, and I am so grateful for all of the things I learned and experienced there.
Q. How much does what we eat and drink impact athletic performance?
A. Quite a bit - but the most important aspect I address first with elite athletes is ensuring that they are eating enough calories to support their training regimen.  Once athletes are consuming ENOUGH calories we can start working on the quality of diet and timing their snacks and meals to best fit their training regimen and to enhance performance.
Q. Related to the question above, does it matter so much for those who aren't world-class athletes, but rather weekend warriors?
A. Weekend warriors will typically benefit more from focusing on the quality of diet– they usually don't have the same calorie requirements that elite athletes working out 5-7 hours per day 6-7 days a week do. Focusing on recovery nutrition to maximize their training adaptations after a workout is helpful for the weekend warrior as well.
As a tip regarding the post-workout snack - try to consume a post-workout snack within 30 minutes to 2 hours after exercise.   Try to get a ratio of 3:1 carbs-to-protein.  This ratio allows replenishment of carbs used as fuel during exercise, and protein to help rebuild muscle that was broken down. Chocolate milk is a great recovery drink. It has a 3:1 ratio and also provides the amino acid Leucine, which has a strong influence on building muscle protein. Milk is also hydrating and contains electrolytes.  Chocolate milk is a great all-in-one recovery drink!   

Q.  Anything else you'd like to share?
A. If you are reading this and decide that you would like to be more connected to where your food is coming from, there are many local farms in Utah that you can visit and support! If you would like to watch and support the US Speedskating team in action, they have some big competitions at the Utah Olympic Oval in Kearns leading up to the Winter Olympic Games this winter in Beijing!
Dr. Day shared a recipe for "Energy Bites" that she uses with the U.S. Speedskating team.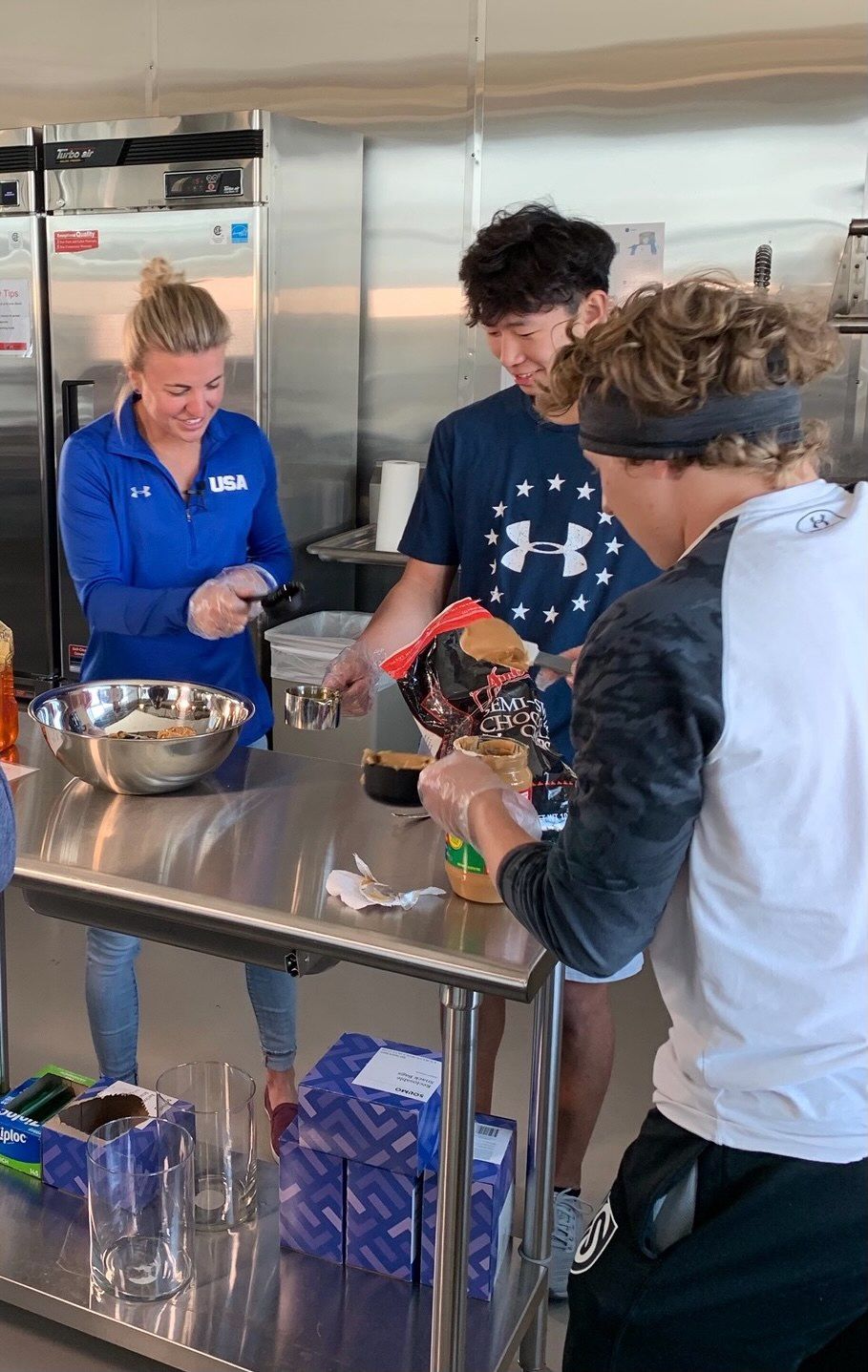 Ingredients:
1 cup old-fashioned oats
½ cup peanut butter
½ cup chocolate chips
1/3 cup honey
2 Tbsp. chia seeds
1 tsp vanilla extract
Cinnamon or pumpkin spice to taste
Directions:
Stir all ingredients together in a medium bowl until thoroughly mixed
Let chill in the refrigerator for 30 minutes
Once chilled, roll into balls of about 1" diameter
Store in an airtight container and keep refrigerated for up to one week. Yields 20-25 bites.
Want more news on this topic? Farm Bureau members may subscribe for a free email news service, featuring the farm and rural topics that interest them most!