Senator Mitt Romney visits with Utah Farm Bureau, industry leaders on agricultural labor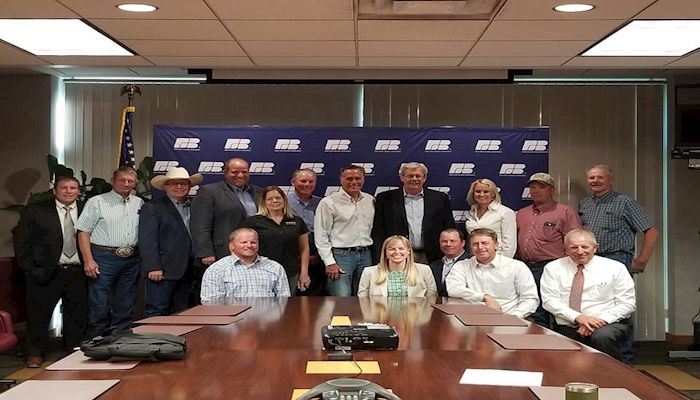 The Utah Farm Bureau Federation hosted Senator Mitt Romney this past week at the state offices in Sandy to talk about the needs that Utah agriculture has regarding labor and the H2-A visa program.
Joining Utah Farm Bureau leaders were representatives from the sheep, fruit & produce, dairy, pork, and beef industries, as well as leadership from the Utah Department of Agriculture & Food, as well as staffers from Senator Romney's office.
In addition to policy statements, the farmers and ranchers in attendance were able to share with Senator Romney their personal experiences related to the current labor market, the inability to get workers needed, and what improvements they would like to see made in the law.
Key among the policy recommendations was a two-pronged approach to address the needs of agriculture in Utah. The first item was to reform the existing guest worker program so it would be more affordable and user-friendly; and second, workers who are currently in the United States and improperly documented need the ability to obtain a form of legal status without major penalty to allow them to work in the United States.
Related to guest worker reform, those in attendance shared their experiences related to the Adverse Effect Wage Rate (AEWR), and how it does not establish an accurate wage rate for H2-A workers. Farmers need a straightforward wage rate to be established for H2-A workers that does not subject the program users to unpredictable wage increases each year.
Another item of concern was speaking against the idea of a cap on H2-A visas. Farmers and ranchers work with and harvest perishable commodities, so any delay in entry of H2-A workers can spell partial or complete crop losses. Additionally, Farm Bureau argued for an expedited process for returning H-2A workers who have previously worked for the same employer within the previous three years.
While farmers and ranchers are grateful for the H2-A program, as it is one of the only effective ways to get workers in agriculture, the program has challenges in terms of bureaucracy. Currently, H2-A applications must go through four government agencies (DHS, DOL, DOS, and a State employment agency) to gain approval for workers. The Utah Farm Bureau recommends streamlining of the application process, and suggests that USDA be authorized to be the lead agency for farmers and ranchers applying for H2-A workers.
In addition to streamlining the process already in place, there are some segments of agriculture – specifically the dairy industry – that are ineligible for H2-A visas because their labor needs are year-round. Dairy farmers in attendance argued the program should accommodate the needs of all of agriculture, and that the program should be available for farmers & ranchers not able to fill their job vacancies after advertising the positions needed.
Lastly, industry leaders spoke against the idea of a mandatory E-Verify system being implemented in agriculture until a solution is already in place for undocumented workers, and reforms are made to the guest worker program. This is needed to ensure a viable, affordable option for ag labor.
Senator Romney and his staff were very attentive while farm and ranch leaders shared their concerns. While none expect a quick fix to a very complicated and political issue, the group is hopeful that incremental progress can be made over the next few years.
Want more news on this topic? Farm Bureau members may subscribe for a free email news service, featuring the farm and rural topics that interest them most!