Technology in Agriculture Tour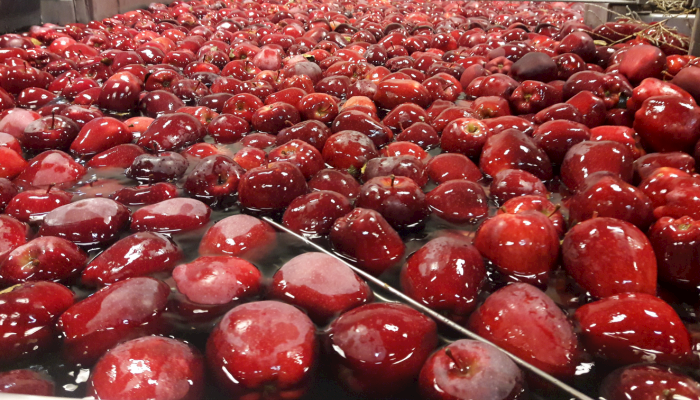 Have you ever wanted a "backstage" pass at the concert of one of your favorite groups or been mesmerized by online videos that show you how something is made or grown? You're not alone. "Behind the scenes" experiences are interesting because they are often rare opportunities.
Farm Bureau hosted a tour for the spouses of legislators to give them a "behind the scenes" look into how Utah agriculturalists are embracing technology.
The first stop of the tour took us to Mountainland Apples in Santaquin. Attendees saw first hand how Utah apples are carefully handled, washed, polished, and packed for delivery to grocery stores throughout Utah and the West. Controlled atmosphere (CA) rooms remove oxygen from the storage environment and keep apples fresh for an extended period of time.
There are over 100 varieties of apples that are commercially grown in the United States. The average person may not understand what it takes to produce a new apple variety. It was surprising to learn that just like an Apple phone is protected as intellectual property, new specialty apples also are essentially protected as intellectual property.
The new Cosmic Crisp apple or WA-38 is a variety developed over the past 22 years through traditional cross-breeding at Washington State University. It is a cross between an Enterprise and a Honeycrisp and results in a sweet, crisp, slow-to-brown apple. Because this new specialty variety is protected as intellectual property, for the first 10 years Cosmic Crisp apples will only be allowed to grow in Washington orchards.
Utah grows many apple varieties and Santaquin is a prime location for growing fruit.
The next stop took us to Dale & Vickie Jackson's ranch in Nephi. The Jackson family raises beef cattle with the goal of breeding a permanent herd of cows that is kept to produce calves for later sale. This is often referred to as a "cow-calf" operation. Technology plays an important role at the ranch. Dale explained how cameras placed in the barn allows the Jacksons to monitor their cows on a video feed right to their bedroom. Advancements in technology helps them provide the very best care for their animals.
We stopped in at the Nephi Stotz John Deere dealership to learn about innovation and technology with farm equipment. John Deere representatives introduced us to cutting edge technology that is changing the efficiencies of farming. Satellite guidance allows tractors to reduce overlap which saves time, fuels and inputs. New technology provides farmers actionable data that help farmers learn what each plant needs to flourish. Technology allows every centimeter of the farm to be planted in productive crop and allows precision spraying. If a tractor breaks down, most problems can be fixed remotely by computers and farmers can be up and going in a short time period. That's a really big deal when farmers are under pressure to get the harvest in. Everyone had the opportunity to get behind the wheel of the newest models of John Deere tractors. Driving can be done the old fashioned way by manual steering or at the push of a button the tractor can go into an automated mode that follows a preset mapping program.
Technology allows for precision agriculture which lets farmers use inputs such as seeds, water, nutrients, and pesticides, in a strategic way. This leads to reduced environmental impacts, reduced costs, and improved efficiency.
Want more news on this topic? Farm Bureau members may subscribe for a free email news service, featuring the farm and rural topics that interest them most!