Utah Apple Crunch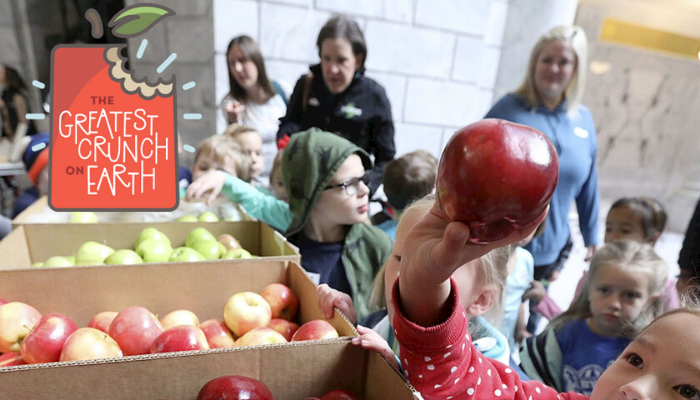 WHAT IS THE UTAH APPLE CRUNCH?
October is National Apple Month and National Farm to School Month.  Every October schools, preschools, workplaces, and individuals across Utah celebrate by crunching into Utah-grown apples. The Apple Crunch is a way to get excited about delicious local produce, help students understand where their food comes from, and support local farmers. Across the state, students taste-test different apple varieties, take field trips to local farms, and participate in other apple-themed learning activities.
Utah competes with other states in the Mountain Plains Region (Montana, Wyoming and Colorado) to see who can get the most crunches per capita.
The Utah State Board of Education is teaming up with Utah Department of Health and Utah Department of Agriculture and Food to expand the Apple Crunch beyond schools and preschools to other organizations for an even bigger crunch.
GETTING STARTED
Register Your Crunch

--

 

Register for Apple Crunch  

Assemble a Team

—The more people you have working together, the easier it will be to pull off a fun and exciting event.

 

Invite teachers, school nutrition staff, administrators, parents, and local businesses to get involved.

Find Your Apples

—Purchase your apples from local farmers as well as other sources for local apples.

Expand the Adventure

—In addition to crunching into apples, there are many other activities you can plan for a full day of apple-related fun!

 

Consider using some of these activities.

Crunch Even Louder

—Farm to Fork activities benefit the whole community, so let the community know what you're doing.

 

Share your story to spread the word and build excitement, fundraise, or find volunteers.

 

Use a press release to publicize your event to local media.

 

Use the hashtags #UTAppleCrunch, #farmtoschool, #utahfarmlife to celebrate on social media.

Keep the Momentum Going

—How will you continue to include local apples and other Utah food in your school after the apple crunch event is over?

 

Were there parents or community members involved in the apple crunch that might be interested in helping start a school garden?

 

Do teachers want to organize farm field trips or include more ag-related lessons in their classrooms?
PURCHASE YOUR APPLES
Remember the goal of Utah Apple Crunch is to support your local farmers by purchasing the (literal) fruits of their labor!  Always inquire about buying apples but be open to donations if they are offered.
How Will You Define Local?
Your Apple Crunch should feature local apples, but you have some flexibility as to how you define local.  Depending on where you are located, you may be able to purchase apples grown in the same town or county, or you may have to expand your definition to the state of Utah.  Make sure you communicate your definition of "local" to the person who will be purchasing/donating the apples.
How Many Apples Do You Need?
For adults and older students, plan on one apple per person.  For younger students who may not be able to eat a whole apple, consider slicing them and offering half an apple per student to reduce food waste.  Applesauce made from local apples may be the most appropriate option for toddlers and preschoolers.
How Much do You Plan to Spend?
Apple Crunch can be relatively inexpensive depending on the activities you choose to do and whether the apples are donated or purchased.  The Ag Promotion County $200 Grant would be ample for this activity.
Where can I Find Local Apples?
You have several options for sourcing local apples:
Ask your distributor if they can supply you with local apples.

Reach out to a grocery store that sources local apples.

 

They may be willing to provide a discount.
Contact a Utah Apple Grower directly.
APPLE CRUNCH ACTIVITIES AND TIPS
Biting into a local apple is just the beginning!  Here are some ways to extend the crunch activities:
Read some apple facts over the intercom during morning announcements.

 

The

US Apple Association

has more information about apples! 

Taste test multiple apple varieties and vote on your favorite kind.

Invite a local farmer to the classroom or cafeteria to participate in the event.

 

They can read a story to younger students, help serve food, or talk to older students about how apples are grown.
Invite an apple grower into the classroom through Zoom teleconferencing.

 

To set up a free Zoom call with a farmer, contact Susan Furner at susan.furner@fbfs.com or at 801-233-3040.

 

Hold an apple-themed coloring contest.

Arrange a field trip to a local orchard and have your crunch there.

Lead a hands-on cooking class for students featuring a healthy apple recipe.

Bring a cider press to school and teach students how to make apple cider.

Make the Utah Apple Crunch into a school-wide celebration by paring older students and younger students together for crunch time.

Encourage teachers to use the apple-based learning ideas from Utah Ag in the Classroom https://utah.agclassroom.org/ to connect the crunch to the classroom.
Set up a DIY photo booth.

 

All you need is a blank wall, a phone or digital camera, and some fun farm-related costume pieces and props. Don't forget to appoint a parent, teacher, student or community member to act as a photographer/videographer and capture all the action, both in and out of the booth!
LEARNING ACTIVITIES
Language Arts
Have fiction and nonfiction books about apples in the classroom.

Write the names of different types of apples around the room.

Have the students describe how the apple feels, looks, and tastes either verbally or in writing.

Have the students write a story about an apple using the prompt: "It was autumn and finally time to pick the apples . . ."

Discuss the travel/carbon footprint that each food item we eat has.

 

Have students find a food item that has apples in it and research the carbon footprint for that item.

 

Have students present their food item and its footprint to the class.
Mathematics
Have students count the seeds in their apple.

Graph student responses to a survey about apples.

 

Compare a variety of apples and graph the frequency of their characteristics.

Cut apples into fractions for hands-on problem solving.

Solve story problems about apples.

Have students measure and weigh their apple.

Have students convert an apple pie recipe from fractions into decimals or vice versa.

Have students use different apples to draw comparative inferences about how many seeds apples have.
Science
Discuss the parts of the apple and apple tree.

Discuss the basic needs of an apple.

Discuss the physical change in an apple as you eat/cut it.

Put apple slices into cups with different liquids (water, soda, vinegar) or powders (baking soda, salt) or just an empty one to observe what will happen to them after a week.

 

Have students hypothesize what will happen to each.

 

What changes took place?

 

Are these changes chemical or physical?

Use apples to demonstrate Newton's Laws.
SUGGESTED BOOKS
The Apple Orchard Riddle

, by Margaret McNamara

A Tree is a Plant

by Clyde Robert Bulla

Apples

, by Gail Gibbons

The Seasons of Arnold's Apple Tree

, by Gail Gibbons

Applesauce Day

, by Lisa Amstutz

How to Make an Apple Pie and See the World

, by Marjorie Priceman

Bring Me some Apples and I'll Make You a Pie:

 

A Story About Edna Lewis

, by Robbin Gourley

How to Apples Grow?

, by Betsy Maestro

Apples, Apples, Apples

, by Nancy Elizabeth Wallace

Up, Up, Up! It's Apple Picking Time

, by Jody Fickes Shapiro

First Apple

, by Ching Yeung Russell

The Apple Pie Tree

, by Zoe Hall

From Apples to Applesauce

, by Kristin Thoennes Keller

An Apple Tree Through the Year

, by Claudia Schnieper

Apples for Everyone

, by Jill Esbaum

Ten Apples Up On Top!

, by Dr. Seuss

Just One Apple

, by Janosch
SHARE YOUR STORY
Spread the word and make sure your crunch is hear loud and clear!
Be sure to let local newspaper, radio, and television reporters about your Apple Crunch by sending a press release or invitation to join your event.

 

Use the celebration to share more about the Farm to School program, and local agriculture.
Get out your cameras, smartphones, or video devices to take a "crunch-byte" to share through social media! Share your event across the state through Facebook, Instagram, and other social media platforms.

 

Make sure you have appropriate photo release forms for any students who are featured.
Want more news on this topic? Farm Bureau members may subscribe for a free email news service, featuring the farm and rural topics that interest them most!