Utah Farm Bureau Federation Annual Convention 2022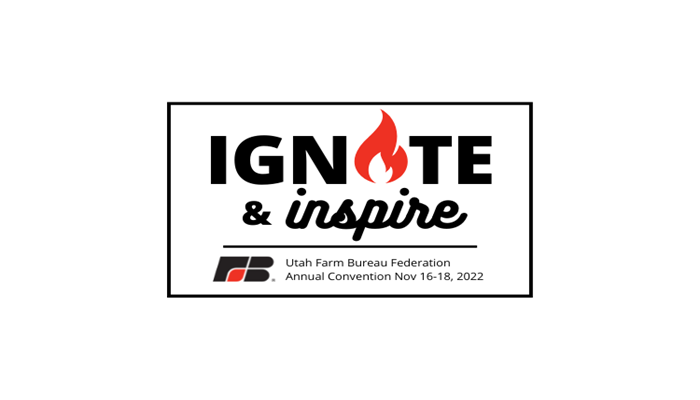 Utah Farm Bureau Federation would like to invite you to the 2022 Utah Farm Bureau Annual Convention (November 16-18) at the Utah Valley Convention Center located at 220 W Center St, Provo, UT 84601.  
We are so excited to be meeting for the 2022 Annual Convention. Below you will find information to help you plan your stay in Provo and things you should be aware of. 
REGISTRATION:
For County Farm Bureau leaders, if you are an SIP county or if your county is covering your registration, please choose pay by check at checkout. This will send us an invoice to square up with counties. Those not registering as a County or State Farm Bureau leader can still fill out the form below.
HOTELS
There are two hotels with discount room rates for convention attendees. The cutoff date to get the UFBF Booking rate is Nov 2nd. Please try to book your rooms prior to this date to ensure the discount.
The booking link for the Marriott Hotel ($149-169 per night) across the street is here: FULL
The booking link for the Residence Inn ($109-149 per night) down the street is here: Call for availability after Nov 2nd. 
In previous years we have had a contract with the Hyatt hotel. Because of the BYU football team staying at that hotel the night before their game this year, we did not get a block of rooms there because of the price difference of the other two hotels. You can still book a room there, but there is no contracted price between UFBF and Hyatt Hotel. 
Hyatt Hotel General Website: https://www.hyatt.com/en-US/hotel/utah/hyatt-place-provo/pvuzp
To view a map of hotel and conference center locations, click HERE
SPEAKERS AND AGENDA 
Agenda: 2022 Annual Convention Agenda.pdf
One of our Keynote Speakers will be Colby Jenkins. Check out his website here: https://colbyjenkins.com/
UVCC BUILDING LAYOUT
The Utah Valley Convention Center (UVCC) is made up of 3 floors. Our conference will be held throughout the entire building, with majority of the sessions being held on the 2nd and 3rd floors. There are escalators, elevators, and stairs to each floor.
To view a map of the building, click HERE
PARKING
There are several free parking lots within walking distance of the Utah Valley Convention Center. If you are staying at the Marriott or Hyatt Place, you can park in their lots for free.
Provo City just completed a giant parking garage one block from the convention center. It should fit larger trucks in it much better than in years past. 
For a complete parking map, click HERE
ACTIVITY GUIDE
Provo has many great activities, clubs, and much more within walking distance of the Utah Valley Convention Center. To view a full list of available activities, click HERE
Here is a short list of some activities you may want to try:
Heber Hatchets: Axe throwing in Utah has exploded over the past few years and Heber Hatchets has team of trained experts to help you understand the mechanics of throwing, and then enjoy quality time with friends or loved ones, playing games, and winning competitions.
Fishkiss has doctor fish that are used in a unique spa atmosphere, to eat the calluses off your feet or hands.
Taste has some fun and delicious options for chocolate, cheese, and vinegar tastings.
Soap Factory allows you to make your own soap, bath salt, etc. with you own scents and molds.
Wick It: This is one of our newest activity locations where you can go and create your own candles after choosing the wax color and scent.
Heart and Seoul: is a local karaoke venue. They have open-mic karaoke and private room karaoke.
The Grid: Located in Pleasant Grove (15 minutes north of Provo), The Grid has go karts that race up to 40 mph, 3 levels of elevation, and two tracks. It is perfect for the adrenaline junkie or group looking for some competition. There is also an arcade that is a part of the building.
RESTAURANT GUIDE 
There are several great restaurants within walking distance of the convention center. To view a full listing of restaurants, click HERE
SHOPPING
There are three malls in the area to shop at. For your general retail brands, both the Orem University Place and Provo Towne Center Malls are great options. If you are looking for more hi-end or different shops, we suggest the Riverwoods in Provo or the Traverse Mountain Outlet Mall in Lehi. 
FAQ: