With the recent decision by the Biden Administration to expand the Bears Ears and Grand Staircase Escalante National Monuments, the Utah Farm Bureau has issued the following statement:
"As the largest organization representing Utah's farmers and ranchers, we are disappointed in the recent enlarging of the Bears Ears National Monument.
Once again, the federal government has yanked the political football of public lands management out from proponents of multiple use and local input like Lucy to Charlie Brown.
The ability for Utah's ranching families to have any kind of the certainty needed to manage the future of their family businesses is made more difficult with this back-and-forth method of management.
We support legislative solutions to public land management that takes local input and local impacts into consideration."
-Ron Gibson, President, Utah Farm Bureau
Gov. Cox, Lt. Governor Henderson, Attorney General Reyes, Senate President Adams and House Speaker Wilson Express Disappointment in Biden Administration's Decision to Expand Utah Monuments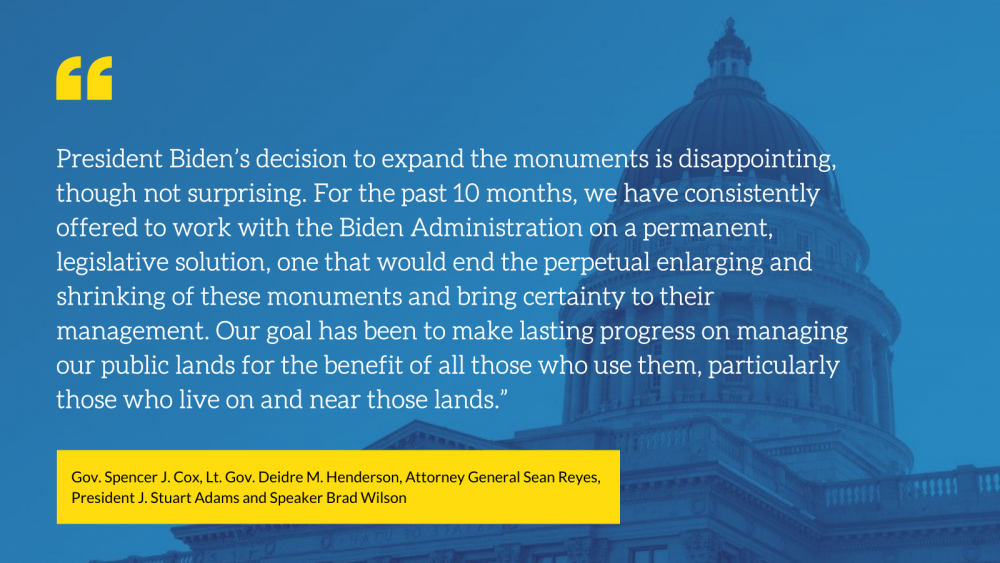 "We expected and hoped for closer collaboration between our state and national leaders, especially on matters that directly impact Utah and our citizens. The president's decision to enlarge the monuments again is a tragic missed opportunity — it fails to provide certainty as well as the funding for law enforcement, research, and other protections which the monuments need and which only Congressional action can offer. 
"As Chief Justice Roberts noted earlier this year, the purpose of the Antiquities Act is to protect the "smallest area compatible with the care and management" of significant archeological or historical objects to be protected. We agree and will consider all available legal options to that end.
"We are equally disappointed that the Bureau of Land Management's headquarters will be moving from Colorado to Washington, D.C. – thousands of miles away from over 90 percent of the country's federally-owned and managed lands. Locating the BLM away from the nation's capital and near the lands managed brought a valuable new perspective to the BLM and should have served as a model for other federal departments. 
"These decisions clearly demonstrate the administration's unwillingness to collaborate with and listen to those most impacted by their decisions. We remain hopeful that a long-term solution will be reached in the future and that the exhausting policy instability over Utah's public land  can come to an end."