Utah Gov. Cox Releases Third Chapter of State Water Plan - Focusing on Agriculture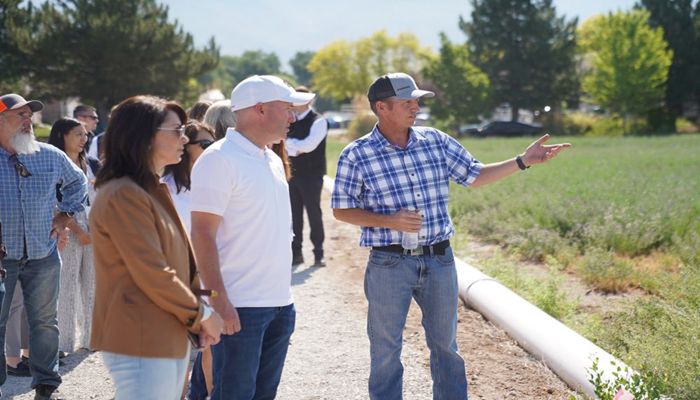 Gov. Spencer Cox and state agencies released the third chapter of Utah's Coordinated Action Plan for Water recently. The Productive Agriculture chapter outlines conservation commitments to optimize finite water resources and preserve the state's agricultural economy and sustain future growth opportunities, and can be found HERE.
"Those in Utah's agricultural community are careful stewards of our environment and water resources, but there's more we can do to improve efficiency," said Gov. Cox. "All Utahns need to continue developing water conservation solutions that will help our water resources stretch further, supporting both agriculture and growth."
"Agriculture plays a vital part in our state by providing necessary resources and strengthening our communities. It is important that Utah agriculture play a role in preserving the future of our great state," said Commissioner Craig Buttars, Department of Agriculture and Food.
"Utah stands at a crossroads in terms of its water use and management. Competition for our state's limited water resources is rapidly increasing due to rapid population growth, urbanization, and long-term climate trend —all with the potential to have a significant impact on agriculture. At the same time, Utahns have indicated they want to both protect and even increase local food production in Utah," the report states. "A common perception is that to address these pressures, we must shrink our state's agricultural sector. This is a misconception. Utah has ample water to meet all the life-sustaining needs of current residents, and with proper management, the needs of future residents as well. Indoor water use comprises a fraction of the state's overall water consumption. Focused reductions in outdoor water use within our communities have the potential to make enough water available to easily support the state's growing population."
The report elaborates on the need for further water optimization by farmers and ranchers. "By continuing to invest in agricultural water optimization practices that result in reduced consumptive use and deploying other strategies to better use and manage our water supply, we can meet both agricultural and non-agricultural water needs in Utah. Further action to optimize Utah's agricultural water use and management is needed to preserve the state's agricultural economy, sustain future growth opportunities, and ensure productive agriculture," the report states.
The report goes on to outline major water policy topics that will impact agriculture.
The release schedule for the remaining chapter can be found at gopb.utah.gov/waterplan.
Utah's Coordinated Action Plan for Water is a collaboration between the Governor's Office of Planning and Budget (GOPB), the Department of Natural Resources (DNR), the Department of Environmental Quality (DEQ), and the Department of Agriculture and Food (UDAF). The effort is directed by Gov. Cox to fulfill his priority on establishing a statewide water cooperative action plan that prioritizes conservation, storage, agriculture preservation, and use optimization.
The information above was a summary of information provided in a news release by the office of Utah Governor Spencer Cox.
Want more news on this topic? Farm Bureau members may subscribe for a free email news service, featuring the farm and rural topics that interest them most!