Utah Peaches Prove Hard to Beat as Tasty Summer Treat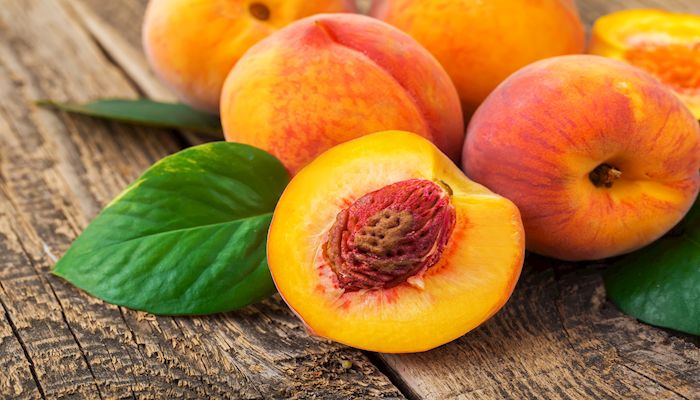 One of the favored flavors of Utah during the summer and early fall has to be fresh peaches. Though there may be disagreements as to which part of the state produces the best crop, few can argue it isn't an iconic taste of the summer. 
Peaches are annually one of the big draws as the crowds line up at the markets and cars stop at roadside stands. The cities of both Brigham City and Hurricane have held their summer festivals – Peach Days – for more than 100 years as a tribute to the tangy fruit. Each celebration – typically held over Labor Day Weekend – has brought their towns quite the reputation in terms of who is the Peach Queen. All the while, Utah County has a hold on the #1 spot when it comes to peach production, followed by Box Elder and Washington Counties. Through it all, each county has its list of fierce, loyal supporters. 
While 100 years sounds like a long time, peaches have a much larger family tree that stretches well beyond the United States. Recent sources have indicated that peaches originated in the northwest regions of China, and stretch back as far as 6,000 B.C. Botanically related to both almonds and roses, peaches didn't make their way to the United States until the 16th Century by Spanish explorers off the cost of Georgia. Thomas Jefferson was reported to have grown peaches on his estate at Monticello, but commercial peach production didn't get going in America until the 19th century.
China continues to dominate the peach market, producing more than half of the world's supply of peaches, followed by Italy and Spain, with the United States and Greece listed next. While known historically as the Peach State, Georgia currently is 3rd in number of peaches grown, behind it's southern neighbor of South Carolina. Both of which are dwarfed by the #1 producer of peaches in the U.S., California, growing more than 60 percent of America's peaches.
A Market Leader
Peaches have come a long way in Utah – which is 14th in peach production – with markets throughout the state boasting a laundry list of varieties. Tales abound from families about what variety tastes the best, which peach does the best when canning, which makes the best peach pie, and so on. What isn't up for debate is that peaches continue to be leaders at farmers markets throughout Utah. 
"They're our #1 seller, by a large margin," said Thayne Tagge, of Tagge's Fresh Fruit in Perry, Utah. "I think people really like the peaches in Utah because of how fresh they are."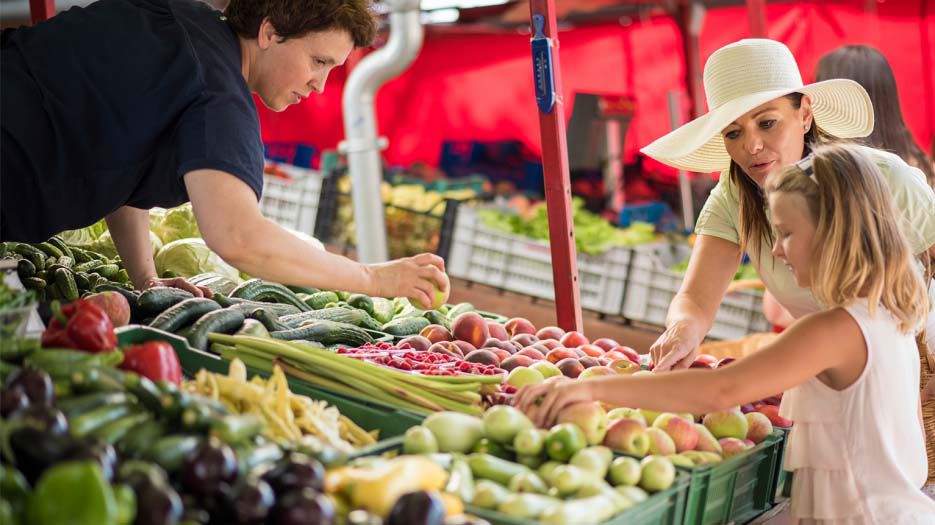 Carlos Chavez of Chavez Farms in Orem agrees, saying that Utah's peaches at the markets don't have to travel far so they can stay on the tree longer. Utah doesn't ship out as many peaches as other top producing states, which benefits shoppers. Though Chavez warns of waiting for peaches that are too ripe, however, as they can bruise easily. Some may be unaware that peaches will continue to ripen even after they're picked, so most farmers will pick them while still a little firm, to let them stay fresher until shoppers buy them.
The number of varieties seems to grow every year at Utah's farmers markets. Some of the most popular in Utah include Suncrest, Summerlady, Diamond Princess, Red Haven, Yakima Hale, Crest Haven, Angelus, O'Henry, Lemon Elberta, July Flame and Zee Lady. Rather than a writer or foodie picking favorites, talk to a local farmer at a market to select the qualities you like best and they'll tell you what peaches are best at the time of year you want to get them. 
"The Red Haven is one of my most popular," said Bryce Frei, of Frei's Fruit Market in Santa Clara, Utah. "Peaches are my biggest sellers at the market, and people seem to be looking more for peaches with a lot of color inside." 
Utah's farmers may even introduce a new variety to you, including white flesh peaches (which are less acidic and very popular in Asia) or "donut" peaches, which are a white fleshed peach that is less juicy than a normal peach and have a flattened or squatty appearance. 
Utah has a good climate for growing peaches, because of the hot days and cool nights associated with the growing season. But few would know that it is actually the number of cold nights that signals to the peach tree to start production. This is why some temperate climates have trouble growing peaches, which need approximately 500 hours of a chilling period (between 32-50 degrees) before a chemical reaction occurs to start growing. Even while the tree may appear dormant, it's busy preparing for the upcoming growing season. Most peach trees will take about three years after being planted before they'll begin bearing fruit, and typically last about 15 years or so.
Not All Peaches are the Same
Peaches generally fall into three categories for shoppers, and how you intend to use them will have a say into what kind you'd like to buy. Clingstone peaches have flesh that clings tightly to the pit. Early season varieties are more likely to be clingstone than later in the year, and they are great to each fresh. However, these can prove more time consuming if you're looking to slice a lot of peaches for use in canning.
Semi-Cling peaches are a little easier than typical cling peaches to separate the flesh. Freestone peaches have flesh that separates easily from the pit. These are good for eating fresh, as desserts, or for cooking, canning, freezing and grilling. The stone in the name refers to the pit inside the peach. Don't care for the fuzz? Try nectarines. These peach cousins share many of the same characteristics; yet have a recessive trait that takes away that fuzz.
Peaches are a good source of Vitamins A and C, while also being low in calories. Couple the nutrition with a variety of ways to enjoy the fruit makes for a great choice for family gatherings, campouts, or just lazy evenings around the kitchen table. In recent years, grilling peach halves has become a growing trend, joined with the standard choices of peaches & cream, peach cobbler, peach pie, or peach smoothies.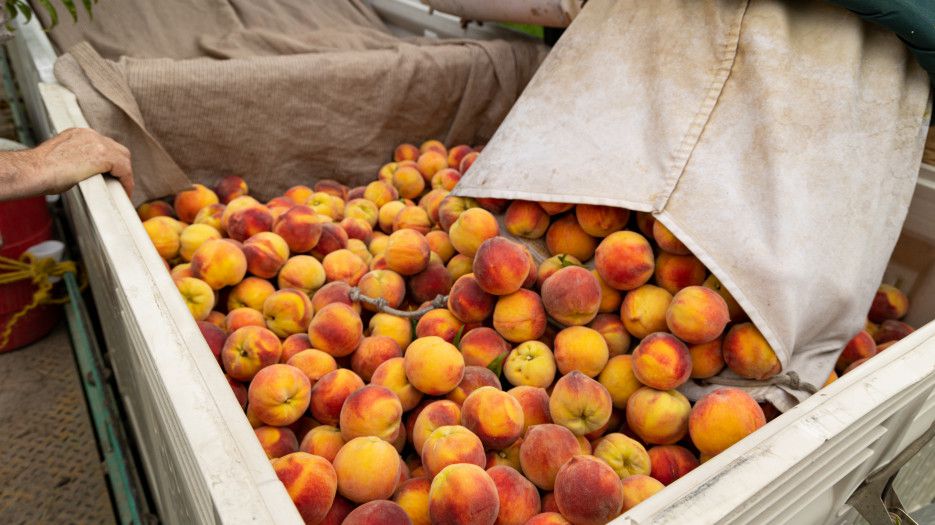 "We have noticed a little change in the buying of peaches in recent years, as more are buying enough to last a week or so instead of buying many half bushel boxes all at once," said Sarah O'Gwin, who sells for her family's farm (McMullin Orchards) at the Spanish Fork farmers market. "Canning can be a bit of a lost art, but isn't too difficult once you get some practice."
Whether you're looking to put up quart upon quart of canned peaches to get you through the long Utah winters, or just to top off the award winning Dutch Oven peach cobbler, Utah's farmers are ready to deliver another great crop of juicy peaches this summer. Look for local peaches hitting fruit stands throughout Utah now!
Want more news on this topic? Farm Bureau members may subscribe for a free email news service, featuring the farm and rural topics that interest them most!