World Baking Day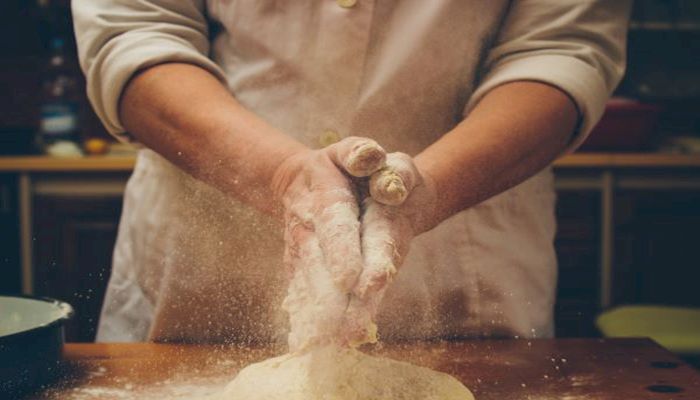 "You know what I love about cooking? I love that after a day when nothing is sure…and when I say nothing, I mean nothing. You can come home and absolutely know that if you add egg yolks to chocolate and sugar and milk it will get thick. It's such a comfort." This quote from the movie Julie and Julia really strikes a chord with me- cooking, or for today's purposes, baking, is such a comfort to me. Preparing a favorite recipe, popping it into the oven and smelling its heavenly aroma throughout your house makes me feel good. It brings back memories of happy days, loved ones, and fun stories- like how I can never make eggplant parmesan without a smile, because my mom and I once got into a food fight while making it- running around the house flinging noodles at each other laughing hysterically. In these uncertain times, I think a lot of people are turning to their favorite recipes for comfort, because all of us could use a little certainty right now.
Today, on world baking day, some of the Farm Bureau staffers thought it would be fun to share a few of our favorite family bakes. We are defining baking as anything you bake in the oven- so you will see more than cookies and cakes on this list!
Dale Newton, CEO- "Definitely my wife's pumpkin pie. My kids say that it's the best that ever was, they won't touch anyone else's"
Susan Furner, VP of Consumer Engagement – "Our family makes a fudge cake recipe that has become our family's traditional birthday cake. One of my grandmother's friends visited New York in the 1940's and had the cake at an exclusive hotel. She told the waiter how much she loved it and asked for the recipe. The waiter took down her address and a few weeks later the recipe and a bill for $100 came in the mail. She did the only thing she could think of to raise that kind of money. She made 100 copies of the recipe and sold them for a dollar to the women in her community."
Bailee Woolstenhulme, Communications Specialist & Event Planner- "I have always loved warm chocolate chip cookies and as a young girl I was determined to make the best chocolate chip cookies. I tested several recipes and finally found one that I loved from a woman in my hometown community. I started playing with the recipe and eventually made it my own. To this day it is my favorite thing to bake, so much so that I have it memorized!"
Jed Fisher, Accountant- "Growing up the favorite meal in our family was my mother's homemade enchiladas. Everyone tries to claim the best enchiladas, but we actually have them! To quote my father and to give validity to my claim, "son, the moment I knew I was going to marry your mother was just after my first bite of her enchiladas". I guess the fastest way to someone's heart really is through their stomach...."
Hannah Haslam- Programs Assistant- "My mom makes the best ever molasses cookies. She tried a molasses cookie at a party and fell in love with it, but when she asked for the recipe, her friend wouldn't give it to her, so she went home and made a better version. It took her a year to get it right, but that year was totally worth it. They are my absolute favorite cookie of all time. I Can't be with my mom all the time, because she lives in a different state, but one taste of those cookies and its like I'm home for a minute or two."
Julia Misiego, Farmer's Market Manager and Content Contributor- "My favorite thing to bake is breakfast muffins. I have three I rotate through: butterscotch, French muffins, and banana peanut butter. Growing up my mom would make breakfast every single day (except Sunday) and it always consisted of a sweet bread (like muffins, pancakes, coffee cake, etc.) and eggs or hash browns. Continuing the tradition, I now often make my mom's muffin recipes for breakfast in my own family. Every time I make them, I think about her and my childhood. I remember we used to get butter knives and cut the tops off the muffins and save them until after we ate the bottoms.
AJ Ferguson, VP of Membership Analysis and Information Technology- "Layered Enchiladas, Arizona Style with El Paso added to the sauce. My mom and grandma didn't make these very often, but what a treat it was when they did! Whenever I make them now, I always experience the best of my childhood memories."
Matt Hargreaves, VP of Communications- "One of the things I love to bake is cornbread, and I inherited this from my mom. She'd often making a big pan of cornbread in a cast iron skillet before I went to school in the morning growing up. Now, I make it for my family and my boys love it! Especially with some chili, or just with homemade jam. It's pretty easy to make and is very much a comfort thing. A lot of the baking we do brings a comfort about it that is hard to describe, but the food doesn't last long! I also like to try to bake different things, but I've learned it's wise to test them in safe spaces first! One time, I tried to bake a pie at Thanksgiving and was told – mostly jokingly – that it tasted like dogfood! I laugh about it now but am more careful where I try things out! I also tried a New Zealand dessert called Pavlova, and it turned out great. So at least I have a few go-to things to make, though I wouldn't call myself a master chef!"
Jennifer Pratt, CFO- "One of our family traditions is letting the kids pick whatever meals they want on their birthday. One of my children's favorite breakfast is a breakfast casserole. We always bake it on Christmas morning while we open our presents, and quite often it gets requested for birthday breakfasts as well."
Want more news on this topic? Farm Bureau members may subscribe for a free email news service, featuring the farm and rural topics that interest them most!