Cook With Love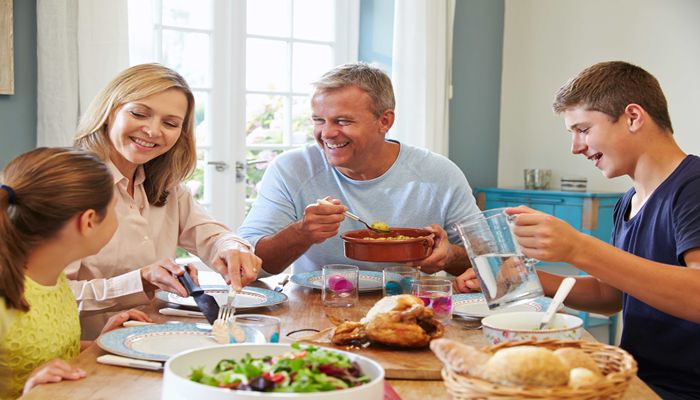 Raised on a farm near Promontory Summit in northern Utah, Colleen Sloan was an "outdoor gal" from the moment she was born. A caterer by trade, Sloan has always been around Dutch oven cooking – her great-great-grandparents came across the plains cooking in Dutch ovens along the way. Her great grandparents, grandparents, and parents helped put Sloan on the path to becoming Utah's expert Dutch oven cook, author, and instructor. 
"I've been cooking since I was old enough to pick up a lid. I discovered early on that everything just tasted better when it was cooked in cast iron," Colleen reminisced.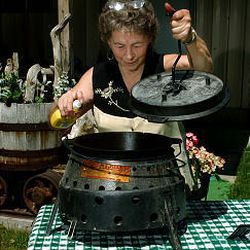 Why Dutch Ovens?
Englishman Abraham Darby traveled to the Netherlands in the early 1700s to observe how the Dutch were casting pots using sand to make the molds instead of loam and clay, which was typically done in England. The new method was more economical and produced a better pot. Darby further refined the process and patented the method using sand molds in 1707 and named the pots Dutch ovens. According to the website Bush Cooking, American patriot Paul Revere is credited with adding legs to the pots and designing a lid with a ridge for holding coals. 
What makes food cooked in a Dutch oven so great? 
"Dutch ovens were actually the original pressure cooker and crockpot put together. Everything that comes out of them is tender and tastes so much better," Sloan said. "That's why it's important to keep the lid on. You can get between 1-3 pounds of pressure inside, which helps your food cook thoroughly with great flavor and all the flavors and nutrients stay inside the Dutch oven. Your nose will let you know when it's done!"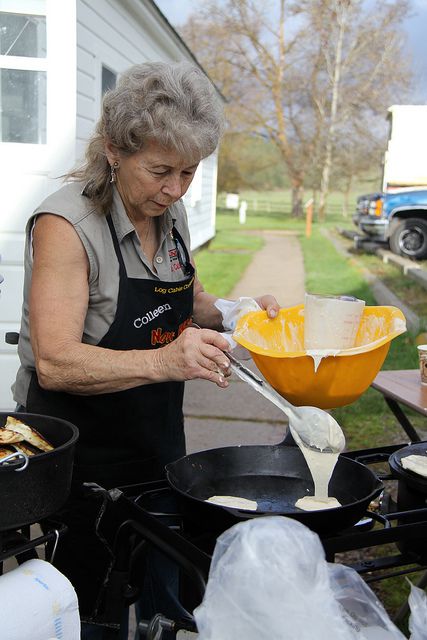 Cooking for One and ALL
For Sloan, food has been an incredible way to connect with people. She has cooked for camping trips, reunions, Boy Scouts Jamborees, the Pony Express Reenactment, veterans gatherings, sheepdog festivals, the Lewis and Clark Celebration, the Olympics, the International Dutch Oven Society, the Griswold and Cast-Iron Collectors Society, fishing and hunting shows, company parties, birthdays, weddings, and grand openings of national chain sporting goods stores. 
She catered a Dutch oven dinner at the Olympics for 1,800 people, but if you ask her what her most memorable catering event was, she'll tell you it was catering a 50th wedding anniversary dinner for two. 
A husband wanted to surprise his wife with her favorite Dutch oven dinner to celebrate their 50th wedding anniversary. He made arrangements for Sloan to cater a dinner for them at a designated spot in the canyon. 
He told her, "I'll honk twice when we approach the campsite." That was Sloan's cue to go down to the river and read a book until they were finished. Through the trees, she could see his wife begin to cry when she saw the table set for two. 
"It made me feel good to be a part of them celebrating 50 years together," Sloan said. When they were done, he honked once and that was the signal that I could go back and clean up." 
Over the years Sloan has loaded her Chevy Suburban and a small utility trailer with pots and other cooking gear for trips to 46 states on a regular basis. Colleen put 700,075 miles on her Chevy Suburban traveling across the county catering and presenting before she finally donated it to the Kidney Foundation. 
"I've traveled a lot in my lifetime, and I've seen many beautiful sunrises and sunsets. Met some great people and made lots of friends," she said.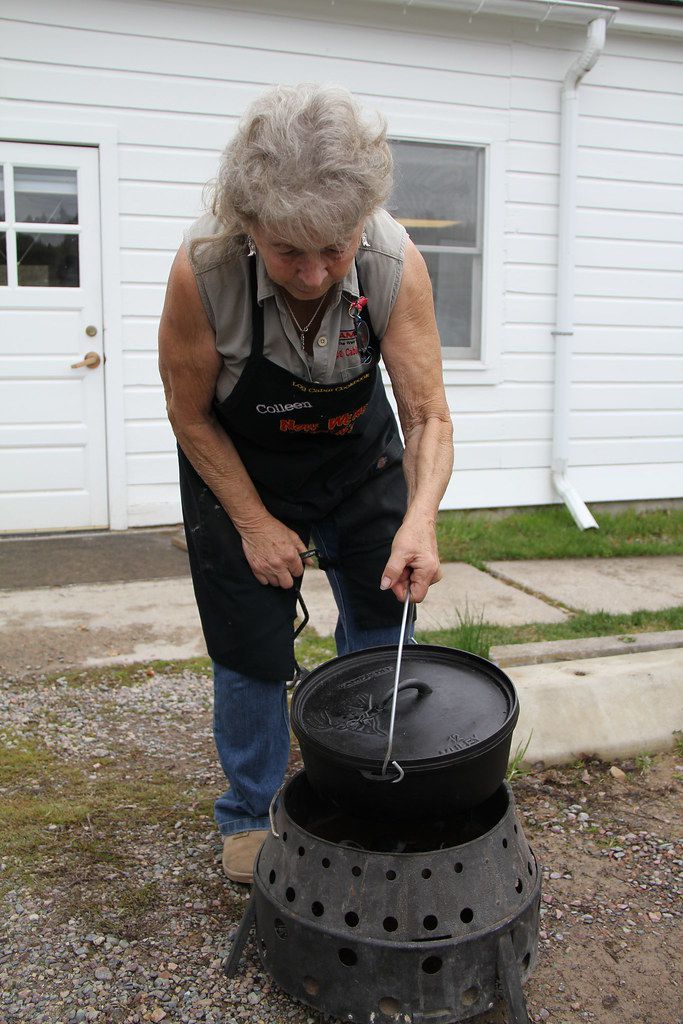 Teaching How & What to Cook
In 1990, after the death of her son, Colleen coped with her loss by turning her attention to something she had wanted to do for the previous 30 years. 
She gathered her grandmother's recipes and enlisted the help of her friend, Karen, and her cousin, Sandy, who created the illustrations for her first book, "Log Cabin Cookbook". Sloan took it to 10 different publishers and was turned down, but that didn't stop her. She dug into her savings and published the cookbook herself. 
Her distribution strategy? She got in her car and drove from Sandy to St. George stopping at every sporting goods store or gas station that sold souvenirs and asked if they would purchase some of her cookbooks to sell. That strategy became a success as the stores turned into repeat customers. 
Since then, Sloan has written and published six cookbooks, and at 82 years old, is working on her next cookbook, "Hooked on Fishing." 
Sloan is known for her easy-to-use cookbooks and one-pot meals. She's made every recipe in each of her cookbooks, so she knows they are sure to satisfy. 
In the back of each of her cookbooks, Sloan lists her phone number with an invitation to call her with questions. Over the years she has received many calls and has happily answered many Dutch oven questions. It's what she loves to do. 
"My dream has always been to gather knowledge from everyone I meet and then share what I learn with others. I've done that through cooking." And sharing her Dutch oven know-how is one of the things she does best. 
"Passing on your knowledge and sharing it with others is part of your life," Sloan said. "The history and recipes I've gathered are part of what I share and so are my memories." Colleen continues to inspire people all over the country to start their own Dutch oven cooking traditions. 
Her down-home charm comes from being grounded in what she sees as the most important things in life, like family. Her children and grandchildren have been her best "taste testers," and her daughter, Lisa, has been Colleen's right arm. She values and lives true to the principles of hard work, generosity, tenacity, resilience, and ingenuity. 
"Success is looking back over your life and being happy about it. I've had a really good life," Sloan said. 
Her heritage has guided her throughout the years and her parents' wisdom echoes in her ears. A piece of advice from her father — "Don't trust a dog to watch your food." 
Her mother always said, "Cook with love. If it don't taste right, you probably left out the love." Colleen has taken her love for cooking from a hobby to a successful career and passes on her mother's advice to everyone she meets … Cook with love. 
Some of Colleen Sloan's tried and true tips:
The only way to dry cast iron is to return the pot to the heat and evaporate the moisture.
You do not have to oil your Dutch oven to put them away if they are totally dry of moisture.
Mix natural apple cider vinegar in a spray bottle at a 4 to 1 ratio (4 parts water to 1 part vinegar).  It serves as a tenderizer and a disinfectant.
Seasoning your Dutch oven—Most Dutch ovens today are pre-seasoned by the manufacturer. All you need to do is heat your oven and lightly oil the inside and warm before putting food inside. Sloan recommends using bacon grease, lard, or vegetable oil because they are the lowest flash point oils on the market.
Sloan always cleans her pots warm because it helps to release the food particles. She finds it helpful to return the pot to the heat after emptying it and spraying in a little vinegar water to soften the food. Then she wipes it clean with paper towels and returns it to the heat to dry.
Want more news on this topic? Farm Bureau members may subscribe for a free email news service, featuring the farm and rural topics that interest them most!