Farmers Feeding Utah Delivers Food to More than 1,300 families & Food Bank in St. George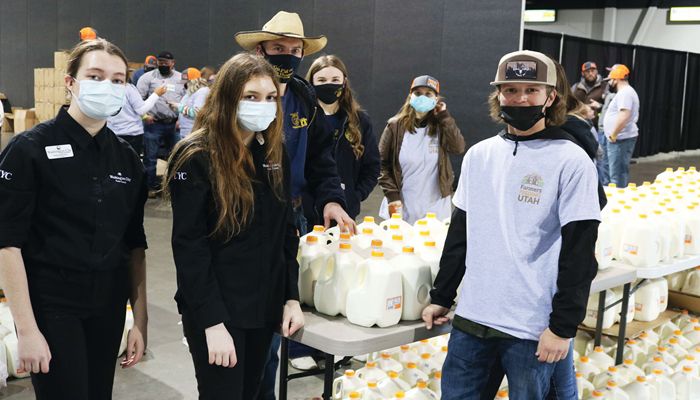 As the Covid-19 pandemic continues on and families and individuals continue to struggle with food insecurity, the Miracle of Agriculture Foundation held its latest 'Farmers Feeding Utah' event in St. George on January 29, feeding more than 1,300 families. More than 250 volunteers, including Farm Bureau leaders from around the state, USU Extension staff, and individuals from St. George, placed food in cars at the Dixie Conference Center.
Additional help was provided by local elected officials from St. George, Washington, and Hurricane City, Washington & Iron Counties, Stephen Lisonbee – Gov. Cox's Senior Advisor for Rural Affairs, and a group from Soltis Investment Advisors. 
"As the impacts of this pandemic continue, we are happy to continue helping families get food all while ensuring our farmers and ranchers stay viable in our communities. This really is how Utahns take care of each other," said Ron Gibson, president of the Utah Farm Bureau Federation.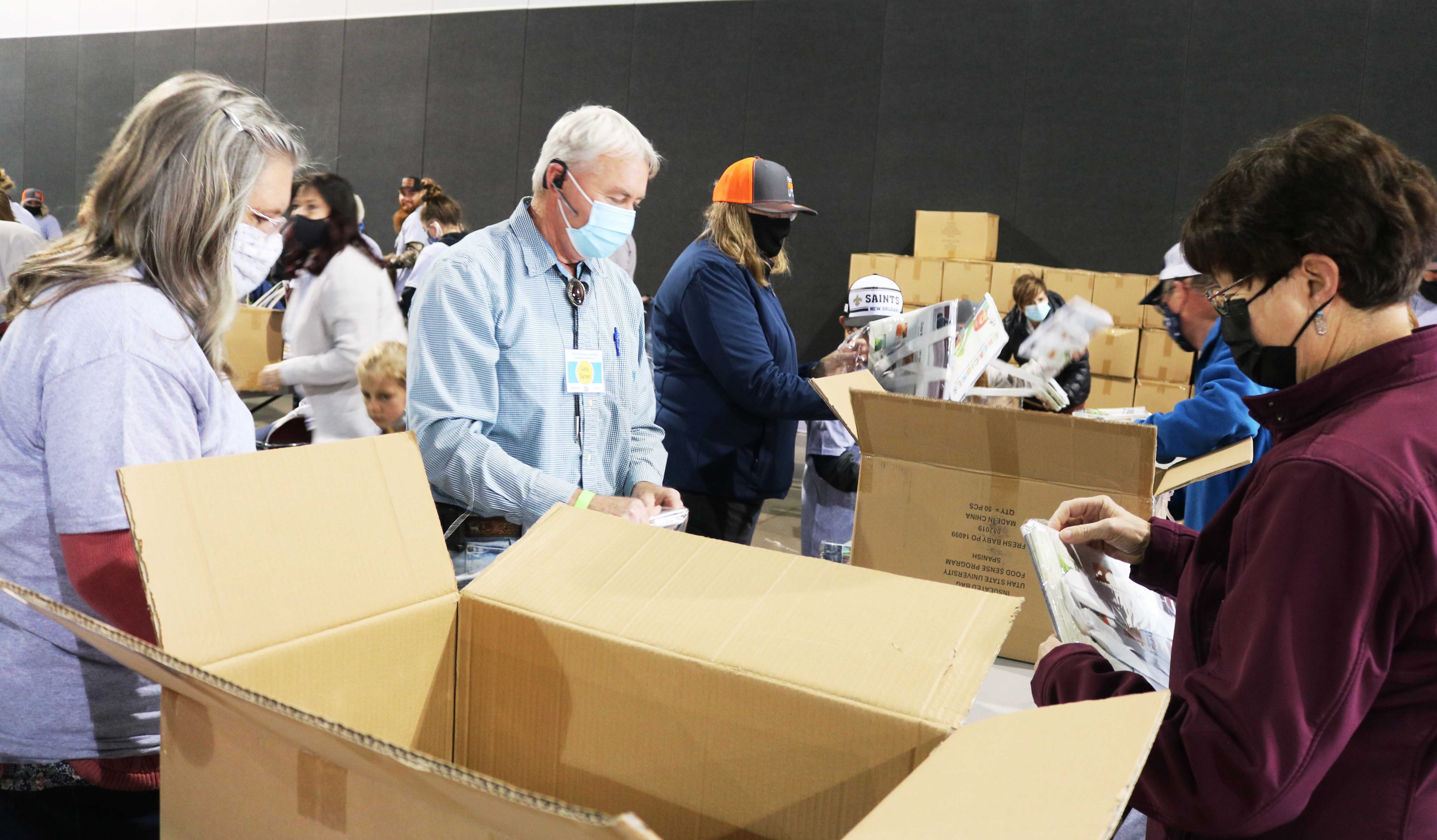 "We targeted St. George because of the data we had [regarding] the unemployment rates," said Clayton Beckstead, Executive Director for the Miracle of Agriculture Foundation in an interview with KSL television. "We go to where the greatest need is, and so St. George came up on our list." 
Recipients received several bags of Utah-grown food including cheese, eggs, potatoes, onions, squash, apples, mushrooms, beef, pork, and milk. It also included pecans from a local farm in Washington County. The food was purchased using donations to the foundation, as well as from generous donations from Smith's Food & Drug, DairyWest, Farmers Feeding Utah, Inc., and others. 
"As we approach 11 months in the COVID-19 pandemic, families are hurting more than ever," said Heidi LeBlanc, director of the Hunger Solutions Institute at Utah State University and its Create Better Health program. "There has been a 300 percent increased need for food assistance, and getting healthy, high-quality foods (from Utah farmers) is critical to helping families gain food security. Farmers Feeding Utah has been a miracle." 
"We have worked with the farmers in our county to help some families this past year, but we were happy to help even more stay afloat with this concentrated effort," said Sherrie Tate, president of the Washington County Farm Bureau. "It was great to see so many families helped." 
Farmers Feeding Utah 'Miracle Projects' are part of a campaign of the Miracle of Agriculture Foundation, a 501(c)(3) organization that was set up as the charitable arm of the Utah Farm Bureau Federation. Additional logistical and in-kind support has come from invaluable partners, including Utah State University (USU) and its Hunger Solutions Institute & Create Better Health program, the Utah Department of Agriculture & Food (UDAF), The Church of Jesus-Christ of Latter-day Saints, and Farm Bureau Financial Services.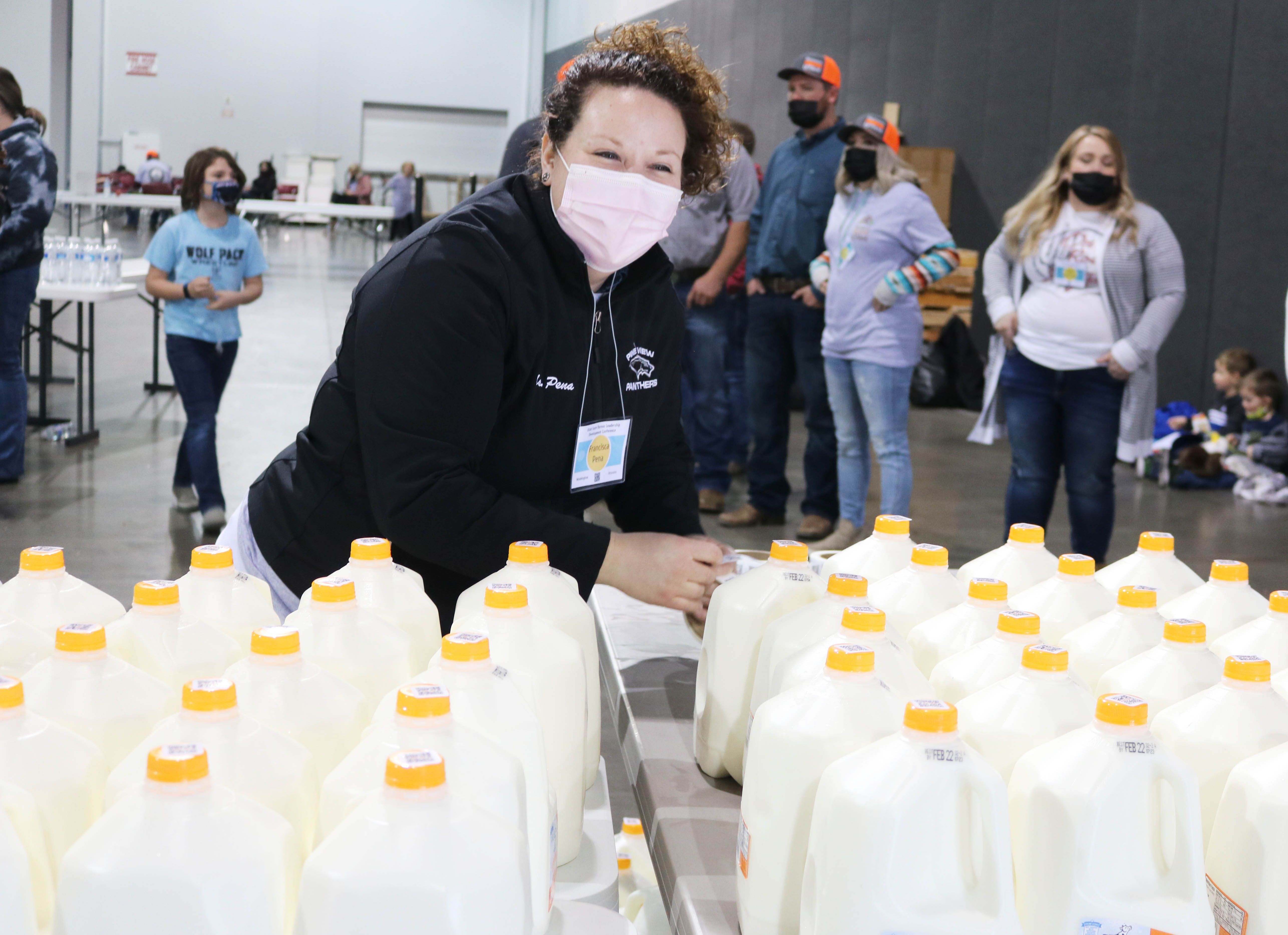 Donations to the 'Miracle of Agriculture Foundation' for the Farmers Feeding Utah project are used to purchase, process, and deliver food to families in need, giving both struggling farmers and Utah families a hand up.  
With the need continuing to be there, more projects are planned for 2021. Tentative plans are being made to visit Carbon, Duchesne, and San Juan Counties in the coming months, though the events continue to be dependent on donations. 
To date, the Farmers Feeding Utah campaign has provided more than 1,000,000 lbs. of food to Utah residents in the Navajo Nation, northern Utah, West Salt Lake, Vernal, Provo, Ogden, Richfield and to smaller community pantries throughout the Wasatch Front. To make a tax-deductible contribution to this project, individuals and businesses can go to 
FarmersFeedingUtah.org
.
Want more news on this topic? Farm Bureau members may subscribe for a free email news service, featuring the farm and rural topics that interest them most!