Farmers Feeding Utah Makes Third Delivery of Food to Needy Families & Refugee Groups in West Salt Lake Valley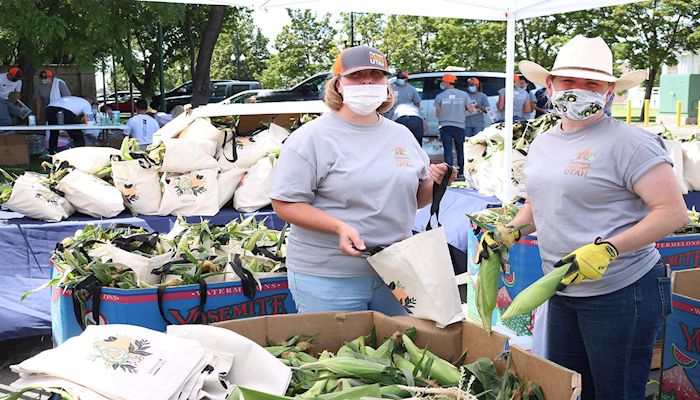 As the impacts of the current health pandemic continue to be felt throughout the state, Farmers Feeding Utah launched its third miracle project to provide relief to farmers and families: Miracle Project West Salt Lake, the last week of July.
"This was an amazing thing, to see these families roll through here that needed help. We were really able to do some good," said Ron Gibson, President of the Utah Farm Bureau Federation.
"Covid-19 has really heightened the issue of food insecurity in communities across Utah. The work that is being done by Farmers Feeding Utah is critical in making sure that families and individuals have the food they need," said Gina Cornia, Executive Director of Utahns Against Hunger. "It is especially important that when you look at the data, the need has always been there for neighborhoods on the west side of Salt Lake, and that need is only growing as this crisis continues."
Blistering afternoon heat gave way to wind and a few showers, but that did nothing to dampen the enthusiasm of volunteers as they prepared food for more than 1,200 vehicles that came through the Utah State Fairpark. Many came just minutes after hearing announcements on radio and television about the available food.
Guests to the event received a food packet representing a variety of industries and geographic locations. Each contained beef from Box Elder County, lamb or goat (depending on specific dietary restrictions) from Sanpete County, cheese from Wasatch County, sweet corn and dried cherries from Utah County, mushrooms from Millard County, eggs from Cache County, and garlic from Davis County.
There was also a generous donation of salami from the Church of Jesus Christ of Latter-day Saints, as well as generous donations from neighboring Farm Bureau. The Idaho Farm Bureau donated more than 20,000 lbs. worth of potatoes, and the California Farm Bureau donated more than 40,000 lbs. worth of carrots. The donations coincided with the visit of several western State Farm Bureau presidents and administrators who were in Utah for a planning conference. These Farm Bureau leaders assisted in the food donation event, as did staffers from Senator Mitt Romney's office, UDAF Commissioner Logan Wilde, KSL news radio host Lee Lonsberry, several insurance agents from Farm Bureau Financial Services, and many other invaluable volunteers.
The event also included a press conference and visit from several Utah state legislators and representation from the Utah Governor's office.
Farmers Feeding Utah is a campaign of the Miracle of Agriculture Foundation, a 501(c)(3) organization that was set up as the charitable arm of the Utah Farm Bureau Federation. Additional logistical and in-kind support has come from invaluable partners, including Utah State University (USU) and its Hunger Solutions Institute, the Utah Department of Agriculture & Food (UDAF), The Church of Jesus-Christ of Latter-day Saints, and Farm Bureau Financial Services.
"By serving a community on the west side of Salt Lake City, Farmers Feeding Utah connected urban families and individuals in need with food from Utah farms and ranches to help those with limited resources have healthy choices," said Heidi LeBlanc, director of USU's Hunger Solutions Institute. "Together Farm Bureau, Utah State University and other volunteers, partners and donors are inspiring public confidence and support in American agriculture and meeting hunger needs at the same time."
To date, the Farmers Feeding Utah campaign has raised more than $300,000 in donations from individuals and businesses, and provided more than 300,000 lbs. of food, with a retail value of more than $560,000 to Utah residents in the Navajo Nation, northern Utah, Ogden and Salt Lake City.
Davis County farmer and Utah Farm Bureau Board Member Tyson Roberts (at podium) talks about the opportunity for farmers to give back during the Covid-19 pandemic.
To contribute to this project-specific goal of $100,000 in donations, individuals and businesses can go to FarmersFeedingUtah.org.
Want more news on this topic? Farm Bureau members may subscribe for a free email news service, featuring the farm and rural topics that interest them most!