Healthy watersheds equate to quality of life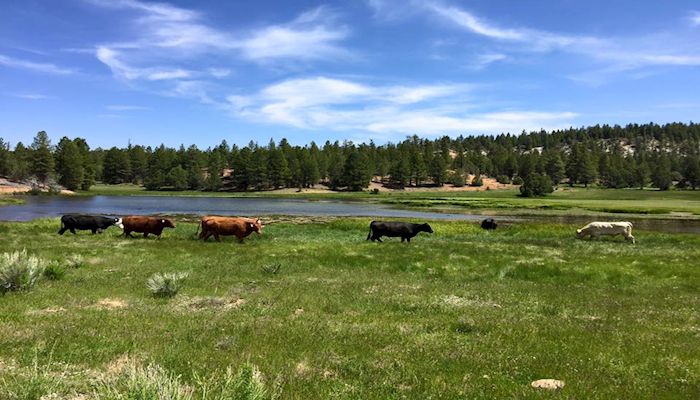 Healthy watersheds, rivers and streams are vital to maintaining quality of life. A healthy environment depends upon good water quality, connectivity of streams, and robust instream and riparian habitats. Careful water management of these resources are required to retain them for long-term sustainability.
The term "watershed" is much more than just a place where water converges. It's the lifeblood of the landscape, sustaining the animals and people who depend upon it. Maintaining a healthy watershed requires substantial strategic planning and cooperative efforts. These processes are critical as we collectively work together to preserve essential resources for future generations. Utah's legislature and state agencies have created two programs specifically designed to enhance the overall health and sustainability of Utah's watersheds.
In 2006, Utah created the Watershed Restoration Initiative (WRI). WRI is a partnership-based program, unique to Utah, designed to improve high priority watersheds throughout the state. WRI is coordinated by Utah's Department of Natural Resources (DNR) and operates as a diverse partnership of state and federal governmental agencies working together with non-governmental organizations, industry, elected officials and private landowners.WRI restores and prevents the destruction of our vital watersheds by promoting positive changes to reduce future problems. In its 12th year, WRI has addressed specific challenges facing Utah's watersheds, including: reducing invasive plant species, reversing aspen forest decline, limiting destructive fires and restoring degraded streams and wetlands.
Funding for WRI comes from federal agencies like the Bureau of Land Management (BLM), Natural Resources Conservation Service (NRCS), U.S. Forest Service and the U.S. Fish and Wildlife Service (FWS). State funding comes from the Utah Governor's Office and the legislature with additional funds coming from state agencies, including the Division of Wildlife Resources (DWR), Division of Forestry, Fire and State Lands, Department of Agriculture and Food (UDAF), School and Institutional Trust Lands (SITLA), Public Lands Policy Coordinating Office (PLPCO) and the Department of Environmental Quality (DEQ). Many private landowners and public land grazers participate too, along with non-government organizations, including the Mule Deer Foundation, Sportsmen for Fish and Wildlife, Rocky Mountain Elk Foundation, National Wild Turkey Foundation, Foundation for North American Wild Sheep, Utah Bowman's Association and the Safari Club International.
Since its inception, WRI partners have completed nearly 1,500 projects and are approaching nearly 1.5 million treated acres. For every $1 spent by DNR on restoration, the Department has leveraged $5 from contributing partners. For every $1 spent by DNR on fire rehabilitation, the Department has leveraged $20 from contributing partners. As of 2016, nearly 500 different agencies, organizations and individuals have contributed to WRI projects by providing funding or in-kind assistance.
Also, in 2006, the Utah Legislature passed the "Rangeland Improvement Act." The law established a State Grazing Advisory Board and Regional Grazing Advisory Board aimed at improving the grassroots voice for both private and public grazing land managers. The establishment of these boards was key to launching Utah's Grazing Improving Program (GIP). With Utah's Department of Agriculture and Food leadership and direction, GIP is designed to empower the livestock grazing community to improve range conditions as a means to improve the environment and the economic wellbeing of rural Utah.
There are 45 million acres of grazing lands in Utah of which 73 percent is federal land, 18 percent is private and 9 percent is state owned. Repeated science concludes that good livestock grazing management can improve watershed health, forage productivity, wildlife habitat and recreational opportunity all while reducing the risk of catastrophic wild fire.
Over the history of GIP, range professionals have been successful in improving the understanding and communication between federal land management agencies and livestock operators concerned about the health of Utah's watersheds. Educating partners on three proven grazing management principles requires frequent, diligent training. Grazing management principles include: time (duration of animals on a pasture), timing (season of the year that the pasture is grazed) and intensity (amount of forage removed). GIP has a proven track record to anchor necessary partners, resulting in on-the-ground, improved grazing projects that increase ranchers' sustainability and benefit rural Utah economies. When collaborative and coordinated partners are working towards these proven grazing management principles, improved healthy watersheds result.
In a Forest Service pamphlet titled, "Livestock Grazing Successes on Public Range" it states: To achieve range management objectives, federal land managers and ranchers are working as partners on range allotments all across the West, using livestock grazing as a vital tool to improve riparian areas, associated uplands and entire watersheds."
GIP funding is used for range improvement and maintenance, control of predatory animals, management and extermination of invasive and poisonous plants, purchase or lease of lands for the benefit of a grazing district, watershed protection and development and the improvement and the general welfare of livestock grazing within a district.
Since 2006, GIP has completed nearly 800 projects, affecting 4.1 million acres and costing $36 million. For more information about the Watershed Restoration Initiative and how you can benefit, please visit wri.utah.gov/wri.
Want more news on this topic? Farm Bureau members may subscribe for a free email news service, featuring the farm and rural topics that interest them most!