I'm Not a Farmer But… New York Times best-selling author shares his love of food and wild imagination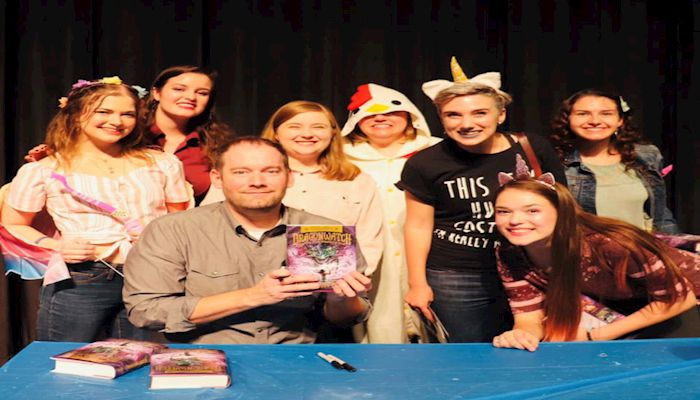 Utah Farm and Fork caught up with Brandon Mull, #1 New York Times best-selling author to talk about his memories of food and how it's connected to memories of his childhood and even ends up in his stories. While originally from California, Mull has made Utah his home and where he's raised his family.
Mull is known by many young fiction readers, and their parents, as the author of many best-selling books, including The Candy Shop War, Pingo, Smarter Than a Monster, as well as the Fablehaven, Beyonders, Dragonwatch, Spirit Animal, and the Five Kingdoms series. Those interested can learn more about Brandon at brandonmull.com or by searching on Facebook or Instagram.
What is your hometown? Where have you lived during your life?
I have lived here in Utah for my whole adult life. Growing up I lived in Thousand Oaks and Clayton, California; and Southbury, Connecticut. I also served a religious mission to Antofagasta, Chile for two years.
Tell me about your family.
I grew up with supportive parents and grandparents along with a bunch of cousins. My experiences with my grandparents as a kid is partly why grandparents feature as important characters in my Fablehaven novels.
Do you have siblings? Where do you fit in the birth order?
I am the eldest of five siblings
Tell me about your childhood.
As a kid I lived in my head a lot. That meant playing imaginary games with my siblings and bringing to life adventures in my mind as well. My mom put me on stage a lot in plays, and I liked performing in school.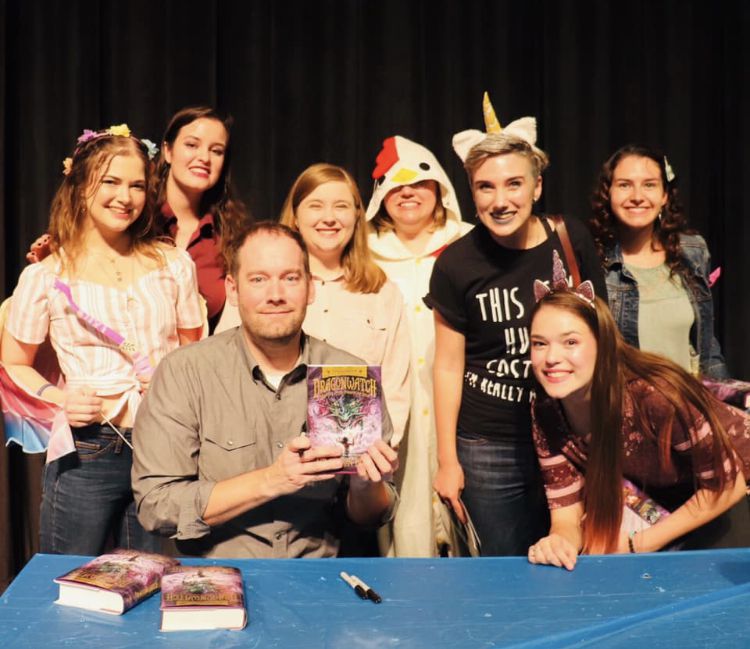 Were you raised on a farm or a ranch? If so, what type of animals did you raise and/or the crops did you grow? Also, if so, what chores did you have? Any that you particularly liked or disliked?
I grew up in the suburbs, so my chores were along the lines of mowing the lawn, feeding my dog, and weeding the yard. I loved being outdoors. I remember growing carrots, beets, and some corn in California. We also had citrus trees.
If, however, you were not raised on a farm/ranch … Did your family have a garden when you were growing up? And if so, what types of plants did you grow in their garden (fruit trees included)? Did you have a responsibility with the garden?
I would pick fruit and help in the garden. I helped with pruning the trees and eating the fruit. My favorite was our tangerine tree.
Did you have favorite things to do as a child? Or things you hated doing?
I liked imagining and exploring outside. I would tell stories to my siblings and to neighborhood kids. I didn't always like the strict structure of school, though I found aspects that I enjoyed.
Were you the perfect child? Or perhaps a little less than perfect?
I tried to be a good student and I cared about my family, but I was definitely stubborn and headstrong. Though I loved my younger brothers and sisters, I would also tease them, sometimes too much. We played and we fought, and we generally stuck together. I have tried to capture some of those family dynamics in my writing. In my youth, I created adventures for myself and sometimes ended up trespassing or accidentally breaking things.
What type of student were you while growing up?
I struggled to pay attention in class as a little kid. I had a wild mind and it was tough to focus. But I became a better student as I grew older and ended up getting really good grades in high school and at college at BYU.
Did you have favorite subjects? Or classes that you did especially well in?
As you might guess for a writer, some of my favorite classes were English, where I could read and write. I always liked creative writing more than composing essays.
My favorite activity in college was helping to run a sketch comedy group at BYU called Divine Comedy. As a head writer for the troupe, I improved my ability to write humor and dialogue. And performing in the skits helped me get comfortable in front of crowds. The chance to test my writing in front of a live audience improved my confidence. The troupe was successful and we routinely sold out our weekend performances.
What do you do in your career? (Please describe a typical workday for me.)
As a writer of novels, I am either hidden away creating the next book, or else out on the road promoting my latest release—speaking at schools, bookstores, and libraries. My job is either intensely private and solitary, or else abnormally public. I'm either alone writing or in front of a crowd speaking.
How did you end up as an author, and how did you break into the industry? Was your family involved in a creative industry growing up?
Nobody in my family was a professional writer, but my mom appreciated books and read to me from an early age. I was inspired by my favorite writers—people like J.R.R. Tolkien, C.S. Lewis, and J.K. Rowling. I have always invented fantasy stories in my head, and there came a time when I realized the adventures in my mind seemed better than many of the shows I saw and books I read. I paid attention to how my favorite writers built their scenes and practiced writing my own scenes. I submitted my stories for years to magazines, contests, agents, and publishers and got rejected until Fablehaven became my first published novel. After that I enjoyed unusual success.
What brought you to Utah?
I came to Utah for college and liked it so much I've been here ever since.
Can you tell me about your current family situation? Kids, grandkids, etc.
I just got remarried on June and now have 11 kids—four are mine, and she brought seven more!
Where do you live today?
I live in Highland, Utah
Is there something you like to eat that reminds you of home?
Oranges and tangerines remind me of California, empanadas remind me of my time in Chile, and I love finding farm-to-table restaurants anywhere I can (places like Communal in Provo). One of the joys of book tour is finding interesting food and local specialties!
Do you have (or plan to have) a garden and/or fruit trees?
I have several fruit trees including apple, peach, plum, and nectarine, along with blackberry and raspberry bushes. I also have a little herb garden with chives, basil, mint, and thyme. In the side yard, we have also grown pumpkins, strawberries, and tomatoes
Do you have favorite
I love so many foods. Hot bread fresh from the oven with butter might be my single favorite treat. I also relish a good steak. I love making banana smoothies.
How would you classify yourself from an eating standpoint? Are you an omnivore (someone who eats any and everything), an herbivore (someone who just eats plants), someone on a paleo diet (just meats and dairy products), or something else?
I'm absolutely an omnivore. I truly enjoy eating and I like almost everything.
Additionally, are you someone who eats because they have to? Or are you someone who eats because you love to eat?
I LOVE to eat.
Is there a restaurant in Utah you like to go to?
One of my favorite restaurants in Utah is Franck's. They create fresh and interesting flavors.
What's the worst thing you've ever eaten?
Muktuk (whale blubber) in Alaska
What's the best meal you've ever had? And why?
One of my favorite meals was a bunch of fresh shellfish, including crab, that I had in a little Chilean fishing village called Huasco. The homecooked food was fresh and prepared simply and soooo good.
What was the favorite meal/food you ate growing up? Or what food memories to you have from your childhood?
When I was a kid my favorite food was hot dogs. I would only put ketchup on them. It took time for me to learn to experiment with new flavors!
Have you visited a farm/ranch or farmers market in Utah before?
I like farmers markets and have shopped at several in Utah—we have one near my home in Highland.
Describe to me your favorite kind of meal, something you eat on a fairly regular basis.
Regular favorites would be my mom's lasagna and her meatloaf, and I also eat a lot of yogurt. I also appreciate foreign cuisines like Thai, Indian, and Mexican.
Do you like to cook or is someone else the main cook? If yes, what is your go-to meal/dish/recipe?
I am good at shakes and smoothies. I like to go out to eat or have others cook meals, though I sometimes like to barbeque, and I make a mean tuna melt on sourdough.
If you don't want to cook anything fancy or elaborate, what is your basic comfort food you like to eat?
Comfort food would be fried eggs on toast.
Do you have a favorite recipe?
My mom's lasagna is so good because it is goopy with cheese and just a ridiculous indulgence. I make a simple, delicious banana smoothie (some might call it a shake).
Why do you love that so much?
It tastes like how I want a banana drink to taste except they never do.
Would you be willing to share that recipe with us to publish it in the magazine?
Yes
-One ripe banana (no green on the peel, maybe a little brown)
-One half frozen banana that was frozen while ripe
-One cup of lowfat milk (or maybe a little more, based on your tastes)
-A small scoop of vanilla ice cream
-A light drizzle of honey
Blend it up and enjoy!
Any other thoughts about agriculture, or about farmers & ranchers?
Though I did not grow up on a farm, my book Fablehaven is about a secret wildlife preserve for magical creatures and it partly operates like a farm. One of the more memorable scenes in book one involves kids milking a giant cow inside of an enormous barn. At Fablehaven, magic milk is what enables visitors to see that the butterflies are really fairies, the goats are really satyrs, the horses are really centaurs, etc. This is partly because I love milk (and for years had Winder Farms milk delivered until they ended that service). Because I love good food, I am so grateful to the farmers and ranchers who provide it!
Is there anything else you'd like to add to our conversation to the readers of UTAH FARM AND FORK?
I'll just add that my mission as an author is twofold—I want to get kids reading, and I want to get families to read together. I believe that as kids read for fun it broadens their minds and makes other aspects of education much easier. It also gives them a window into possibilities they may not consider on their own. I believe that when families read books together, they share vicarious experiences that build connections and can provide an excuse for discussions on a variety of topics.
I work really hard to write the kind of smart, imaginative fiction that kids would read for fun and families could read together without the adults getting bored.
Want more news on this topic? Farm Bureau members may subscribe for a free email news service, featuring the farm and rural topics that interest them most!