Massive Innovation is Almost Invisible
Innovation on a small scale is rarely viewed as impressively in today's world of "bigger is better". Yet, a small start-up company in Utah is developing a process for delivering nutrients to plants that has the potential for a monumental impact in how farmers grow food for a hungry planet.
Sometimes called the world first environmentalists, farmers have always been concerned with being efficient and producing more while reducing their inputs, costs, and impact on the environment. According to German chemical company BASF, the world population doubled between 1970-2010, and yet farmland is decreasing in the United States. In fact, an extra 2.5 billion people will inhabit the earth by the year 2050, requiring farmers to grow 70 percent more food than is currently being grown.
Despite the daunting statistics, farmers have growing more on less for years. In 1940, one farmer grew enough food for approximately 19 people. By 1970, this had improved to feeding 73 people. As of 2017, one farmer produced enough food to feed 165 people. All while reducing inputs (like fertilizer), soil erosion, and water use.
Rather than a settled inevitability, the reality of producing enough food to feed these estimated world population of 9.3 billion is going to take a lot of hard work, planning, and innovation. The Aqua-Yield company of Draper is taking small steps to help make farmers reach that goal.
Aqua-Yield started in 2014 by CEO Clark Bell and his father Warren Bell, a group of 10 other farmers, and investment partners Fraser and Mike Bullock. Warren Bell and his father T.H. Bell founded Biograss Sod Farms – now headquartered in Sandy – back in 1979. Innovation runs in the genes of the Bell family, as Clark's grandfather T.H. Bell – President Ronald Reagan's former secretary of Education – was often striving for innovation and improvement in the world of education.
The technological magic behind Aqua-Yield is its pioneering use of nanotechnology to bring nutrients to plants in a way can be absorbed easier. The tinkering of technology came about as the Bells were looking for ways to make the sod they grew healthier and come to market faster, and applied the science that was being used at the time for human nutrition. As they were happy with the results, Clark Bell saw the potential for agriculture and looked to expand the use technology.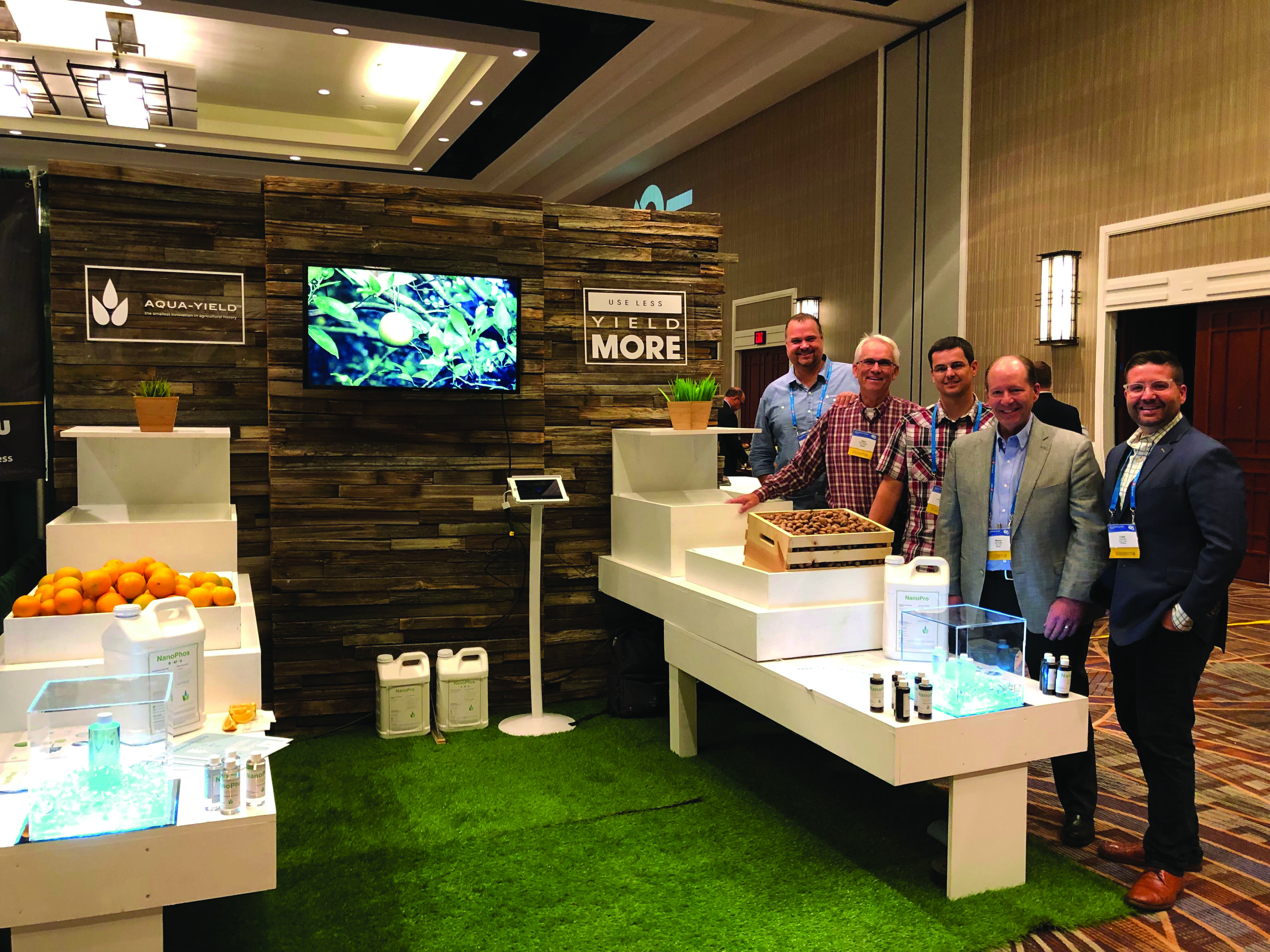 The Secret Sauce
The science behind the results works like a secret recipe. The company starts with ultra-purified water, removing particles and impurities that can get in the way of fertilizers and herbicides.
Next, the company reduces the size of fertilizer particles, which leads to better absorption through the leaves and roots of plants. Just as a person can drink water from a garden hose much easier than they can a firehose, reducing the size of the nutrients allows the plant to better take advantage of what is being given.
The recipe is completed by combining the nano-size nutrients with the purified water to create what the company calls the Nano-Shield. This keeps impurities from getting into the product to reduce its effectiveness. Aqua-Yield then uses its technology to apply the product in the most efficient ways possible.
When all is said and done, the Aqua-Yield technology works as an adjuvant, which is an industry term that essentially means it works to supercharge the impacts of an existing product – the fertilizer. It acts like fertilizer concentrate, because farmers can then use less fertilizer on a crop and get better results because the plant is actually able to use more of the nutrients being provided. The end game is less fertilizer applied, better yield of what is being grown, quicker growth & less time wasted by the farmer, and less waste of fertilizer into the environment. It's a win all the way around!
"We simply have to become a more efficient nation in how we apply [nutrients] to our crops," said Clark Bell, CEO of Aqua-Yield.
Wasted fertilizer is both an environmental and economic problem for farmers. With new information and better technology, farmers are able to make the math work, of giving their plants the nutrients they need to grow, while saving the environment and improving their bottom line.
Just for Sod?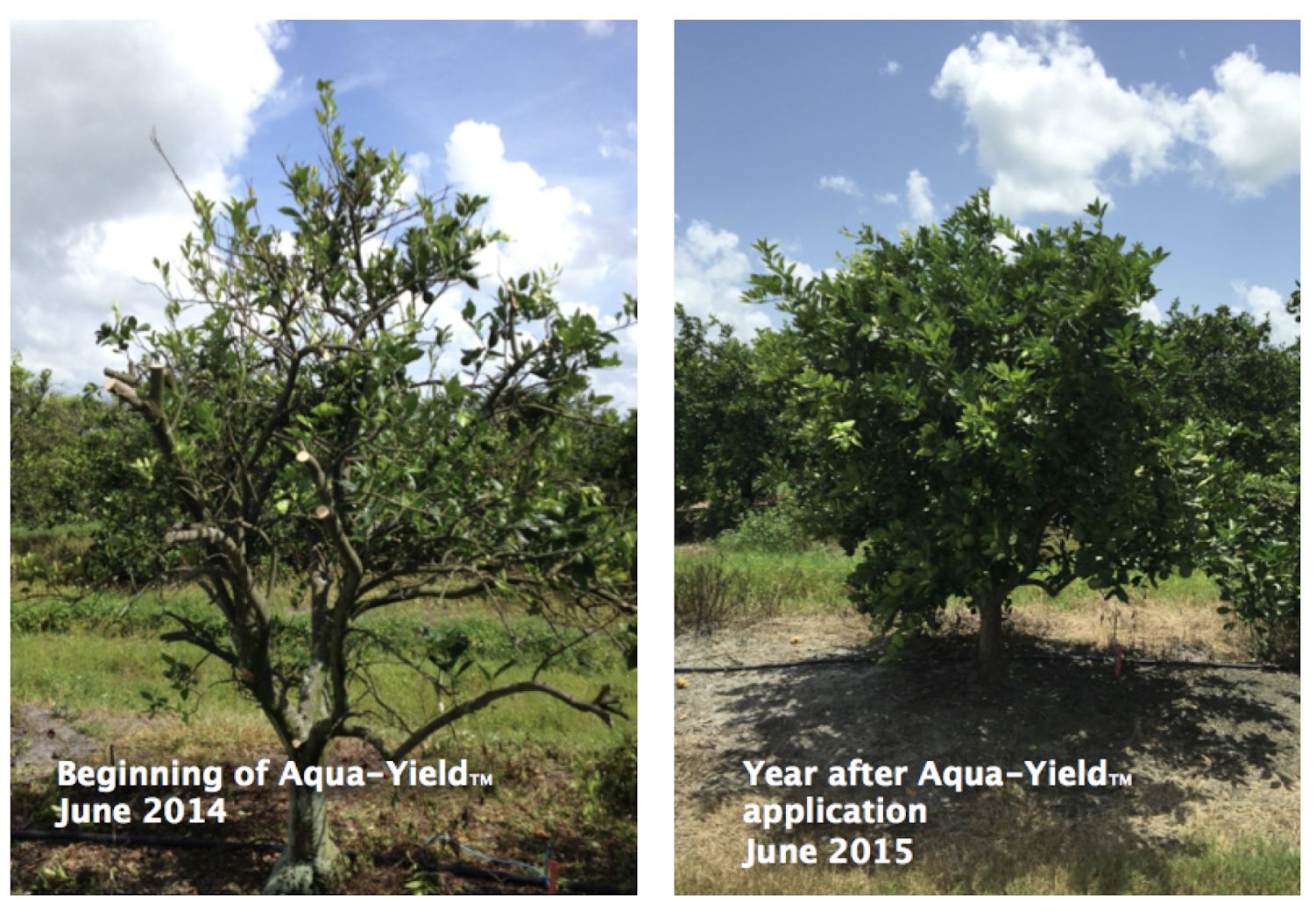 While the Bells were happy with the effect this new product had on their sod, it got them thinking about how it could be used by others. Aqua-Yield's products were subsequently tested on other sod farms at other states, and have also been used on citrus groves in Florida. Aqua-Yield is working with citrus farmers to see if the method of nutrient delivery will help save the Florida citrus industry from the effects of Citrus Greening Disease.
Because of positive results from the citrus experiments, Aqua-Yield's technology is under further trials at the University of Florida, University of Tennessee, and Iowa State University.
Large national agricultural companies have also been intrigued by the results of Aqua-Yield. The Dole fruit company and United States Sugar have both entered into agreements for testing with Aqua-Yield. To date, the company has had its products used on a variety of food crops, including traditional orchard fruit and nut crops, row crop vegetables like onions and tomatoes, and crops for fiber or animal feed, including hay and cotton.
Business has been booming because of the positive results with their products, but Aqua-Yield has been harvesting honors from others as well. The company received four American Business Awards in 2017, and was also named to Entrepreneur Magazine's "Entrepreneurial 360" list – the only agricultural-based company in Utah to appear on the list, coming in at #100 overall.
While the accolades are nice, the company is most pleased with the success their products have with family farmers in Utah and around the country at improving the way food is grown and reducing environmental impacts. Despite the "smallest innovation in agricultural history", Aqua-Yield's impact on the future of food is looking big. For more information on the company and its products, visit aquayield.com.
Want more news on this topic? Farm Bureau members may subscribe for a free email news service, featuring the farm and rural topics that interest them most!