YF&R Discussion Meet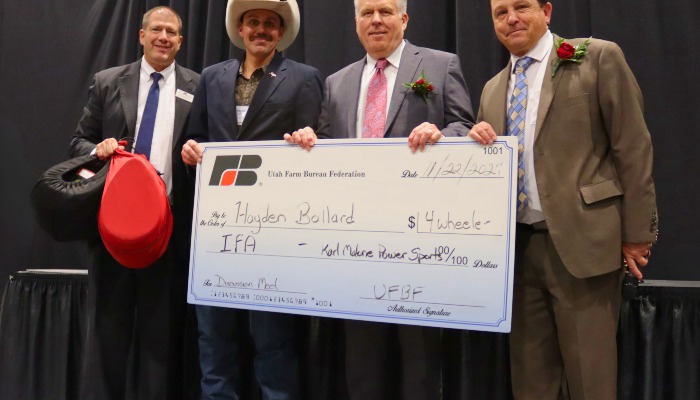 A BIG THANK YOU TO OUR DISCUSSION MEET SPONSORS FOR 2023:  IFA AND PRIME POWERSPORTS
The Discussion Meet contest is designed to simulate a committee meeting where discussion and active participation are expected from each participant. This competition is evaluated on an exchange of ideas and information on a pre-determined topic. The judges are looking for the contestant that offers constructive criticism, cooperation, and communication while analyzing agricultural problems and developing solutions. To find out more information about the Discussion Meet competition click below.
The contest is held at the beginning of the Annual UFBF Convention in November. Winners of the state contest are announced during the Thursday evening awards and recognition program. Practice competitions are often held at the county and district levels. Contact your local YF&R representative for more information on those events.
State winners receive a new Polaris ATV from IFA, a year's insurance on the ATV from Farm Bureau Insurance, a safety helmet from Utah Farm Bureau, and an expense-paid trip to the AFBF Convention in San Juan, Puerto Rico, January 6-11, to compete in the national competition. Second and third place winners will receive cash prizes during the awards and recognition program at the UFBF Convention. As part of the National YF&R Competitions, the winners in the Excellence in Agriculture Award, Discussion Meet, and Achievement Award competitions will receive a new Ford vehicle (up to a value of $35,000) and paid registration to a National Young Farmer & Rancher conference, courtesy of Ford. Second place recipients receive a Case IH Farmall 50A Tractor, courtesy of Case IH. Third place recipients receive a Case IH 40" Combination Roll Cabinet & Top Chest and $500 Case IH parts card, courtesy of Case IH, a $2,500 Investing in Your Future cash prize, courtesy of American Agricultural Insurance Company, plus $1,850 of Stanley Black & Decker merchandise, courtesy of Stanley Black & Decker. The fourth place recipient, nationally, receives a Case IH 40" Combination Roll Cabinet & Top Chest, and a $500 Case IH parts card, courtesy of Case IH.
For those interested in participating in the YF&R Discussion Meet, please contact Hannah Haslam at 801-233-3011 or hannah.haslam@fbfs.com.
2023 Discussion Meet Questions