Bios
RON B. GIBSON - PRESIDENT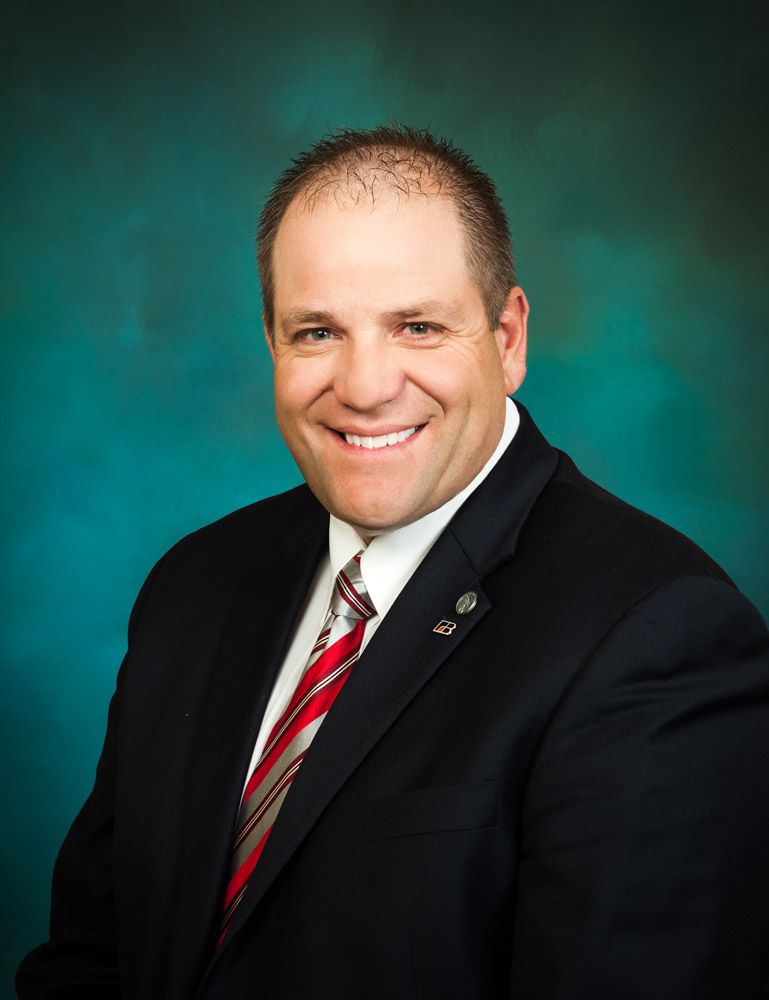 Ron Gibson, affectionately known as the "Milkman," is a 6th generation dairy farmer in Weber County.  He previously served as District 2 Director of Utah Farm Bureau Federation, Weber County President, Weber County Vice President, and the county and state Young Farmer and Rancher chairman.  Gibson Green Acres milks 1,500 head of dairy cows and grows more than 1,500 acres of corn and alfalfa. Ron, his wife Andrea, and their four children enjoy hosting school groups of all ages on their farm to help promote agriculture.
REX LARSEN - VICE PRESIDENT
Rex Larsen currently serves as Vice President for the Utah Farm Bureau Federation. Rex and his wife, Sherrie, live in Spanish Fork and have a beef cattle ranch, and also grow alfalfa, barley and corn for cattle feed. Rex markets Certified Seed Barley to growers throughout Utah and raises Certified Weed Free Alfalfa and stock show steers for sell as well.  Rex attended his first county Farm Bureau meeting in 1977 and was elected as the president of the Benjamin/Leland local Farm Bureau.  He has served on Utah County's board and has served as both vice president and president, and most recently served as District 4 Director for the Utah Farm Bureau Federation. Rex is active in civic and church responsibilities.  He earned the Silver Beaver Award for Scouting leadership. Rex and Sherrie are the parents of four children and 13 grandchildren. 
Rob Smith - District 1 (North & South Box Elder, Cache, and Rich Counties)
Rob Smith is a 4th generation cattle rancher and attorney practicing law in the areas of farm and ranch estate planning and numerous other legal issues that affect agriculture. Rob previously served as the Cache County Farm Bureau president and has been involved in the Utah Farm Bureau Federation for almost 20 years. Rob, his wife Macall and their six kids live in Trenton, Utah, where they enjoy working on the ranch, showing Red Angus-cross steers at the county fair, being involved in their rural community, and doing things together as a family.
Jim Wayment - District 2 (Morgan, Summit, and Weber Counties)
Wayment lives in Warren, Utah.  From a young age he has had a love for agriculture and especially raising and working with cattle.  He is the third generation to work on the family ranch working side-by-side with his grandfather Nephi, and later partnering with his father Edward. They started their operation by raising crops and feeding a few head of livestock.
Today, Jim has transitioned into his own successful operation, partnering with his oldest son, Cody.  They raise about 250 mother cows, custom feed for local ranchers and farm 600 acres of alfalfa hay, grain and corn silage. Along with his long days of farming and ranching, Jim has driven a school bus for Weber School District for the past 27 years, where hundreds of children respectfully refer to him as  "Cowboy Jim". Jim's favorite partner is his wife Kayla.  He's proud to be a father of four children (two sons and daughter-in-laws, two daughters and one son-in-law).  His favorite title of all is "Grandpa" to his four grandchildren.
Wayment has been actively involved in the Farm Bureau organization for the past 30 years.  He has served as the county Young Farmer and Rancher president and later on the state Young Farmer and Rancher committee, and the Weber County Farm Bureau vice president.  He has supported agriculture in many other capacities also, as a 4-H leader for 30 years, Utah Youth Rodeo President, Weber County Fair Livestock Chairman, and President of the Ogden Area Beef Feeders.
Most of Jim's days are filled with long hours, sleepless nights, break downs, and any other farm chore that comes along, but he still finds time to do a little team roping, horse training, and spending time with his family.  Jim Wayment is proud to be a "Farmer"!
Tyson Roberts - District 3 (Davis, Salt Lake, and Tooele Counties)
Tyson Roberts is a produce farmer and represents the 6th generation of Roberts' to farm in Layton, Utah (Davis County). Tyson and his wife Danna have six children who each help on the farm. Partnering with his parents Dix and Ruth, they operate Roberts Family Farms which produces fresh market vegetables that are sold on the farm and at farmers markets in Utah and Southwestern Wyoming. Roberts has experienced a continuing change in Davis County agriculture since starting a produce business with his brother Deven in 1992.
In addition to serving on the Utah Farm Bureau Board of Directors, representing District 3, Tyson is the Vice President of Davis County Farm Bureau and is a Supervisor for the Davis County Conservation District. He has always loved policy development/implementation and enjoys playing a role as a citizen in the local and national political process.
Tyson is a graduate of the American Farm Bureau's "Partners in Advocacy Leadership" program where he studied personal development, media, consumer\stakeholder engagement, and local and international policy development. He enjoys serving as a voice for all types of agriculture. He is active on social media, and can be found @utahonionboy on Instagram, @robertsfarms on Twitter, and @RobertsFamilyFarms on Facebook.
Wayne Jarrett - District 4 (Juab, Utah, and Wasatch Counties)
Wayne S. Jarrett is a 3rd generation farmer/stockman in Juab County. He has worked on the family farm and helped grow it to a farm of more than 2,000 acres, while buying a small farm of his own on the side. He raises alfalfa, barley, wheat, grain corn and corn silage, along with running a small feedlot and 150 cow/calf herd. Wayne has always said "the most important crop we raise is our kids" Wayne and his wife Connie are very proud of their three children and four grandchildren. 
Wayne is very active in his church responsibilities and has also served in many civic and agriculture boards including the Soil Conservation Service, Farm Service Agency, Nephi Irrigation Company, and the Nephi City Council. Wayne is very proud of his life long involvement with the Utah Farm Bureau and as a small boy attending various county functions as his father served as County Farm Bureau President. He was voted on the county board at the age of 25 and still serves there today, which includes 19 years as County President. Wayne is very proud to say that he is a farmer!
Steve Hanberg - District 5 (Carbon, Duchesne, Emery, San Juan, Uintah Counties)
Steve Hanberg was raised on a dairy farm and has always had a love for farming. He and his wife, Marcia, purchased their first farm in Randlett, Utah (Uintah County) in 1986, where he continues to grow corn and alfalfa.
Steve has been involved in the Utah Farm Bureau for more than 20 years, serving the last 10 years as Uintah County Farm Bureau President, and now serving District 5 on the State Board, which includes much of eastern and southeastern Utah. He is passionate about making public policy to better improve the quality of farming life in Utah. Steve serves on several community boards in Uintah County and as director of a local water company.
Wade Eliason -
District 6 (Garfield, Piute, Sanpete, Sevier, and Wayne Counties)
Wade Eliason, a sheep grower since 1995, represents District 6 on the Utah Farm Bureau Board of Directors. Prior to being elected to the Board of Directors, Wade served as the Sanpete County Farm Bureau President. Eliason, like every farmer, has seen tough times, but is happy that sustainability and new markets such as new varieties of wool and new clothing items such as wool, no-itch t-shirts (in demand from the military), wool socks and a growing demand by consumers for natural "organic" fabrics has helped the wool market.
Jared Buhler - District 7 (Beaver, Kane, Iron, Millard, and Washington Counties)  
Jared Buhler is serving as District 7 Board member.  He is the manager of the IFA Farm Store in Delta, and also has farming operations in Millard & Juab Counties. Jared has been involved in Farm Bureau for many years, most recently serving as the President of the Millard County Farm Bureau.
Dot Jensen - State Women's Committee Chair
Dot Jensen has been involved in agriculture her entire life.  Growing up in Yuma, Arizona provided plenty of opportunities to work with her dad in the cattle feed yard, and raise and work horses while being involved in the 4-H program.  She learned to work hard and play harder all while being involved in agriculture.
Dot moved to Utah and attended Utah State University and settled in Tremonton on a third generation sheep farm where her own children learned the value of work, agriculture, and fun.  She has been an active member of the Farm Bureau for more than 30 years.  Much of her time has been spent in the Farm Safety Programs to teach the importance of working smart on the farm.  For the last 12 years she spent a lot of time serving on the Farm Bureau Women's Committee.  She has also spent a number of years serving on the 4-H sheep community for Box Elder County.
Dot's true joys come from her six children and their spouses, and her nine grandkids who are learning to carry on the agriculture life and her dogs. 
Riggin HOlmgren- State Young Farmer & Rancher Committee Chair  
Riggin and his wife Laura live and farm in Bear River City, Utah, where the family farm and feedlot operates. Riggin has worked hard to grow and diversity their farm as a first generation onion grower. They also raise beef cattle. Laura graduated in 2016 from Utah State University (USU) with a Bachelor of Science degree in Agriculture, and works for USU Extension. Together, they are proudly raising the 7th generation on the farm.
Andrea Schoenfeld - Ag Promotions & Education Committee Chair
Andrea Schoenfeld lives on a small family farm in Tridell, Utah (Duchesne County) where she raises pigs with her husband Duane. They have four children who are very proud of and are active in agriculture, FFA and the Utah Farm Bureau.
Andrea and Duane have been involved with Farm Bureau for the past 20 years. They served as County Chairs of the Young Farmer & Rancher Committee (YF&R) and on the State YF&R Committee. Andrea served as the Duchesne County Women's Chair. Andrea currently serves as Chair of the State Agriculture Promotions Committee.
Andrea is very passionate about telling the story of agriculture. She uses her position as a teacher in the local school district to promote Agriculture Education. She loves taking the farm into schools by bringing animals to the students and teaching them where their food comes from. Andrea is also an active member of the Uintah County Fair Board. Andrea helped create a successful hands-on, interactive agriculture experience at the County Fair in 2007 known as the 'Little Red Barn' that has educated more than 10,000 people each year.
Andrea is also a huge supporter of FFA and 4-H, and was honored to receive the distinguished Utah FFA Association's Farmer of the Year Award for the volunteer service she provides FFA.