Dairy Make Allowances Reform a Must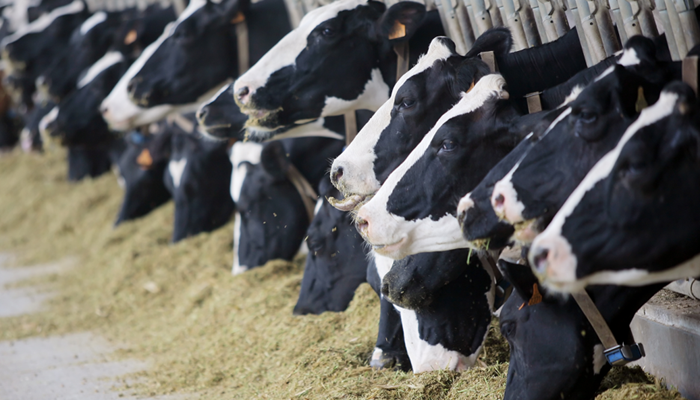 American Farm Bureau Federation economist Danny Munch presented testimony on behalf of AFBF and its membership at the ongoing Federal Milk Marketing Order Pricing Formula hearing. This is the third time an AFBF representative has testified at the hearing. AFBF Chief Economist Roger Cryan previously testified on cheese and butter pricing and milk composition.
The testimony focuses on adjusting make allowances, or the estimated costs that dairy processors incur to convert milk to consumable dairy products, like cheese and butter. This price directly impacts the price paid to farmers for their milk.
AFBF is advocating for make allowances to be adjusted based on a mandatory, audited USDA survey, which USDA says it does not have the authority to conduct. AFBF is pursuing legislation, with the support and assistance of the National Milk Producers Federation and International Dairy Foods Association, that would direct USDA to conduct such a survey. AFBF opposes increasing make allowances based on potentially biased voluntary survey data that could reduce farmers' prices unfairly.
Below are excerpts from the testimony, which can be read in full here.
A fundamental focus of AFBF's proposals is the reduction or elimination of negative producer price differentials and the de-pooling they cause. We believe that an orderly pool is the key to orderly marketing and ensuring Federal Milk Marketing Orders continue to benefit farmers, cooperatives, processors, and consumers. The key to an orderly pool, in turn, is, above all, the proper alignment of the four Class prices.
This statement covers Category 3, Class III and Class IV formula factors, and includes AFBF's response to Proposal 7, made by the National Milk Producers Federation (NMPF); Proposal 8, made by the Wisconsin Cheese Makers Association; and Proposal 9, made by the International Dairy Foods Association.
Category 3: Class III and Class IV Formula Factors
Response to Proposals 7, 8 and 9 (NMPF, WCMA, IDFA), which all propose to increase Class III and IV make allowances.
AFBF supports adjusting make allowances to reflect the changes in cost and technology, following the same general logic as NMPF's petition. We believe, however, that such adjustments cannot be fairly undertaken except using the data from a mandatory and audited USDA survey of, at least, the plants participating in the NDPSR survey.
The testimony goes on to note:
The voluntary survey, conducted by Dr. Stephenson, among others, and used as a primary source for order reform, was one of a series of studies that had been undertaken as a means of evaluating and benchmarking plant costs for the benefit of the plant operators…The publicly released 2021 survey, for example, represents only 60% of the nonfat dry milk plants participating in the NDPSR, 29% of the dry whey plants, 24% of the cheddar cheese plants, and 20% of the butter plants. The conclusion must be that it would be unfair to increase the make allowances based on this survey. …
Regarding the USDA "tradition" of using two different cost surveys, there is an old saying: "A person with one watch always knows what time it is; a person with two watches never knows what time it is." Such is the problem with using two significantly different sets of survey results and blending them into one result. This is more art than science, and USDA was put in the difficult position of applying such art in the past. It is better that we have one very accurate watch, such as a mandatory and audited survey of processing plants.
The last time we knew the time was in California in 2016 – as the last mandatory audited surveys of U.S. dairy processing costs were those of all manufacturing plants in the state of California in 2016. … Since the 2016 California survey was mandatory, a representative sample of commodity dairy processors was captured, providing an important check to voluntary surveys. …
… On average, less than 20% of the total production of cheese, butter, nonfat dry milk and whey have been captured in the NDPSR survey … … Considering the various other dairy products that are sold and not included in the NDPSR, the true volume of dairy products captured by the NDPSR is likely much lower than 14.8%. …
... Given these statistics, one could easily argue that handlers can benefit from the sale of the substantial product volume and product varieties not currently captured within the NDPSR and are not exclusively reliant on the make allowance to make ends meet. This is especially true of handlers who diversify their operations, a tactic that many farmers are told to use to protect against revenue uncertainty. …
… Only a mandatory and audited survey of costs (and processing yields) can provide a fair basis for adjusting make allowances (and yield factors) within the current pricing structure, just as it has been clearly established that only a mandatory and audited survey of manufacturers' prices can provide a fair basis for setting the monthly milk and component prices used in the FMMOs.
We believe that such a survey should be conducted once every two years in order to appropriately balance the value of the data with the burden on the processors.
AFBF submitted nine proposals for consideration during the hearing, and four were accepted by USDA. Additionally, AFBF largely supports four of the five proposals submitted by the National Milk Producers Federation.
AFBF's proposals are based on years of work by dairy farmer members, policy established through AFBF's grassroots policy development process, and recommendations developed during the FMMO Forum, which brought together representatives from all sectors of the dairy industry last October.
Full AFBF testimony on surveyed commodity products as submitted to the hearing, including reference sources and charts, is available here. An explanation of the four AFBF proposals accepted for consideration is available here. For more information on all AFBF proposals, including those rejected by USDA, read Market Intel.
Want more news on this topic? Farm Bureau members may subscribe for a free email news service, featuring the farm and rural topics that interest them most!